The Bonnieview
A 6,000 Square Foot Head-Turner
Get the floor plan
Log + Timber Frame Accents
log home gallery
A log home can be many things — a cozy, lakeside cottage; a rustic cabin in the woods — or, in the case of the Bonnieview, an impressive, lodge-style retreat.

To call it "grand," feels like something of an understatement for this 6,000-square-foot head-turner.

Of course, nothing short of a grand entrance would do for a home of this scale, so expect to be awed as you step up to the double front doors.

The two-story covered entry, anchored by a pair of massive stone columns, features a truss towering overhead.

A wrap-around porch to the left beckons, but first you'll want to step inside.

The interiors unfold, much like opening up a gift. You don't see too much at first. But step around the staircase that greets you for the full picture — though it may take some time to take it all in.

To the right, you'll discover the luxury of the home's main floor master suite, with a large sitting area, walk-in closet and shower and direct access to the rear deck.

Take a left at the entryway, and you'll find spaces meant to be enjoyed with friends and family. Designed with gatherings in mind, the kitchen features an island with room to seat four, along with a peninsula that ensures plenty of prep space.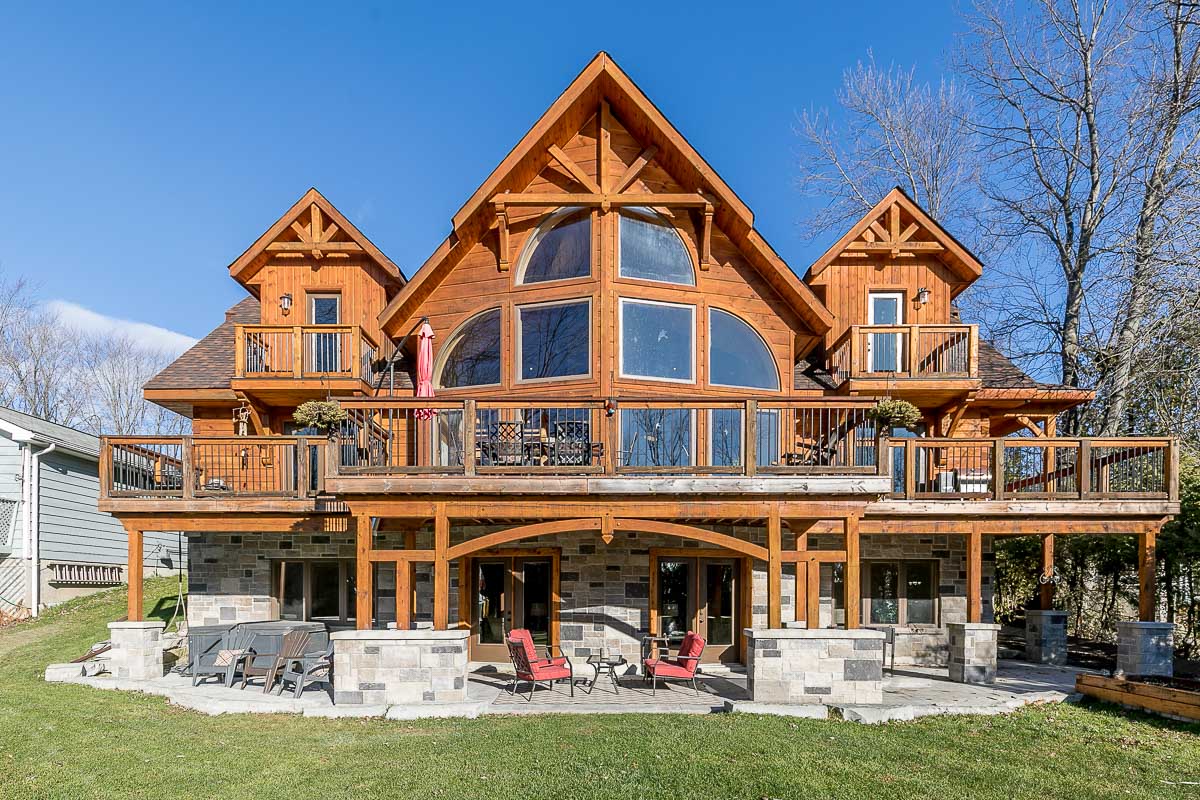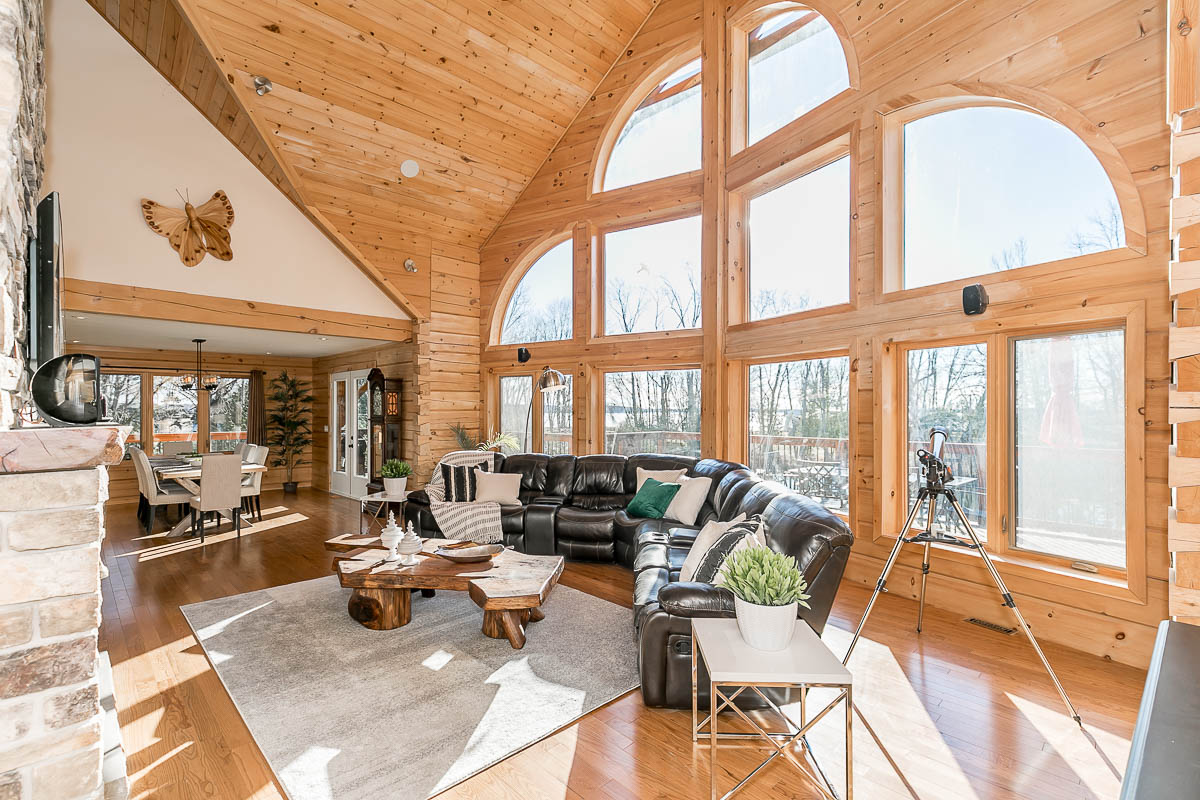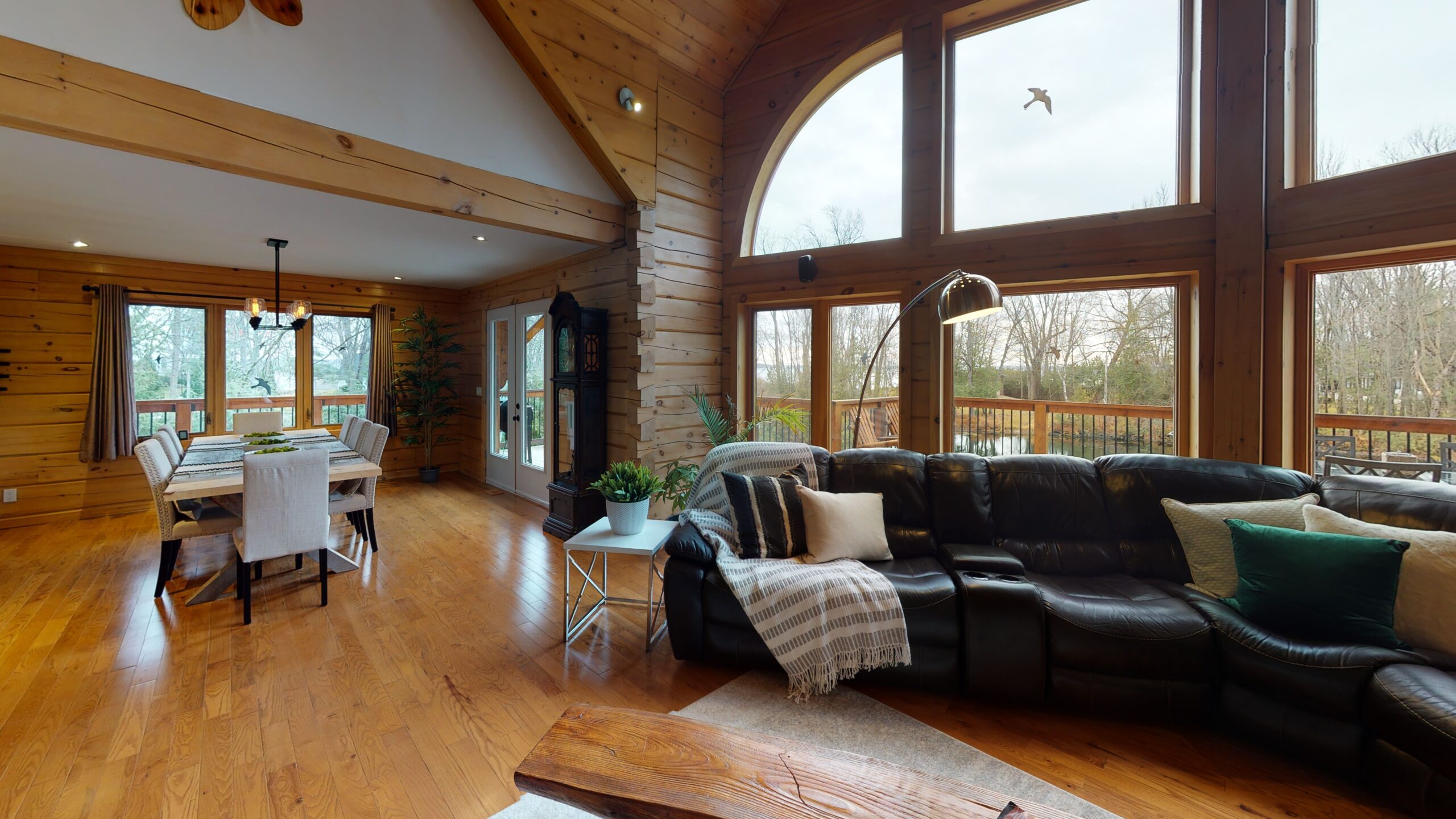 The adjacent dining area benefits from a set of French doors that can be thrown open to usher in fresh breezes and create an indoor-outdoor dining experience.

Just beyond, in the great room, a wall of glass delivers views to the world beyond. Cathedral ceilings draw all eyes upward to the tongue and groove sky.

In the centre of the room, a stone fireplace extends up to the ceiling, as well as down into the basement below, anchoring the home.

A loft-style, second story landing peeks out from either side of the fireplace. Upstairs, three bedrooms and a large shared bathroom offer guests a place to rest and recharge, as do two additional bedrooms and a bathroom in the home's basement.

The home's lowest level also functions as a stand-alone apartment, with a fully-equipped kitchen, living room with fireplace and walk-out access to the home's covered patio — the perfect spot for a hot tub, outdoor kitchen or a simple grouping of chairs to enjoy with friends and family.