The Pineridge

When you're designing a home with a stage for a band... you know it's made for entertaining.

Get the floor plan
Log + Timber Frame Accents
log home gallery
Pineridge is the perfect example of how too much of a good thing can be wonderful.

The expansive three-story design, which offers over 6,000 square feet of living space, will instantly wow you and all of the friends and family that are sure to join in.

And you don't even have to step inside to be impressed. The exterior gives a grand first impression thanks to a sprawling design and complex roof structure. But just as quickly as you're impressed, you'll feel welcomed, too.

A deep front porch beckons you to the spacious double-door entryway. Flanking either side of the home, a pair of covered porches offer relief from the sun and are a sure sign you're invited to sit and stay awhile.

Inside, Pineridge strikes the perfect balance between offering large, open spaces for gatherings as well as out-of-the-way spots for peace and quiet.

The main floor has plenty of room for everyone yet still feels cozy thanks to a semi-open floor plan.

Ideal for an entertaining lifestyle, The Pineridge bridges the kitchen, living area and dining room, allowing for an easy flow between rooms but avoids being cavernous thanks to a few, well-placed walls.

A two-story fireplace in the great room has a similar effect. Stretching up to the 40-foot vaulted ceilings, the stone wonder creates a visual divide between the entryway and living area, giving the airy space an intimate feel.

Perfect for lingering with big groups or watching a movie with just the two of you, the family room anchors the home.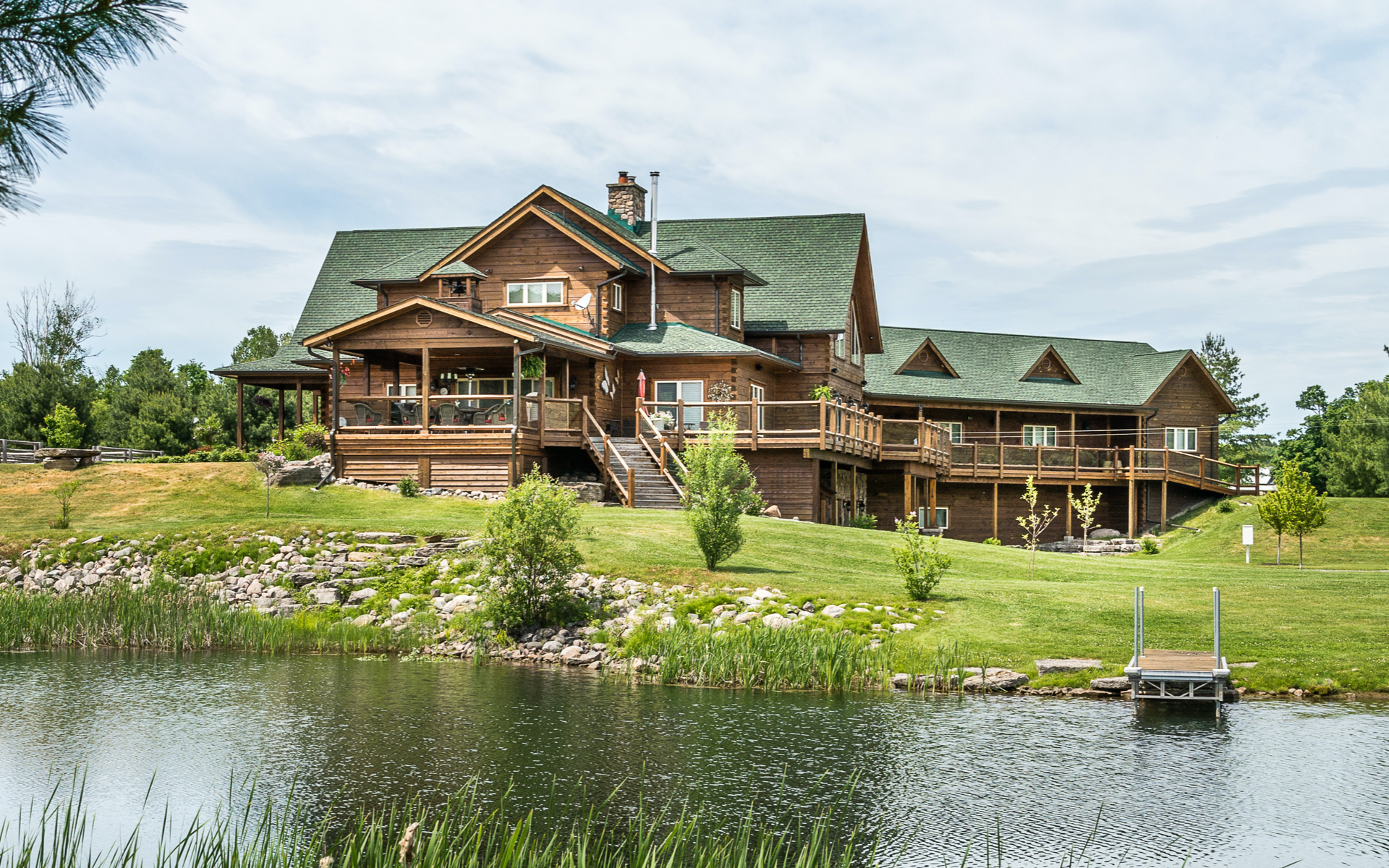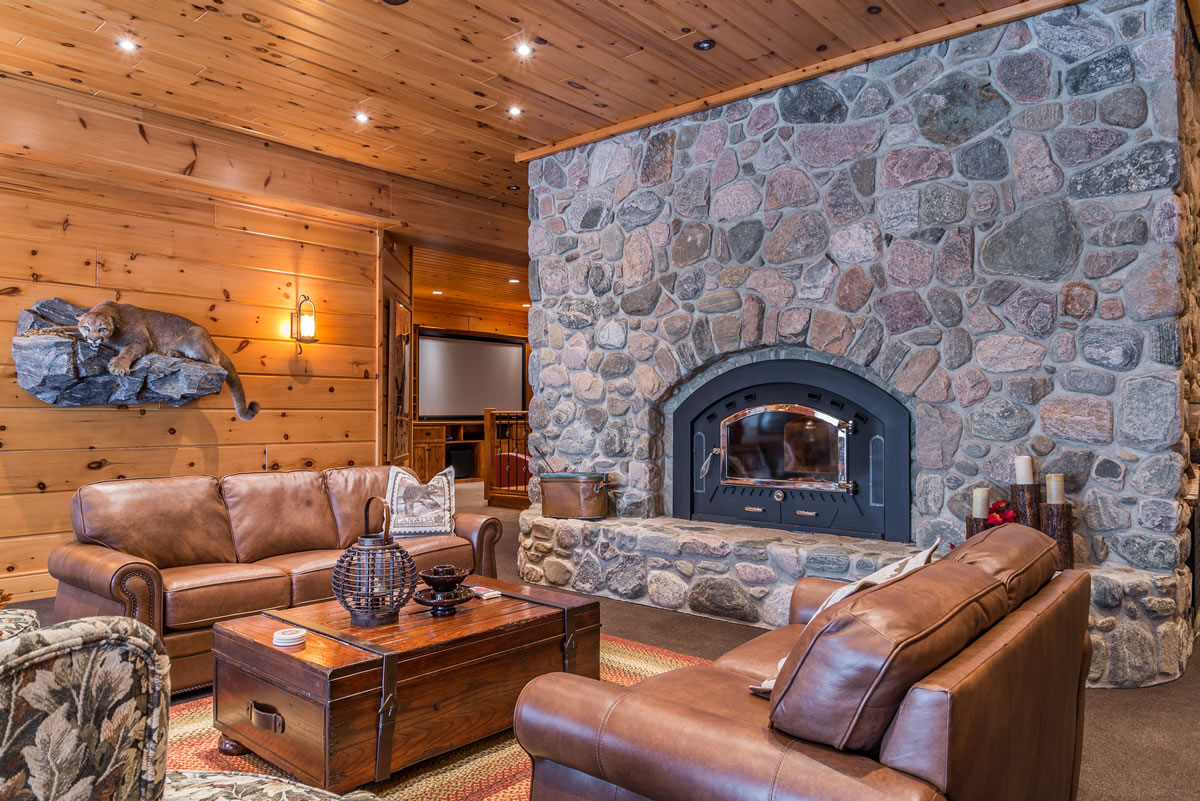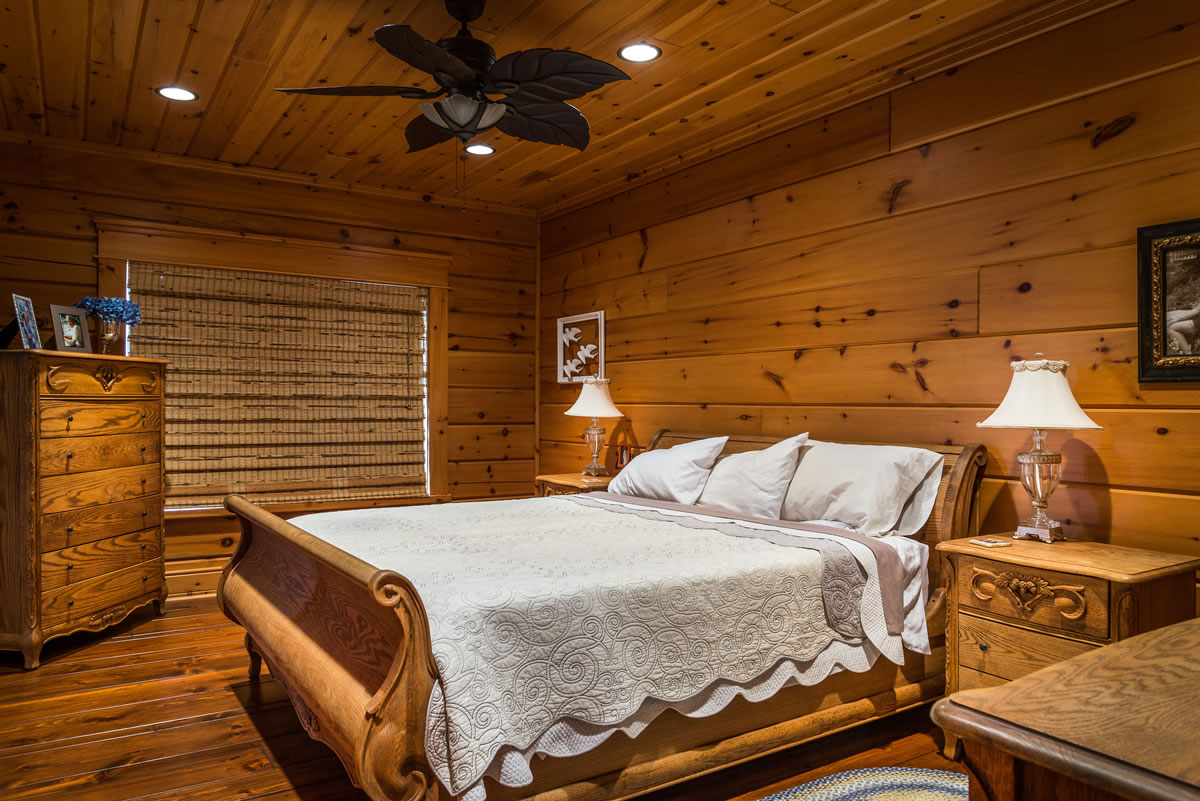 The kitchen runs a close second as the cornerstone of The Pineridge. A modern cook's dream, there are views to nature, a generous walk-in pantry and an enormous island ensuring ample space for food prep, a homework station and casual dining.

And, you'll never have to worry about running out of room during dinner parties—adjacent seating areas include a window-encased dining nook and a more formal central dining room.

And, if your party is ever ready for a change of scenery? Simply move through one of the double doors in the great room to the expansive, rear wrap-around deck. It's the perfect spot for relaxing with a cup of coffee or glass of wine and has plenty of space for an outdoor kitchen and a hot tub.

Or, trek downstairs to the bright, walk-out basement which features a stone fireplace, a full kitchen and room for a pool table and big screen television.

Once you and your guests are ready to retire for the evening, Pineridge stands ready. To the left of the main living spaces, a pair of en suite guest rooms provide overnight visitors a quiet space to recharge.

Upstairs, the entire second floor is a study in rest and relaxation. Dedicated entirely to an owner's retreat, over 1,000 square feet of luxurious living space includes a wall of windows in the sleeping quarters, a private seating area, a pair of his and hers closets and separate master bathrooms, each with a shower and one with a soaking tub.

Cleverly tucked around the perimeter of the upper floor is loads of attic storage. Of course, you can also look to the six-car garage for storage.

Ideal for a car enthusiast or a large family, the home's divided eight car garage offers ample space for vehicles, a work bay and storing off-season toys.

Throughout both floors, wood plays a starring role. Just beyond the foyer, a floating open-tread timber staircase greets guests.

In the kitchen, timbers span overhead and four square posts anchor the corners of the island.

In the great room, tongue and groove panels draw the eye upwards towards the soaring ceilings.

In every space, intricate timber framing, dovetail corners and 2×12-inch log siding (perfect for decorating, though they hardly need embellishment) provide eye-catching, architectural details.

From top to bottom, there is much to love about Pineridge, but don't take our word for it. See for yourself by viewing the Pineridge plan.