Winders Bay

With a cozy footprint of 1,157 sq. ft., this charming lakeside retreat proves that sometimes, less is truly more.
Get the floor plan
Log + Timber Frame Accents
log home gallery
Architectural style and functionality in a small form factor
The Winders Bay log home we designed for the Heatons has redefined the notion that you must go big to deliver interesting architecture and functionality.

With a cozy footprint of 1,157 sq. ft., this charming lakeside retreat, nestled alongside a magnificent pine tree overlooking Lake of Bays, proves that sometimes, less truly is more.

Join us as we delve into the thoughtful design choices that make Winders Bay an architectural masterpiece and the ideal cottage getaway.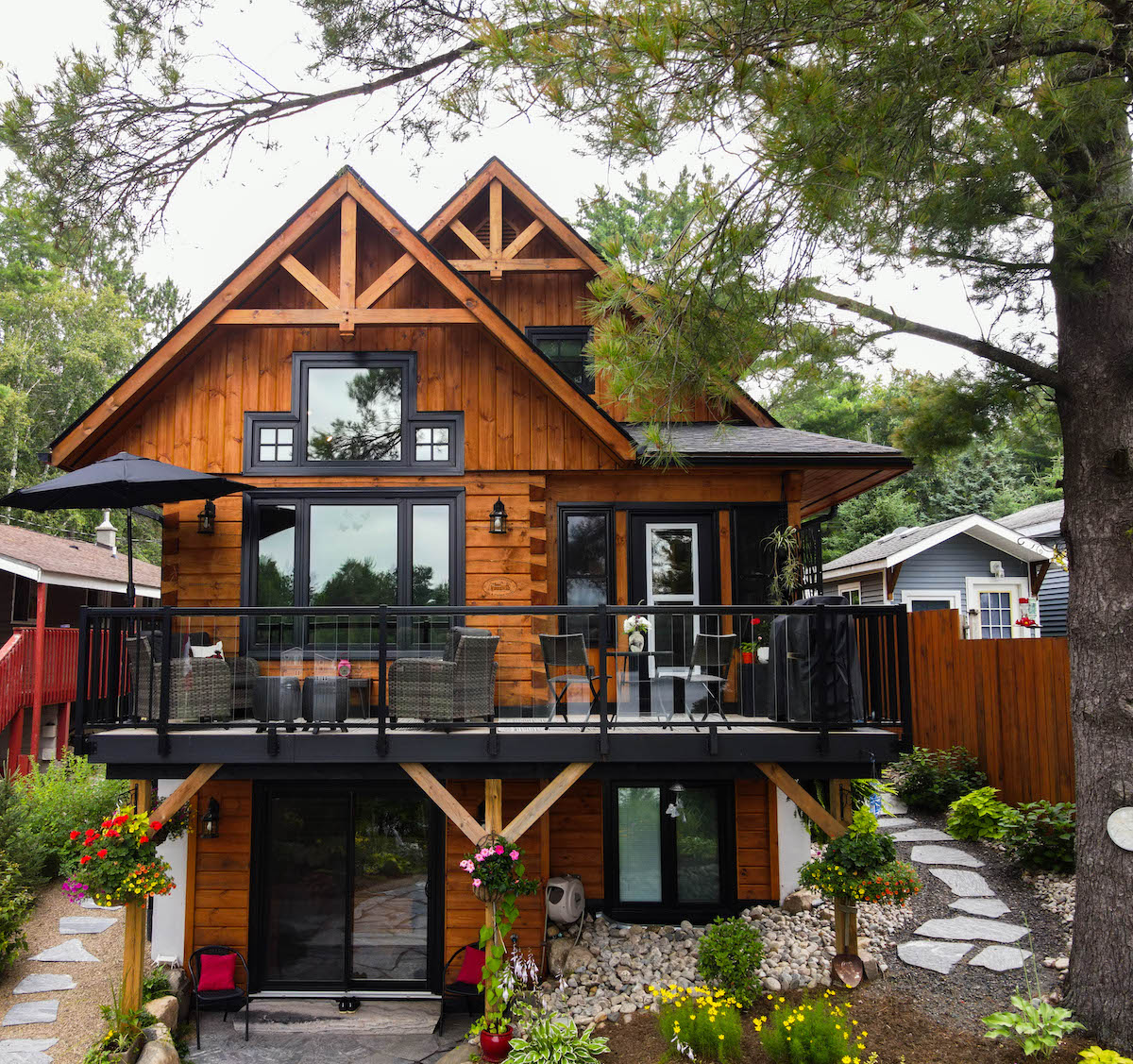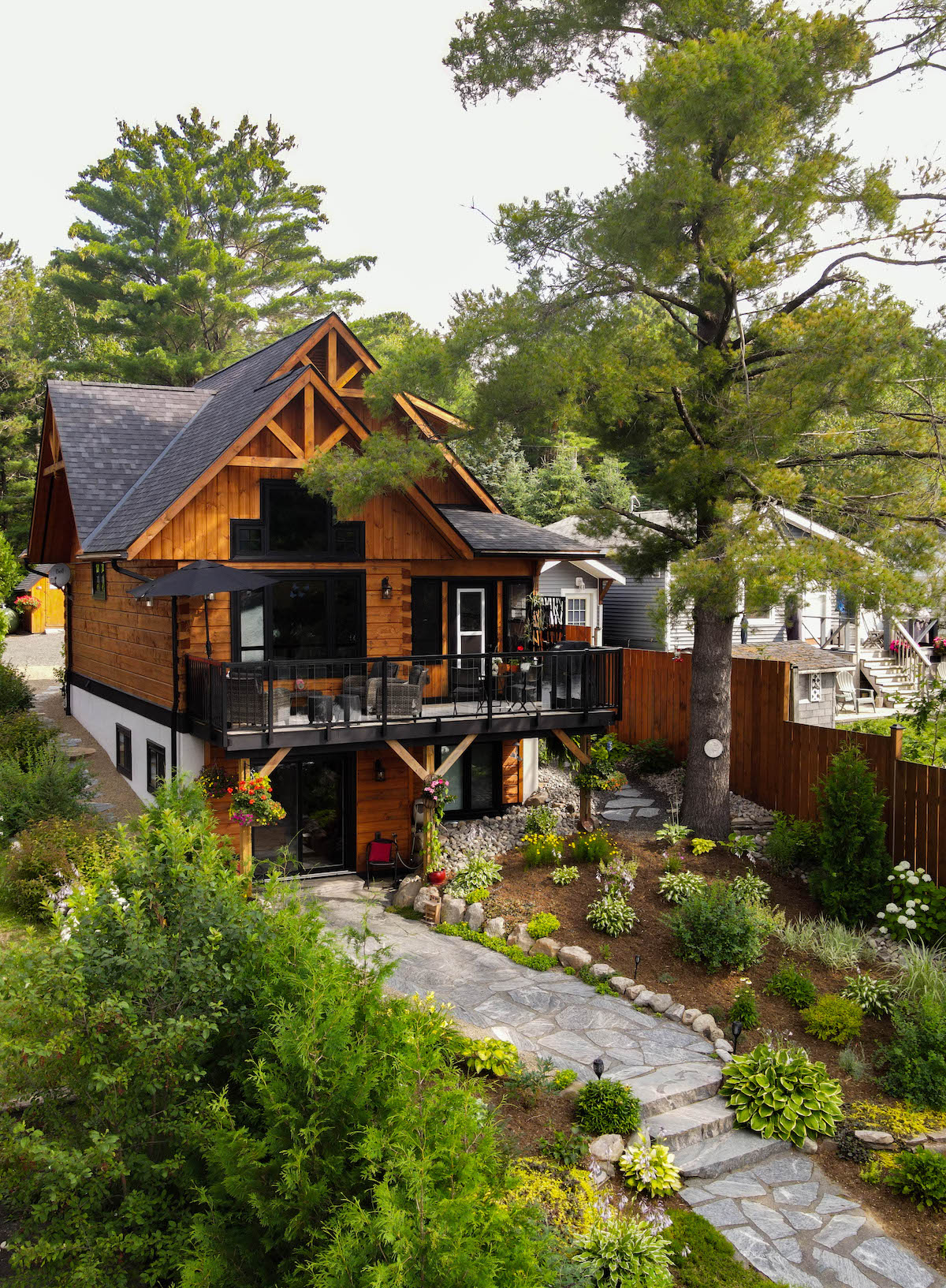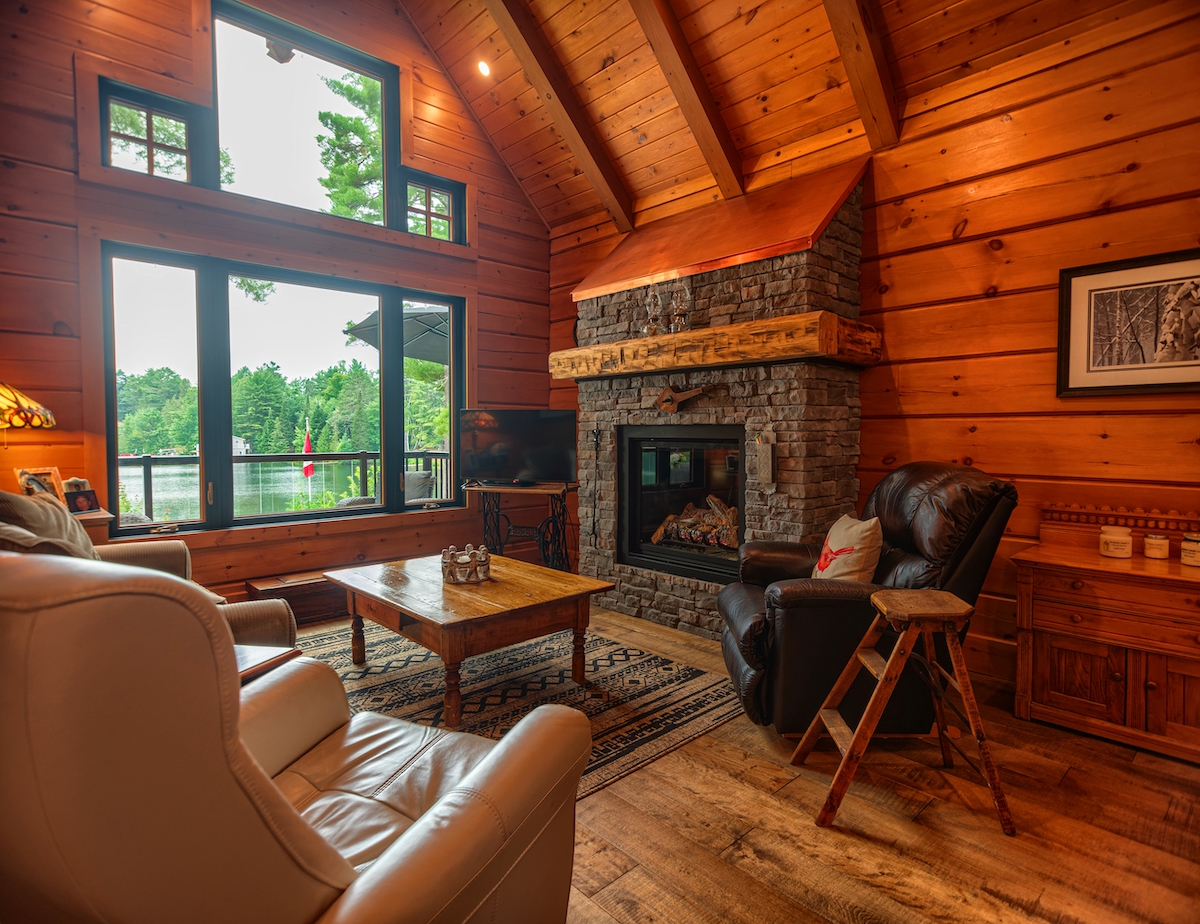 Architectural Excellence:
The Winders Bay log home showcases stunning exterior architectural lines, accentuated by timber accents that truly make it a stand out along the shoreline.

The warm caramel tones of the wood blend seamlessly with the bold black-clad windows, creating a sharp and sophisticated look that's sure to catch the eye of anyone driving or boating by.

Making the Most Of a Smaller Lot:
We designed this home to maximize the stunning lake view and provide everything the Heaton's needed within the confines of a smaller lot.

Inside, the 725 sq. ft. main floor is both functional and inviting, featuring a generous bedroom, a full bath, a well-appointed kitchen, a dining area, cozy sunroom and a spacious living room featuring a beautiful stone fireplace.
Spacious Feel in a Smaller Space:
Despite its smaller footprint, the Winders Bay log home feels remarkably spacious thanks to the clever design choices.

The tongue and groove cathedral ceiling with matching beams adds volume and a sense of space, while the mix of drywall and wood creates contrast and helps the home feel larger than it is.
A View to Remember:
The highlight of this charming log home is undoubtedly the breathtaking view of Lake of Bays.

Designed to maximize this view, the back of the home opens up to a deck that spans its width. The sunroom, which is the perfect place for card games and relaxation, leads to the deck, ensuring every moment spent here is an opportunity to savor the tranquil beauty of the lake.
A Versatile Layout:
Upstairs is reserved for the 432 sq. ft. master bedroom and bath, providing privacy and a stunning view of the main floor below.

The finished walkout basement adds an additional 725 sq. ft. of living space, making it a cost-effective way to expand the home.

It offers a welcoming space for the Heatons to entertain friends and family, with sliding glass doors and large windows filling the area with natural light and providing uninterrupted views of the lake.

Customization:
At Confederation, we understand that each family and lot is unique. That's why we offer customization options to tailor any plan to your specific needs and lifestyle.

Winders Bay is a testament to this flexibility, perfectly fitting the Heatons' vision of a cozy lakeside retreat.

If you have any questions about this plan or any other home designs in our portfolio, don't hesitate to contact us at 877-462-5647.

We know our Confederation fans have a soft spot for a well-designed smaller home. With its clever design, breathtaking views, and warm, inviting ambiance, it's no wonder this log home is capturing the hearts of those seeking the perfect lakeside escape.

Download the plan and let us know how we can help you make it your own.