It's high time we talked about the number one ingredient in all of the homes we create: our logs.
If you're going to build a log home, after all, you should demand the logs chosen are the best of the best.
I want to share our philosophy on what makes for a good log and our process to make sure what ends up in your home is the best of the best.
The source…
The eastern white pine trees used to harvest our logs are grown locally — and exclusively for Confederation — in northern Ontario. We've used the same supplier for decades due to their commitment to reforestation and harvesting trees in a sustainable and responsible way.
And if you're interested, they regularly welcome Confederation clients in for tours to share their growing and harvesting process.
You can't build log homes without a huge respect and love of trees. Done the right way trees are the ultimate green building product — we re-grow what we use. And we use just about everything we harvest.
While the vast majority of our logs are eastern white pine from our Ontario grove, we also offer cedar logs sustainably grown and harvested in British Columbia.
The secrets to our superior logs…
In Northern Ontario where our trees are grown the winters are harsh — a good thing for once!
This climate produces naturally tighter rings, resulting in a more solid product with minimal warping, shrinkage and checking.
And because they're harvested only in the winter when the sap is in the roots, our trees have minimal moisture content and sap pockets.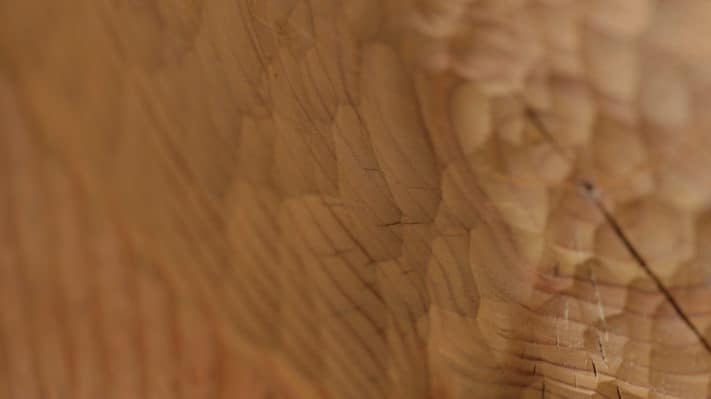 But what you do with the logs is just as important as the log themselves and there are no shortcuts.
It takes two full years to air dry our logs. Sure they could be kiln-dried but that can produce more instability within the log, including warping and checking.
So while it takes much more time, and we have to stay two years ahead of the curve on inventory, it's worth it.
Then every log is milled with a double tongue and groove to create a high-performance, air-tight home. And each log features a rough-sawn exterior, which allows the stain to adhere better and lengthens the maintenance cycle of the exposed logs.
But here's the biggie…
Of all the benefits our logs have to offer, what puts us leaps and bounds above other log companies is that we only harvest a single log from each tree. Other companies do a quarter-cut and get four logs from each tree.
But we only use the heartwood, or centre, of each tree because it gives us the highest quality with the least checking.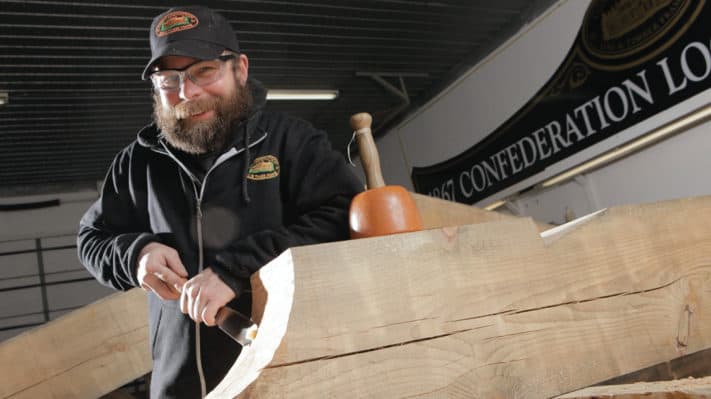 Chances are since you're a log home person like me, the idea of the logs themselves and their organic nature is a pretty cool part of building a log home.
And if you are like me, I don't want you to wait until construction day to see your logs for the first time. We invite every client to our facilities to personally inspect their log package.
But that's not the end of the story for the stars of the show, our logs…
Making the final cut (excuse the pun)
After the long drying cycle, every log in every package will be overseen not once, not twice, not three times but eight times — by everyone from the craftsmen running the saw, sanding station and dovetail machines to the crew packaging the logs before they are delivered to the home site.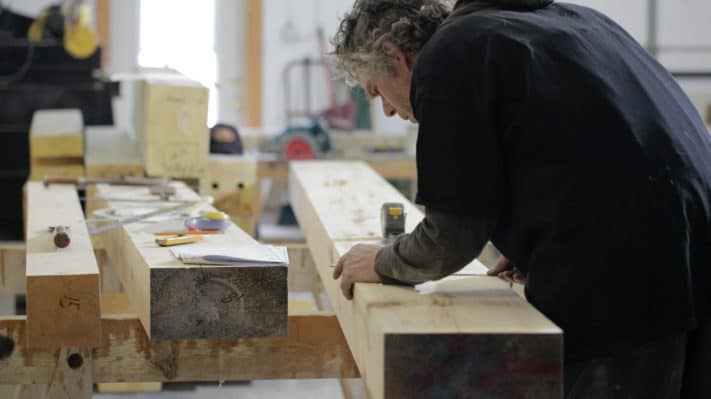 Here's a run-down of what happens during each stage of our unique eight-point inspection process:
1: To be considered for a Confederation home, a log must first pass a visual inspection. Each log is looked at on all four sides. If we see any major checking or sap pockets, it is removed.
2, 3, 4: The log is sent to the saw, where it is cut and drilled, then onto the dovetail and sanding stations. The craftsmen see every square inch of every log that goes into every Confederation home.
5: The entire log home is pre-assembled on the shop floor. We check to make sure every log is cut to length and all of the holes line up.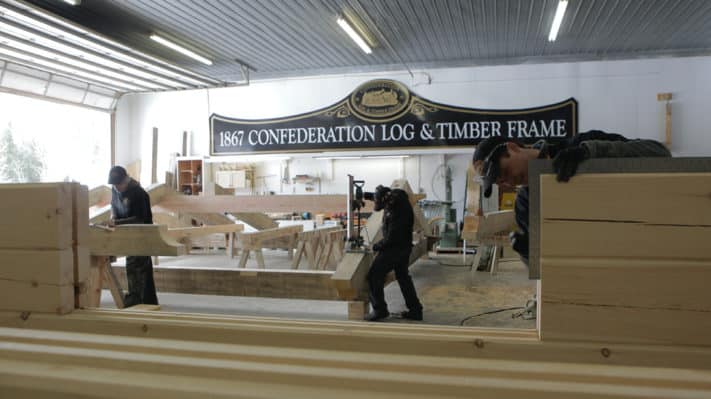 6: Every Confederation client is invited to do a full inspection on their log wall system. For those who can't visit our offices, digital images can be sent for review.
7: Our lead craftsman goes through a full checklist, verifying that every log, corner, window and door opening and each hole are finished correctly.
8: The logs receive a final once-over as they are packaged and put on the lift to the delivery truck.
Sure, it could be easier…
I admit it… in a world focused on maximum efficiency, we go to extreme lengths to get the best possible logs but we honestly don't know a better way to approach it.
Simply put, we want the best for our customers and we value the environment.
It takes a lot more work on our end to do things the way we do, but it delivers a better quality product. Our practices ensure we use only the best logs for your home, protecting your investment and creating a home that will last for generations to come.
A home you can feel good about
For over forty years we've been committed to doing business in a way that is both environmentally responsible and sustainable. Turns out what's good for your home is good for the environment…
We harvest our trees only in the winter months, in part because it leaves minimal damage to the forest floor due to the blanket of snow.
Because we refuse to use a kiln, we aren't emitting high levels of carbon dioxide.
And, we put every bit of our wood to good use. We're a zero waste company. Remaining wood is sold as dimensional lumber or paper. Cut offs are used as firewood, scrap logs are used for boat blocks at local marinas and sawdust is donated to local farmers.
We didn't start changing our practices when green became cool. We've always been this way. And today our customers feel as good about it as we do.
In the end, we know the way we harvest and produce our logs isn't the easiest way to build homes, but it's the right way.
Got a question you'd like to ask us?
Hit record below and we'll answer it on our YouTube Channel