At CL&TF, we know that building your dream home is a major commitment. From the vision and design stage to the financial considerations and actual building process, there is a lot of information to sift through and decisions to make. Thankfully, making the right choices for your new home isn't hard when you've got Confederation on your side. Guiding and educating each of our clients on design, building and everything in between so that they end up with the best home for them is one of our top priorities, right alongside our dedication to creating custom, quality homes our customers will love for a lifetime.
To help you better understand the CL&TF approach to building—and get a mental jump start on building your own log or timber frame home—read through our top ten "frequently asked questions" below.
1. I've never built a log or timber frame home, what are some things to consider?
Glad you asked! We know building any new home is a big leap of faith.
Understanding the process from start to finish is the best way to go from dream to reality. Here's how it works including the 10 steps to take, getting a realistic estimate and getting a handle on timelines.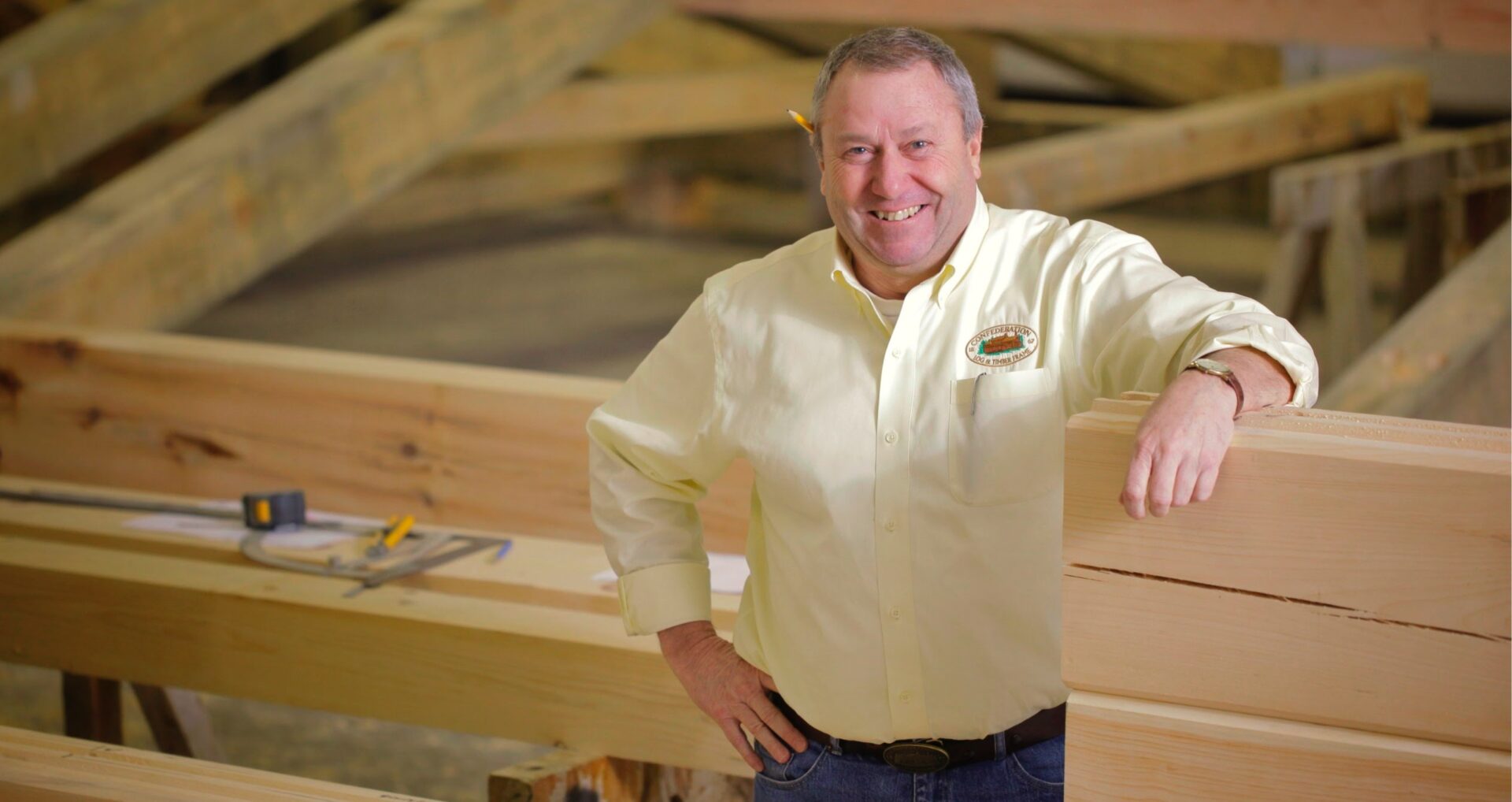 2. How is CL&TF different from other log and timber home companies?
At CL&TF, we are known for our experience in the business, as well as our commitment to the satisfaction of our clients. We can personally show you homes that are nearing their 40th birthdays that look as good as the day they were built. As a family business, we know our longevity and commitment to future generations relies on the satisfaction of our customers.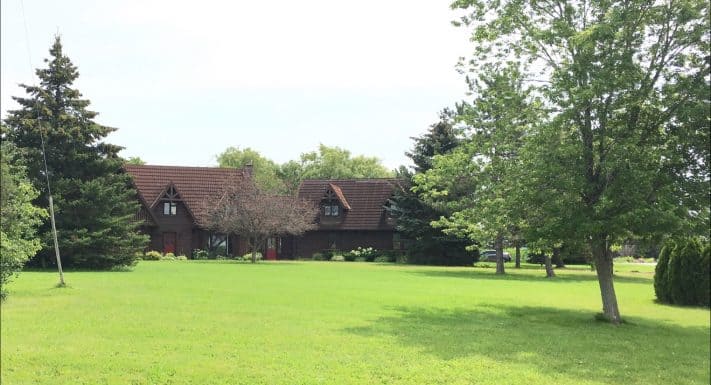 We talk a lot about The Total Package. We're not just selling a standard log kit, we custom design every home — included. We believe in realistic, accurate quotes on your finished home ... not just the shell. We know that designing the right home for you, means designing it for your budget as well.
Our promise is to walk this journey with you from the first handshake to moving day. We know building a log or timber frame home is a big investment, and we don't take that lightly. Our doors are always open, and we will do everything possible to make sure you are happy with your custom home.
3. What should I look for when choosing a home site?
First, you'll first want to consider your ideal design. If you plan to include a basement or a crawlspace, only lots that have a slope should remain in the running. (While excavation teams, can get creative, it wouldn't be in your best interest to choose a flat lot if you have your heart set on a walk-out basement.) Also, consider the topography of the land. Do you want rolling hills, mountain views or access to the water? Next, factor in potential cost in time and finances to prepare the land for building, including things like tree removal and driveway construction. Lastly, look to the sky to help determine how to orient the home to minimize or maximize sun exposure, based on your preferences.
4. My location site is nowhere near your facilities. Can you design my home remotely?
Absolutely - we do it all the time. In fact, you can find Confederation homes across Canada, the United States and the world. (We have shipped as far away as Japan!) When working remotely, we will draw on all available resources, including phone and email, to listen closely as you communicate your vision to us. Next, we'll draw your ideal design, giving you a chance to "see" it and perfect it through our 3D walk-through technology. After the initial design and blueprinting stages, your home will go into production. On the scheduled delivery day, you'll receive all of the necessary materials for construction. But our role won't stop there.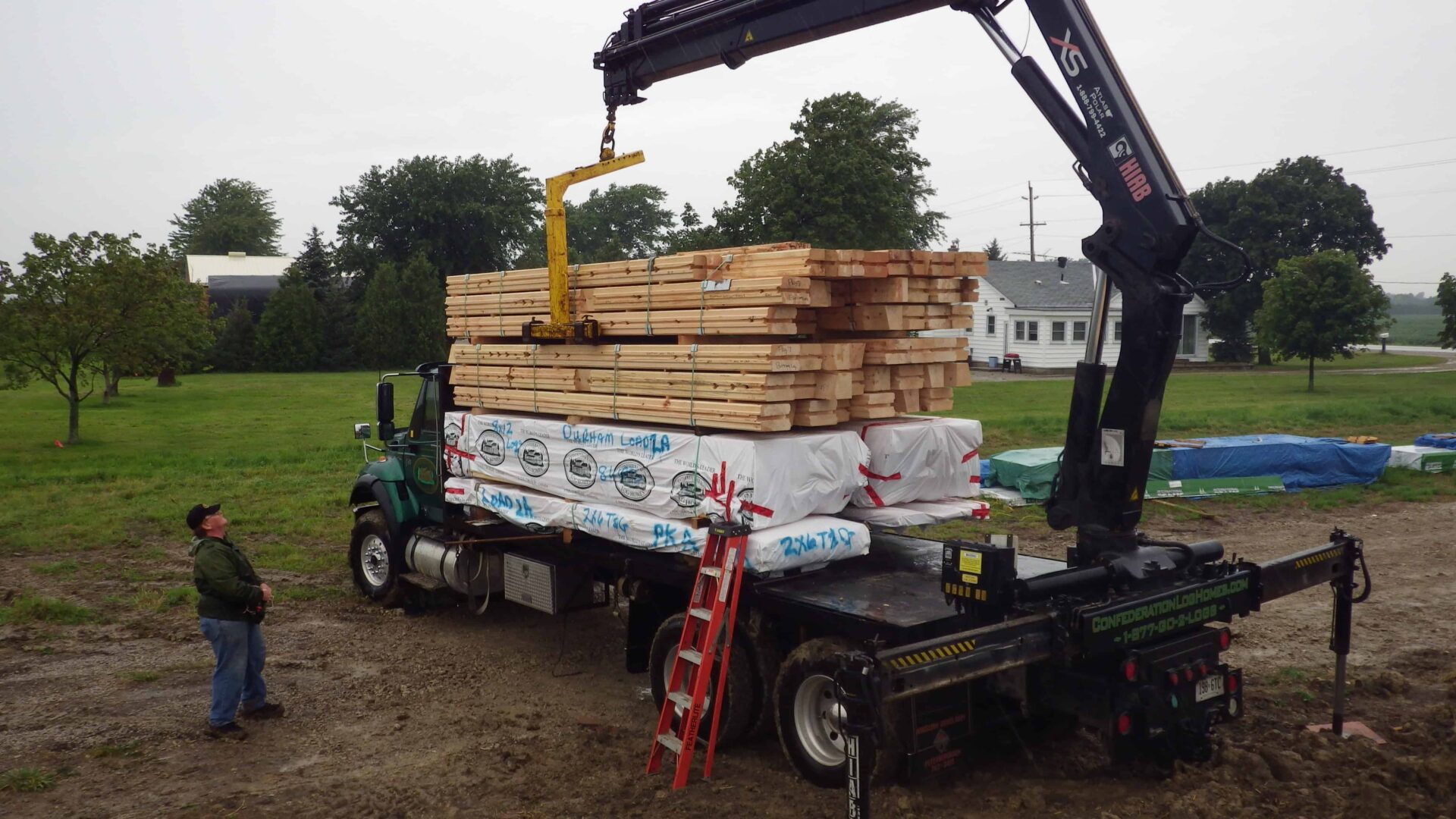 Have a trusted builder that hasn't built a log home? Our one-on-one Training Day at our headquarters is included in the package. We'll also send one of our team members to your site to personally ensure the building process gets off to a solid start. Lastly, we'll be ready to support you and your builder in any way we can as you complete your build. It's part of Confederation's Total Log & Timber Frame Package—and it's available to you, no matter where in the world your home site is located.
5. What is involved in the maintenance of a log or timber frame home?
Probably not as much as you think. Once the inside of the house is stained during the initial build, it's finished for life. A new maintenance coat will need to be applied to the exterior every 5 to 10 years, depending on climate and sun exposure.
6. How long does the whole custom home process take from start to finish?
When building a custom home, there are a number of variables that affect the length of building time—including size of the home, the time of year you are building and how much work you'll be taking on personally. As a general rule, we advise our customers to plan for one year of prep before the shovel ever hits the ground. Beginning the design process at least one year before building will give you time to work with our designers and get through the blueprint and permitting phases. Once the building materials are ready to go, plan for about 6 months to a year from breaking ground to moving in.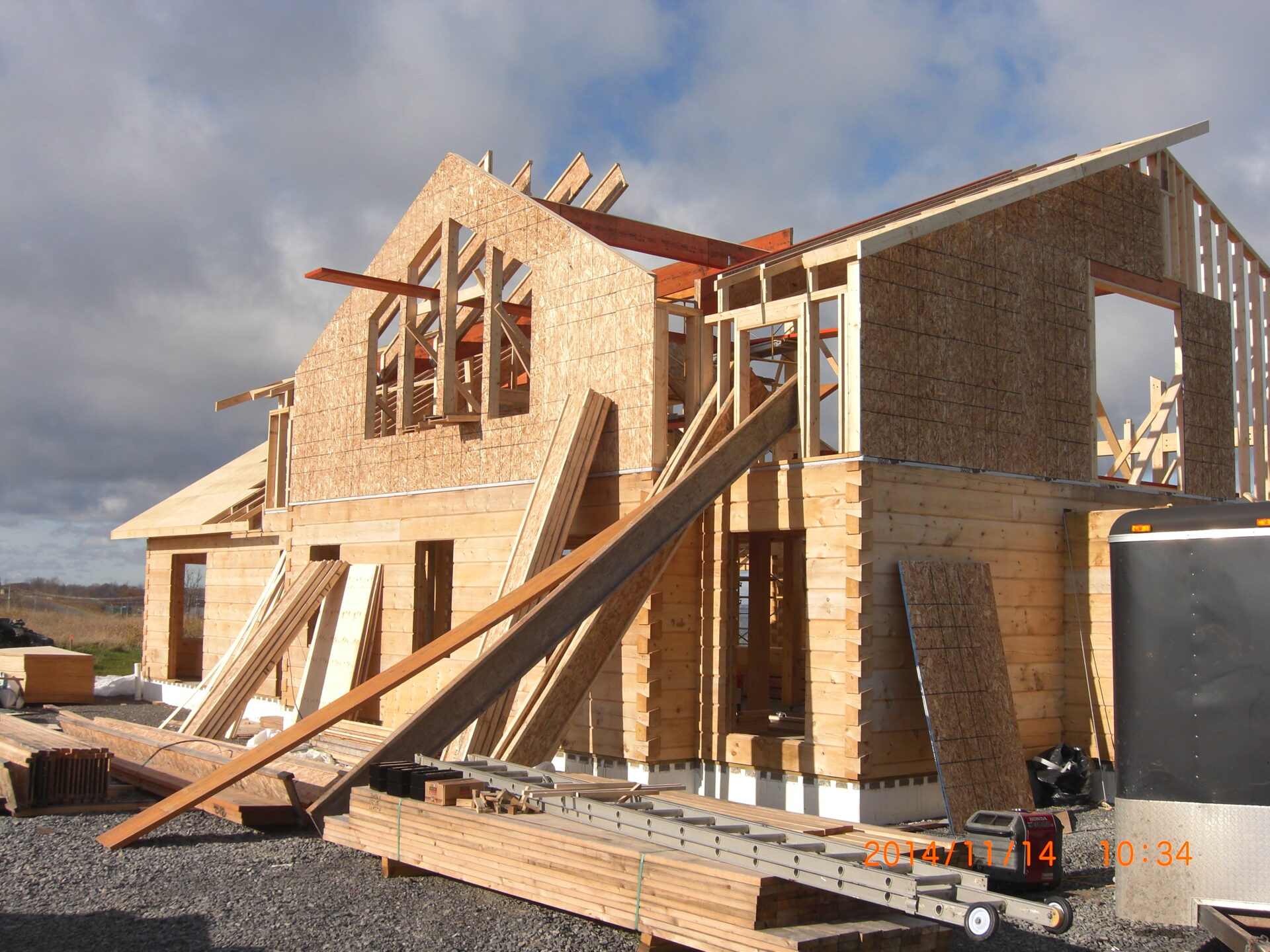 7. How much does it cost to build a Confederation custom log or timber home?
This is one of the most common questions we hear at our on-site seminars. It's also one of the toughest questions to answer with any certainty because each of our homes is a custom build that includes countless variables. What we can tell you without knowing the specifics of your project and the interior finishes you will choose: We are competitively priced with other custom-built homes, and we will do everything we can to guide you through the process of creating the home of your dreams within your budget. When comparing log home companies, be sure you're comparing apples with apples. We encourage our customers to read our perspective on pricing and download our price calculator to experiment with options.
8. Do log homes attract bugs?
Because all of our logs and timbers are naturally air dried over a period of one to two years, insect issues are not a problem with Confederation log or timber homes. Wood-boring bugs are drawn to the moist, outer ring of wood, but we use only the center cut pieces in our log and timber homes.
9. I've got a plan from another company. Can I get a quote on it?
Of course! The vast majority of our clients bring us some form of a drawing, whether it's a plan from another company or a sketch they've made on their own. Whether your initial plan comes from another provider or Confederation isn't important, because it will ultimately become your own. Our designers will customize any floor plan to fit your lifestyle and vision, all at no additional charge to you.
Use our Plan Uploader to send us your floor plan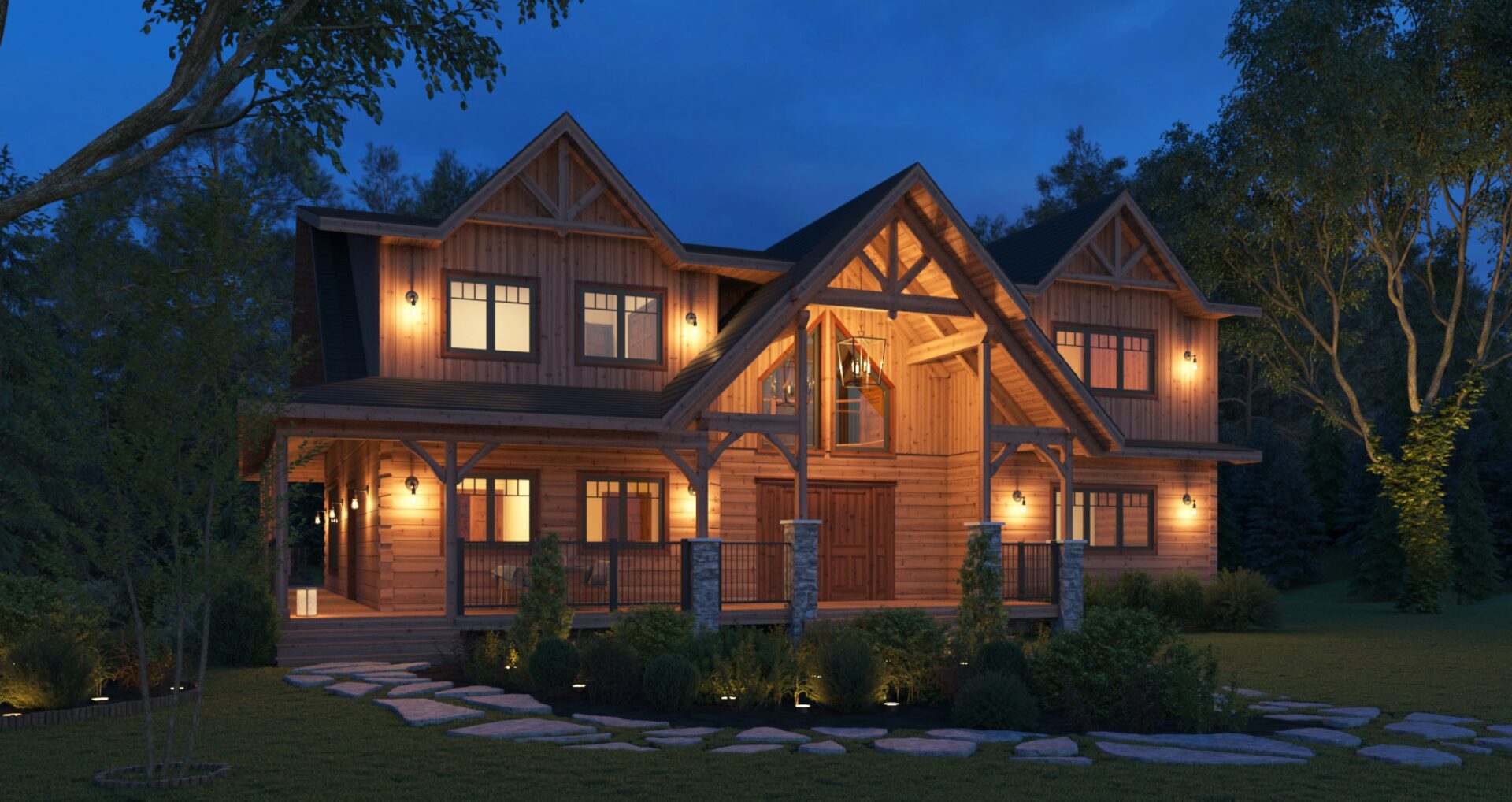 10. What do you do as a company to produce a sustainable product with a low carbon footprint?
From harvesting through production, everything do here at Confederation reveals our commitment to the environment. We naturally air dry all of our lumber and harvest our trees only in winter when it does minimal damage to the forest floor. We participate in a reforestation program to create the next generation of trees, and use only trees that are 100 years old or older, as these trees only release carbon monoxide. Finally, we are a zero-waste production facility, which means smaller lumber leftovers are bagged and sold as firewood, large blocks are sold to marinas and sawdust is given to local farmers.
Have more questions? We've got you covered. Find the answers to ten more questions below - it's a PDF we'll email to your inbox. And, if you have a question that isn't addressed here, remember that we are only a phone call or email away and we're always happy to help!
"Extra costs, what can go wrong, will I need an architect?"
Get the answers to our most asked questions
Sent straight to your inbox. Just tell us where to send it.
We'll use your email to send you this and other useful information about buying and building a log home.
We hate spam too so we'll never share your email. Unsubscribe anytime.