Want to feel 100 percent confident about your home's floor plan? Our two-step design process has you covered. (And step two is pretty exciting … so let's dig in!)
Settling on a floor plan is one of the most exciting—and influential—steps in your home building journey. Your approach to the layout of your spaces will ultimately affect how you function in your home, interacting with the people and things inside your four walls and even the environment beyond. In the simplest terms: Your floor plan matters. A lot.
Throughout our nearly four decades in business, we have heard from clients who have poured over dozens (or hundreds!) of floor plans on the hunt for the perfect one for their family—only to come up empty-handed. That's why we will never try to sell an existing design or limit your dreams to a set of pre-drawn plans. Would that be easier for us? You betcha. But we believe that settling on a floor plan should be one of the most personal parts of building your home. That's why we make it easy to create a custom floor plan. You bring the ideas, and our expert designers will bring them to life in a custom design made to fit your family's wants and needs.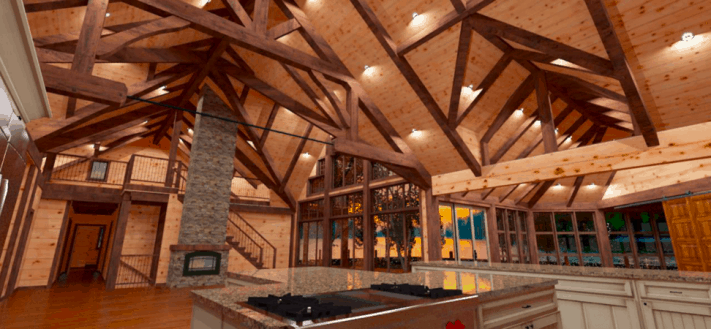 But it isn't just our philosophy behind creating custom floor plans that sets us apart, it's also how we create them.
We use a two-step process employing the latest 3D design technology. The first step will put your floor plan into 3D snapshots. The next (and final) step will "walk" you through your new home in real-time. (What we refer to as the 3D Walkthrough.) Both phases will keep you fully clued in to your home's design and will allow you to review and make changes to everything from roof colors to room sizes to be sure that the plan we're drawing is the right one for you.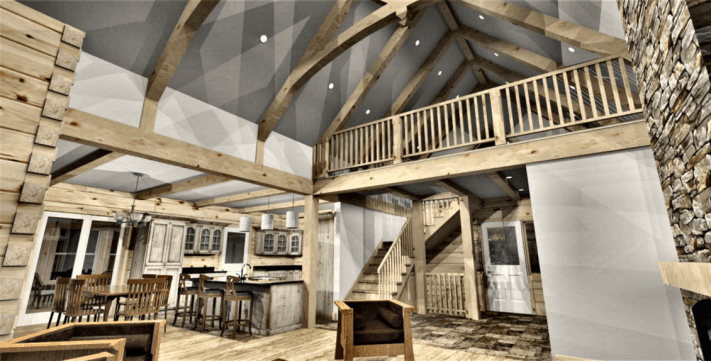 Intrigued? Keep reading to learn about some of the highlights of our two-step, 3D-design process and how it can help you achieve 100 percent confidence in your floor plan.
Shift your perspective.
Being able to accurately imagine what a home will look and feel like simply by looking at a set of plans on paper is a tall order. That's why we have moved beyond lifeless, 2D depictions and embraced 3D snapshots and walkthroughs. These realistic images presented during the initial and final design reviews will give you a whole new outlook on your home before it goes into production. With these lifelike images, you'll be able to see what your home will look like inside and out from different vantage points. You won't have to wonder what it will be like to "walk" through your front door, watch television in the great room or cook dinner in the kitchen, you'll know.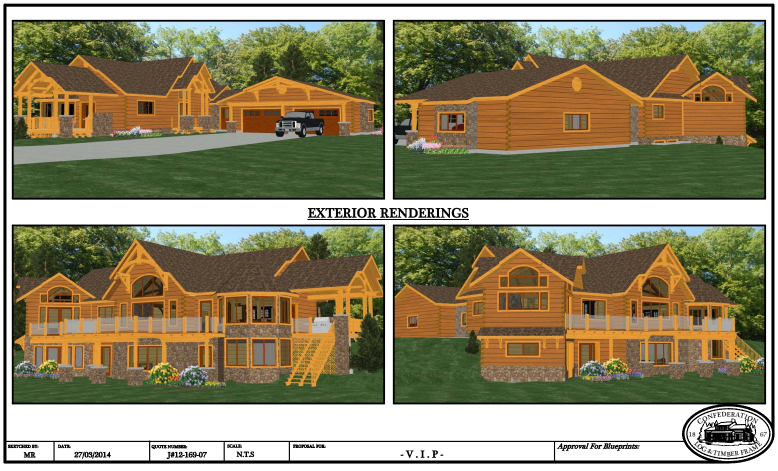 Size it up.
During the first step of the design process, before the final 3D walkthrough, you'll have the opportunity to consider the size of each room. During your review, think through how many people will likely use the space at any given time to determine if you may need to scale the dimensions up (or down). When thinking through the size of each space, take a Goldilocks approach: rooms should be neither too large, nor too small. The 3D snapshots will help you determine that "just right" size. Likewise, while reviewing the dimensions of each area of the home, consider any existing furniture than you plan to use in the home. (This is an especially important step if you have family heirlooms you hope to display.) We can "place" furniture pieces into your virtual rooms to give you an accurate idea of how they'll fit in each space.
And here's the really cool part…
A good floor plan will consider traffic paths between living areas and keep a graceful flow through the spaces. During your final 3D walkthrough, you'll be in control of the "camera" and have the opportunity to "enter" the front door, "walk" through the home and "stand" in different areas of each room. Through this virtual visit to your home, you'll get a real sense of how your spaces relate with each other. More importantly, you'll have the ability to make any desired changes before the blueprints are created, saving you time and money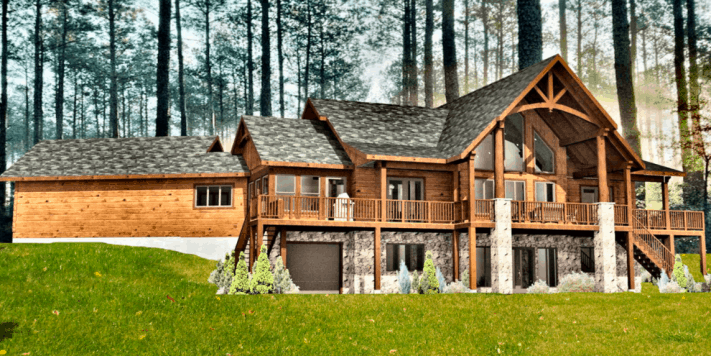 Play with Your Finishes.
During both stages of the design process, you'll have the opportunity to fine tune your design and review select finish choices, such as stain, window and roofing colors. You'll also be able to swap out architectural and design elements. Want to see what a tongue and groove ceiling would look like versus drywall? We can do that. Considering adding decorative timbers to your great room ceiling or a wood-clad interior wall for visual interest? We can show you that, too. Or, maybe you want to know what your master bathroom would look like with a glass shower versus a claw foot tub. All it takes is the click of a button—no need for costly last-minute changes during construction.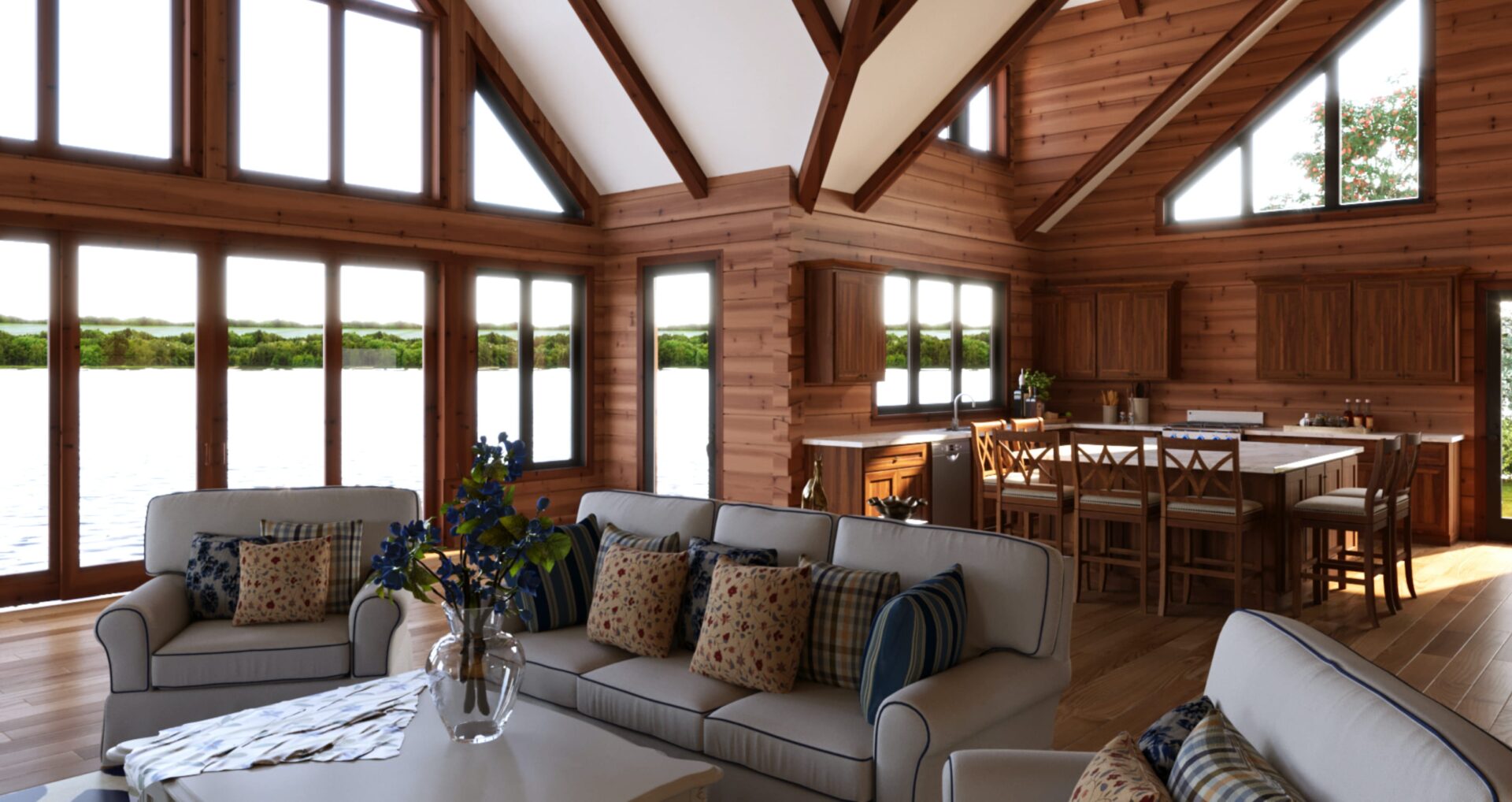 "The 3D walk-through was a major factor for us. It definitely influenced what went into our final design. It really brought everything to life."
Al & Lucia, Confederation customers. (Read their story about designing the Malibou.)
Check out the 3D renderings we generate for our customers that bring their floorplans into life!
Get our 3D floor plans mentioned in this article
Sent straight to your inbox. Just tell us where to send them:
We'll use your email to send you this and other useful information about buying and building a log home.
We hate spam too so we'll never share your email. Unsubscribe anytime.