When it came to creating their dream home, Al Kaminskas and his wife Lucia knew they deserved something truly special — a place that would bring together the warmth and comfort of their extended family with the wild beauty of a lakeside log home.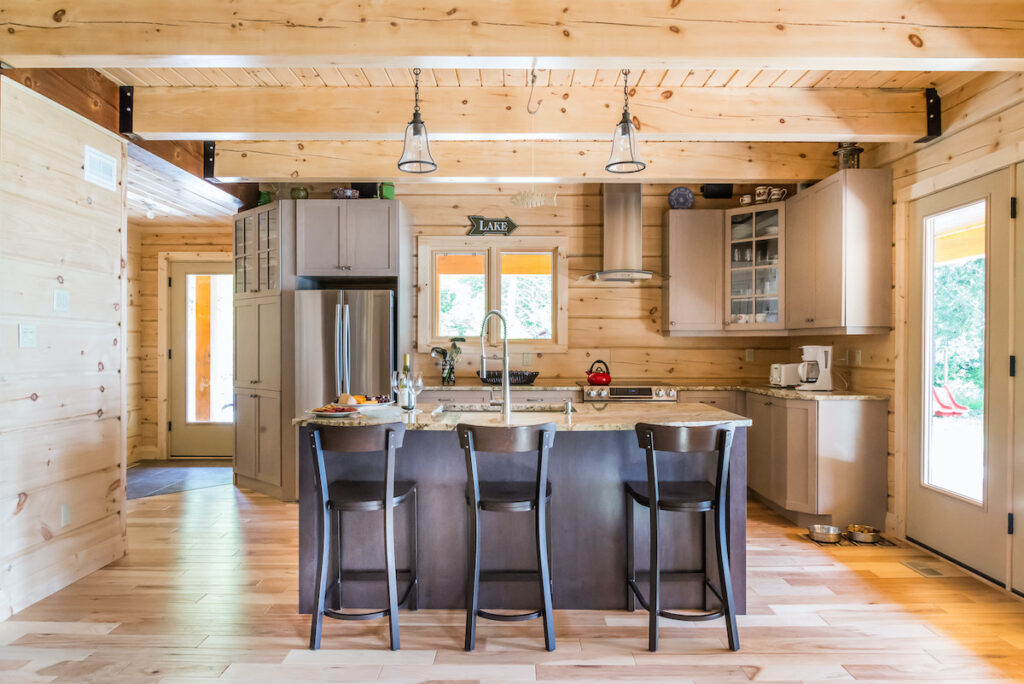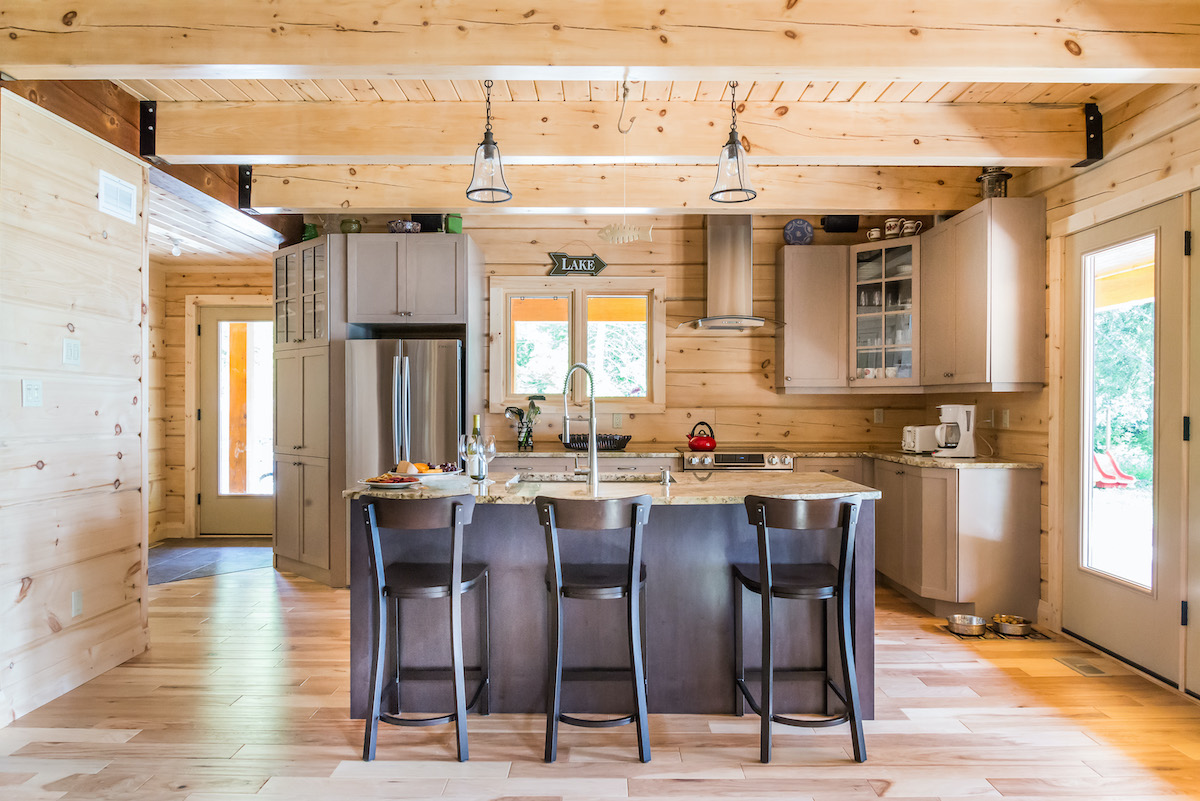 Living a busy life in Toronto, they both wanted a rural retreat where they could entertain their friends, children, and grandchildren in a cozy, idyllic setting. That's what they found through a close collaboration with Confederation Log Homes — Here's their story.
Get the Malibou floor plan
Sent straight to your inbox. Just tell us where to send it:
We'll use your email to send you this and other useful information about buying and building a log home. We hate spam too so we'll never share your email. Unsubscribe anytime.
From the start, Al and Lucia had an idea of what they wanted, enough space for their growing extended family and somewhere that was both inspiring and cozy. After finding the perfect location in the Kawarthas, north of Toronto, the next step was deciding on the type of home they wanted. For Al, it was an easy choice. His idea of warmth and the "coziness of a blanket" brought to mind images of natural materials, log cabins, and a unique living space.
"From the start we wanted a home that would feel completely natural. It had to be warm, both in terms of coziness, but also in the look of the materials themselves. A log home seemed like the right choice."
Finding the right builder...
After spending a little time online, Al and Lucia decided a custom log home would be the perfect solution. We were excited that after speaking with five log home builders they decided Confederation would suit them best. Creating the ideal custom home is what we do.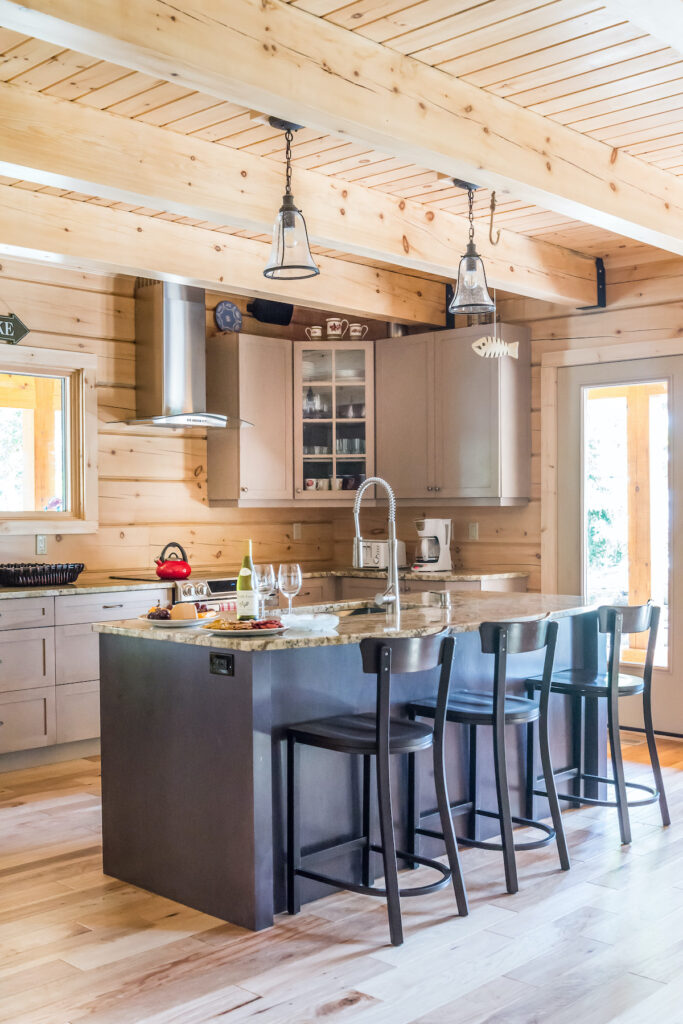 Al's reasoning was clear — our decades in the log and timber frame business was important to him. Our goal is to make it as easy for our clients as possible, and that goes a long way with Al. He attended one of our seminars on log homes where we walk everyone through the process and extend invitations to let people come and visit our facilities.
Al took us up on the offer, and was able to see first-hand where we manufacture our homes. One of our favourite things to do is show off our focus on quality — The marriage of artisanal craftsmanship with high tech design and manufacturing. When your product is custom, you have to go into every project with a genuinely helpful, open attitude.
And with that, it was time to get to work designing the perfect home.
"It was clear to me that Confederation really cared about everything they did. They answered every question, were always extremely pleasant, and did everything they could to make the whole thing easy for us."
Starting without a floor plan…
Our design process is a true collaboration with our clients and that's something that was very important to Al. They started with a few basic goals and ideas:
Enough room for the children and grandchildren.
A view to take in the lake.
Several bedrooms so everyone got their own space but didn't feel isolated.
A great room so the whole family of up to twenty could gather together for activities and games.
Little nooks where people could curl up with a hot chocolate or get lost in a great book or an amazing view.
Rather than start with a plan, Al and Lucia talked to us about their needs, and we worked closely together to create and refine their plan and eventually print their blueprints over several months. This helped us design the right combination of rooms and spaces — Six equally sized bedrooms, bathrooms for everyone, an amazing great room, and all the other spaces a modern, luxurious log home needs.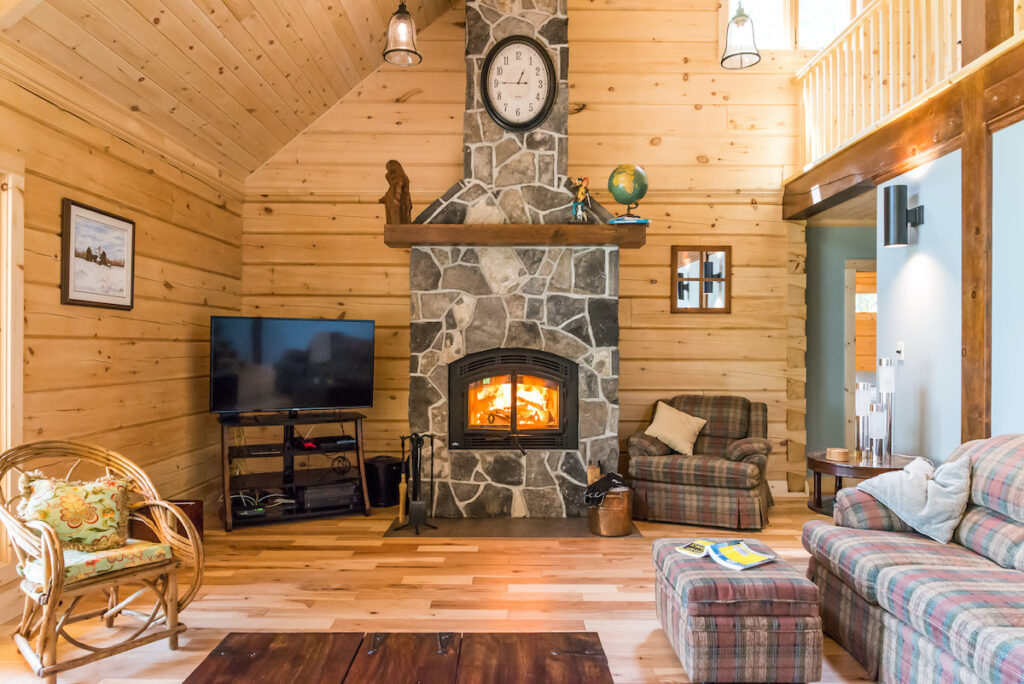 Prior to production Al and Lucia were able to virtually tour their custom design with our 3D walkthroughs — so they could see what it would be like to live and move around in the space. These 3D simulations were incredibly useful, and helped them to refine their plan to make the design of the house more comfortable and efficient.
"The 3D walk-through was a major factor for us. It definitely influenced what went into our final design. It really brought everything to life."
The plans were updated to meet their budget and other needs, and once everything was finalized, Al and Lucia had the certified blueprints they needed. On to building their home. There were exciting times ahead.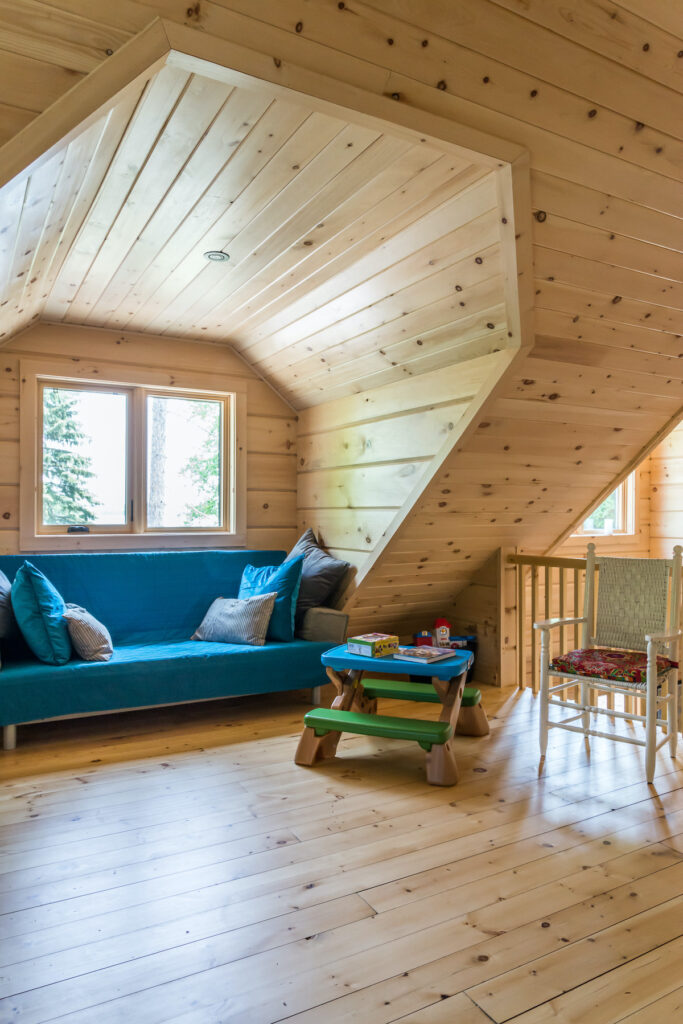 Breaking ground and building a home…
Al has nothing but positive things to say about how the home was constructed.
Choosing from one of our suggested builders, Al added, "The project management and build was effortless too. We worked very closely with the project manager and construction team. The team were there at our beck and call. They clearly laid out the process. Nothing came up that wasn't expected, everything was well planned and explained, and it all went like clockwork."
Al says that from the first idea of building a home to moving in took almost exactly two years, and that it was one of the least stressful projects he's ever been involved with.
Timelines are always an important topic at our seminars (by the way our next one is [seminar]). We see it all the time - our customers think that it's too soon to start the process — that they're two to three years away from building their log home. In reality, if you have your property, it gives you the ideal amount of time to design and build a custom home and take advantage of the back and forth with your designer. And yes … it really can be stress-free.
A life (and house) less ordinary...
It's clear that Al, Lucia, and Skyler the dog, as well as their extended family, are delighted. We'll let Al explain.
"When you walk into the house, it's truly awe inspiring. You see these huge, natural timbers stretching up the walls and 30' beams across the ceiling. There are these stunning floor to ceiling fireplaces. The windows look out onto a magnificent view of the lake.
Every guest is mesmerized. When you turn on the fireplace on a cold winter day, it's perfect. There's wood and glass everywhere, and the whole home is exactly what we wanted — Cozy and spectacular at the same time. There's just a huge wow factor to the building. Wood everywhere, all natural, hickory floors and staircases, designed by professionals to give a real sense of comfort and relaxation.
You can see the lake from most parts of the house. The kids have all decorated their own rooms and we've invited our artist friends to create architectural drawings and other pieces to decorate the great room. We just want to spend so much time up there. We haven't built a cottage, we've built a home. Our friends are happy to be invited, and even happier to be invited back!"
Some final words…
Many couples begin their log home journey on a quest for the perfect floor plan. In our view, there's no such thing. The perfect plan is one designed for you.
It's true, building a custom home can be stressful. But it's doesn't have to be.
We want every single customer to be satisfied and not just with their home but with the journey. That's why we believe your home should be customized for you. And that's why we specialize in making the process easy.
It's so rewarding for all of us here at Confederation not just to produce a home we're proud of but to earn the satisfaction of our customers. And that's why Al's words mean so much:
"I wouldn't hesitate for one second to recommend Confederation to anyone wanting to build a log home. I wouldn't say one bad thing about them. The end result is amazing, the support throughout is tremendous, and they are great people."
In fact, he's so impressed he's thinking about having us back to build a secondary building. Which just goes to show, you can't have too much of a good thing.
"I've done 3 things right in my life; married my wife, started my business, and built a Confederation"