Building a new log or timber frame home is a whirlwind of activity and excitement. There are infinite design possibilities and decisions that take form before your eyes, followed by the thrill of decorating and exploring a new area (or relaxing in a long-time favourite).
But once the newness wears off, what's next?
If you ask Gary and Ligita Welsh, that's when the good times really begin. "Owning a log home is like wine," laughs Ligita, "it gets better with age."
The Toronto-based couple would know; they built their Confederation Log and Timber Frame getaway over fifteen years ago.
After owning a small, older cottage on Catchacoma Lake for a number of years, the couple decided it was time for an upgrade. They carefully researched different building styles and companies but kept coming back to a Confederation-built log home.
"A log home fit our building philosophy," explains Ligita. "We wanted a place that would blend our living environment with nature and really allow us to appreciate our surroundings."
The couple liked that Confederation was local and had a proven, decades-long track-record of creating homes that could stand the test of time, but they were ultimately won over by how "friendly and accommodating everyone was," says Gary.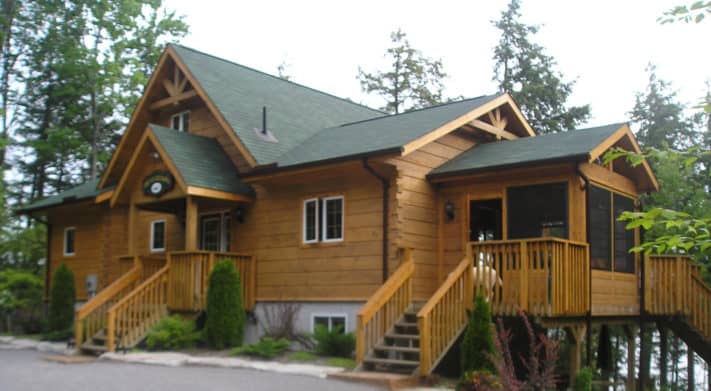 To begin the home building process, Gary brought in plans he had drawn up himself, and Confederation put the finishing touches on the 2,200-square-foot, four-bedroom and 2.5-bathroom design.
BONUS! Get the floor plan: "The Cross Creek"
The couple had a few must-haves on their wish list, including a loft, a wood-burning fireplace in the great room and a modest footprint.
"We didn't want anything too big or lodge-like, just the perfect cozy space," says Ligita. They also wanted windows at every turn. "No matter where you look in the house, there is a view to the lake or trees," she continues.
With the plans in place, the rest of the building process moved quickly with relatively few hiccups.
"There were some minor, weather-related problems, but I contacted Confederation, and within 24-hours, the owner, Rick, met me on site and resolved all of our problems," Gary says. "The working relationship with Confederation was excellent."
Once the home was complete in mid-summer, the couple and their two then-teenage children quickly embraced their favourite recreational activities, from boating and swimming to fishing.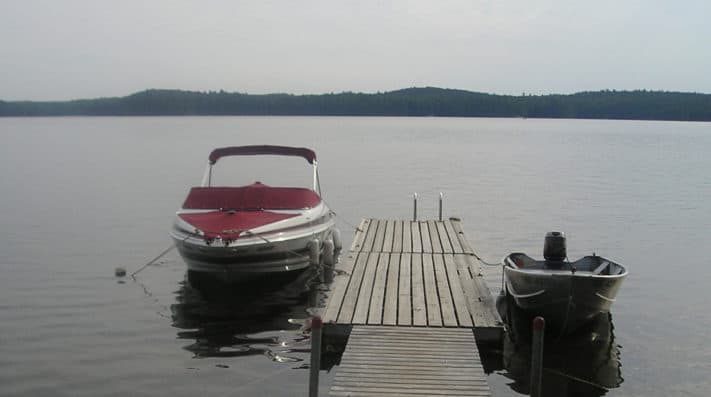 Well over a decade-and-a-half later, those same pursuits — and visiting their Confederation cottage most every weekend — still hold the original appeal.
"In the summer months, every day starts the same way," says Ligita. "We head down to the dock to have coffee by the lake."
Does it ever get old? "Never. Our log cottage is a living breathing extension of the outdoors," she continues. "There are always birds singing and the sounds of the wind through the trees. Our log home makes us feel more connected to nature. We don't feel that at our home in the city."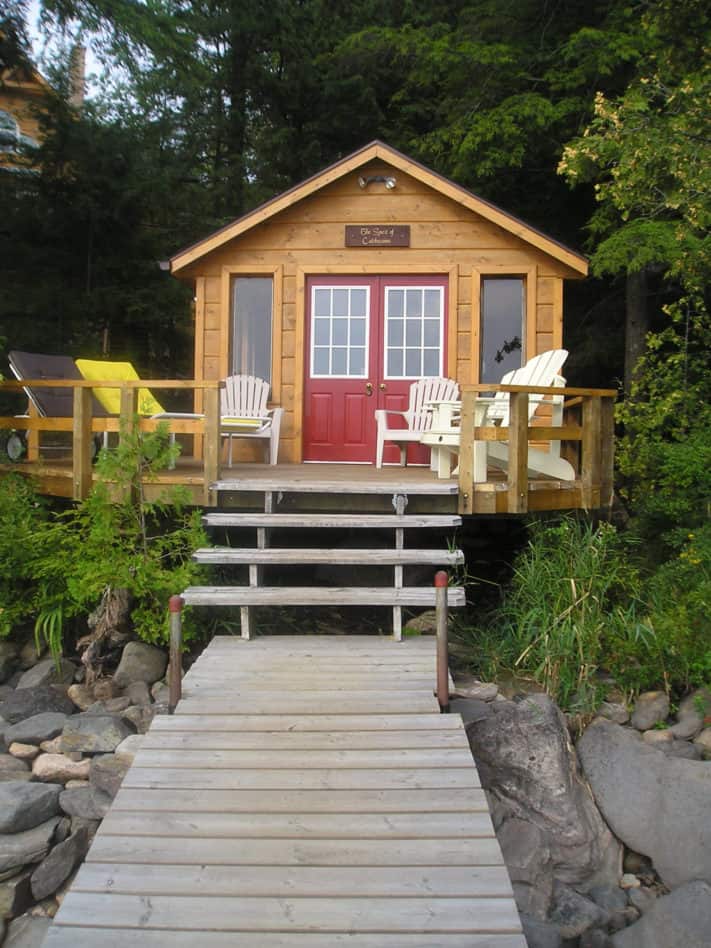 But the couple's renewed connection to nature is far from the only benefit of log homeownership.
Over the past fifteen years, the couple says the relationships they formed during the year-long building process have proven to be one of the best parts of their experience, citing their continued relationship with "everyone who helped make our dream come true, including Confederation and our general contractor, Jack Everett."
In fact, not long ago, the couple dropped by the Confederation Log and Timber Frame head office in Bobcaygeon, Ontario, seeking a recommendation for their second-round of staining since owning the home.
"The salespeople hooked us up with someone who did a spectacular job," Gary says.
While the couple admits to being concerned about the long-term maintenance aspect of log homeownership in the early years, they've been pleasantly surprised at the outcome.
With the recent round of staining, Ligita says the home "looks as good as new" and likens their maintenance experience to marriage: "You have to look after it a bit, but because you love it and take pride in it, it's worth it."
Their revolving door of friends and family who share in the rewards would agree. "All of our enjoyable family memories are from being together at the cottage.
Now, when the kids come back to visit, they prefer to come to the cottage rather than our city home because of all the wonderful memories. It's the perfect place for us to connect with nature and each other."
And, after fifteen years, Rigita and Gary know that is what log home living is truly all about.
Get the Cross Creek floor plan
Sent straight to your inbox. Just tell us where to send it.
We'll use your email to send you this and other useful information about buying and building a log home.
We hate spam too so we'll never share your email. Unsubscribe anytime.