The great thing about designing and building a custom home is you can design the perfect kitchen. Perfect for the overall design of your home and functionally perfect for your needs.
Walk into any Confederation home's kitchen — no matter the size or style — and you can expect the same basic features: appliances, counter space and maybe some seating. But that's where the similarities end. How those basic elements come together completely changes the look and feel of a space.
When you build a custom log or timber frame home, you have the opportunity to create a look you love by selecting everything from the layout and lighting to finishes, floors and ceilings. The custom possibilities are endless, but the outcome is the same — a recipe for a kitchen you'll love!
Check out a few of our favourite looks below, plus information and ideas to help you create a kitchen that's as good-looking as it is hard-working.
Below are four of the most common layout options, and how to decide which will work best for your log or timber home. Our design team can help you sort through the best kitchen layout for your plan keeping in mind how much space you're working with, your personal kitchen needs and how the space relates to the rest of the house.
1) L-shaped: If space is limited but your kitchen opens to the great room, an L-shape is a natural choice for creating a wide-open feel. This user-friendly shape creates an efficient work triangle (a natural flow between the sink, stove, and refrigerator) and if space permits, makes adding an island easy.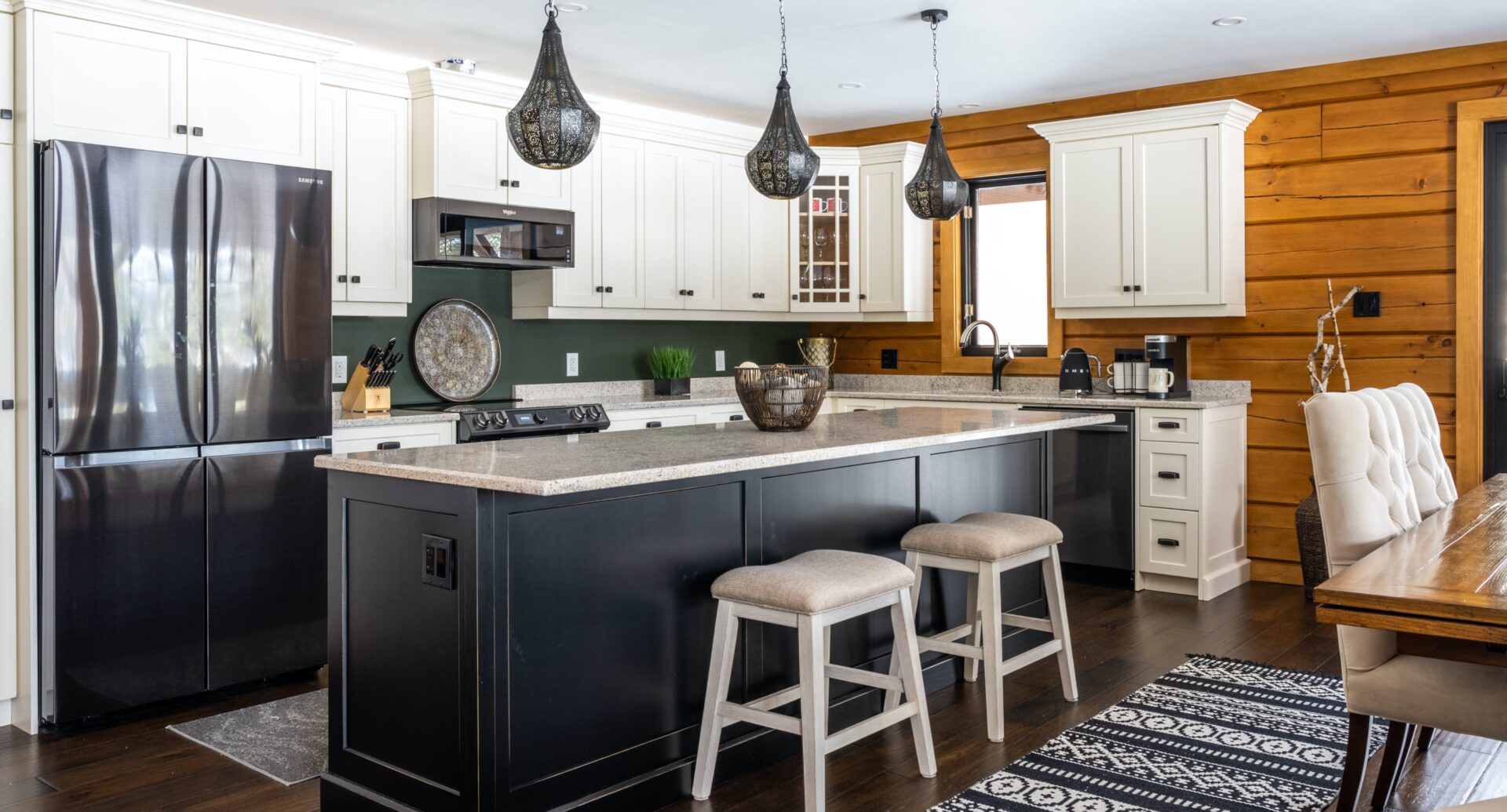 2) U-shape: Another smart choice for open concept homes, this design places each element of the work triangle on a separate side, creating multiple meal prep areas and a perfect spot for a central island. If you plan to do lots of casual entertaining, this set-up is for you, as it invites everyone to join in with plenty of room to pitch in or chat with the cook.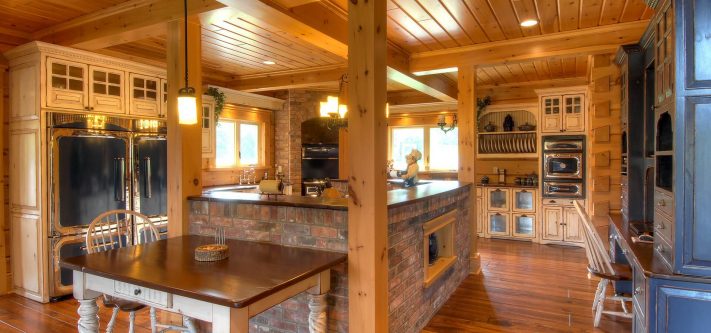 3) G-shaped: If you're drawn to a U-shape, but don't have room for an island, a G-shape may fit the bill. The addition of a peninsula creates a four-sided workspace, adding lots of cabinets and counter space and giving this design a more cozy, intimate feel. Consider adding a raised bar on the peninsula for casual dining, serving or entertaining.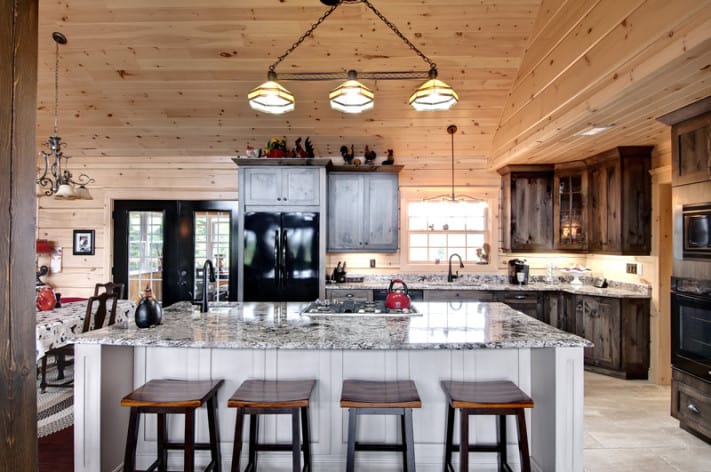 4) Galley style: Generally the most compact kitchen layout, a galley is best for small log or timber homes or cottages with minimal foot traffic. This design features a refrigerator, sink and dishwasher on one side and stove or cooktop on the other.
Show off your Storage Smarts
Whatever floor plan you choose, there are a number of creative tricks to get even more usable, stylish space from your log or timber home kitchen.
First, fill it with only the things you use. Do you really need that ice cream maker or panini press you haven't used in three years? For the appliances that make the cut, plan to store them in a deep cabinet with sliding drawers to save valuable counter space.
To further increase efficiency, consider other kitchen workhorses, like floor-to-ceiling cabinets, slide-out shelves, a plate rack cabinet or a pull-out pantry. And, don't forget that storage can be stylish, too: add an open shelf above a kitchen window or along a backsplash to display dishes, plants or art.
Style Your Ceiling
Focusing on the architectural elements of your kitchen ceilings will have a major impact on the look and feel of your space. To start, if cathedral ceilings aren't a part of your design, opt for at least 9-foot ceilings to keep your kitchen from feeling cramped.
Next, decide whether you want to keep things warm and natural with tongue and groove panelling or would prefer the fresh, clean feel of drywall. Whatever you choose, consider adding exposed beams or decorative trusses to add the "wow" to your kitchen.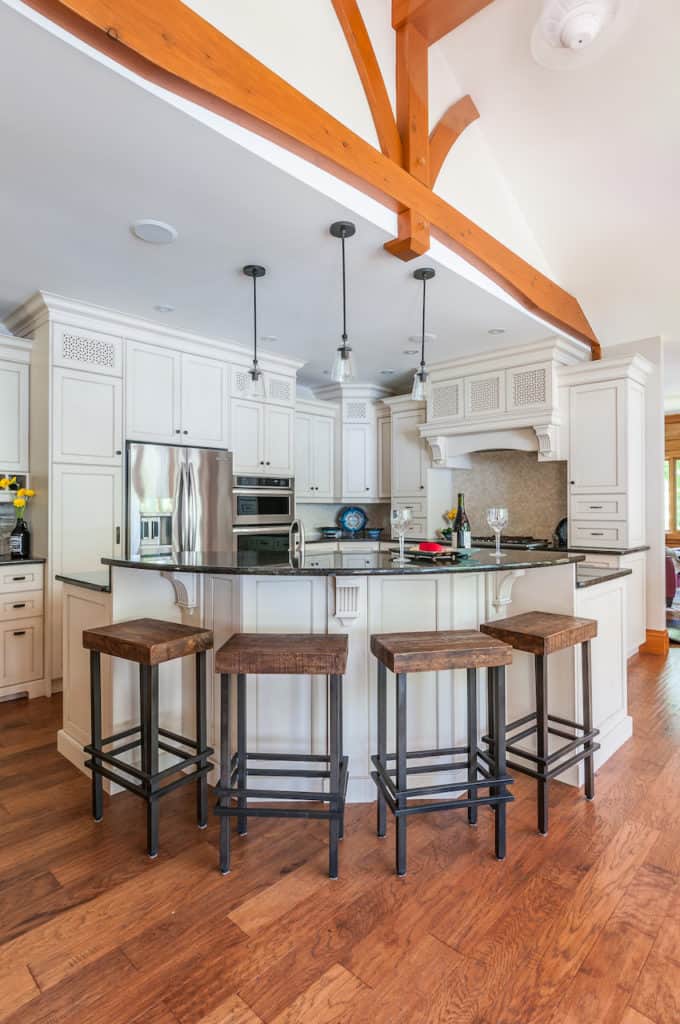 Light it Up
To add even more oomph to your kitchen's style and make everyday tasks more pleasant, look to lighting. Usher in natural light with a well-placed window above your sink or transoms or clerestory windows to brighten up your space even more.
Next, be sure to include three layers of lighting — task, accent, and ambient.
Place task lighting above individual task areas, such as sinks, countertops and pathways. Add accent lighting to draw the eye to architectural details you want to highlight, like beams or trusses. Consider adding accent lighting above, inside or beneath the cabinets to give your kitchen an overall warm ambiance. For general lighting, look to a mix of recessed lights, decorative pendants or a chandelier. Choose fixtures that suit your log or timber home's overall design and let your personal style shine.
Selecting Your Finishes
While layout, storage and lighting are all essential elements to a well-functioning kitchen, selecting finishes in your log and timber home kitchen will have the most impact on the overall style of your space.
Pinterest, Instagram or design magazines are great places to start to help you settle on a look and colour palette you love (and narrow down your nearly unlimited options).
Are you drawn to a bright, classic kitchen? White shaker-style cabinetry with a glass mosaic tile backsplash and contrasting countertops will likely fit the bill.
Or, if "warm and cozy" is more up your alley, traditional raised panel wood cabinetry and natural stone or brick accents may suit your style.
For those with a love of all things modern, consider navy cabinets paired with white subway and gold hardware, or try out a colour without committing all the way by painting your island a peppy colour. (When choosing for cabinets, countertops or any painted stretches of drywall in your kitchen, keep in mind cooler hues tend to visually expand a space, while warm shades create a more intimate feel.)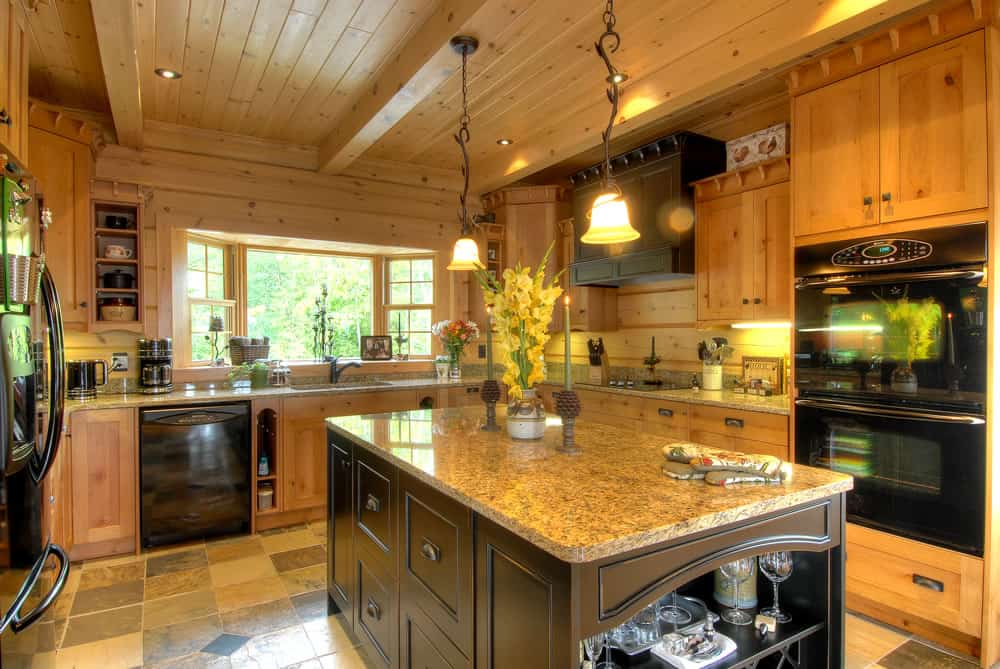 While your options — and the potential combinations they can create — are virtually endless, it is important to keep the rest of your log or timber home's design in mind as you make selections. The kitchen design should flow seamlessly with the remainder of the home, especially if your design is an open concept.
Finally, don't forget to look for ways to add character to your kitchen. Leave room for displaying items or collections that are meaningful to you and your family or opt for open shelving or glass-front cabinets to show off pretty dishes. Bring in artwork, house plants, fresh flowers — even throw down a rug to add colour and texture.
While the kitchen is a utilitarian space, it is also the heart of your home and should reflect the personality of your home and your family.
Whether you're ready to start designing your custom home, or just thinking about it, the easiest way to start planning is with our: