As part of our focus on getting your home built… we're turning our attention to something pretty foundational to a successful build… literally your foundation.
Choosing the right foundation for your log or timber home lays the groundwork for a successful build.
It's been said a building is only as good as the foundation that supports it — and we couldn't agree more. While our specialty is the logs and timbers that are placed on top of the foundation of your choosing, helping you select the foundation option best for your new home is part of the service included in our Total Package.
In fact, as you sit down with our designers, one of the first decisions you'll talk through is what type of foundation you want your home to sit on.
As foundation choices go, there is an abundance of information available on the methods and materials available — and the pros and cons of each. (A quick Google search turns up thousands of pages on the topic.) And, while we're always up for shop talk, we know a barrage of nitty-gritty details can sometimes feel overwhelming. (Though, if you want the nuts-and-bolts deets, just ask!)
So, when it comes to helping you create the perfect custom log or timber home for your family, our goal is to make the process as painless and pleasant as possible from start to finish.
We do the work of narrowing down the essential need-to-know-info so that you can move forward with educated confidence. That's why we're offering up a quick primer below with the information that will help you settle on the right foundation for your home and property.
Take Your Pick
When it comes to choosing a foundation for your log or timber frame home, you've got three options: slab-on-grade, full basement or crawlspace.
As you read through the specs of each below, keep in mind the terrain of your property will likely play a key role in determining which of the three foundation solutions is best for your new home.
Slab-on-Grade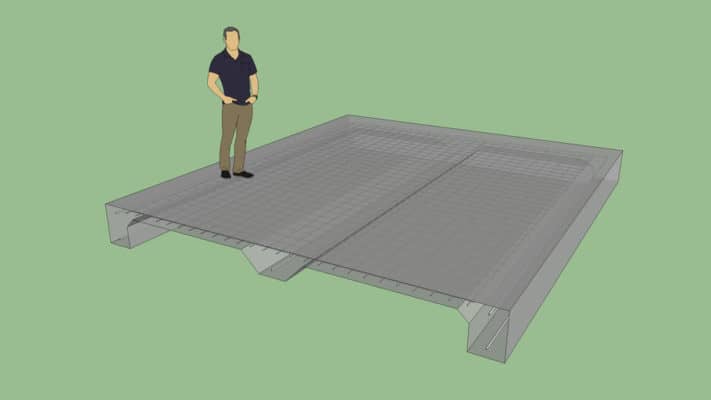 In a nutshell, this type of foundation consists of a concrete slab resting directly on dirt or bedrock.
A slab-on-grade is generally the most cost-effective of the three foundation options, especially for flat properties that would require excavation work. This type of foundation is especially appealing for those who may plan on aging in place and don't anticipate needing additional below-grade space.
Something else to keep in mind with a slab-on-grade: If you're craving a warm underfoot feel on your main level, slab floors easily accommodate the installation of radiant in-floor heating, which also eliminate the need for main floor ductwork.
Whether you choose radiant floors heated with water or air, they both turn the concrete slab below your home into a radiator that creates a comfortable interior environment in every room.
Many folks are won over to slab-on-grade foundations by the fact they won't need to worry about the potential risks of humidity or water infiltration issues that basements or crawlspaces can face, though keep in mind if you live in a climate prone to freezing you'll need to make accommodations for skirt insulation, which will protect the slab from the freeze/thaw cycle.
And finally, if you live in an area like we do here in Ontario where most homes have a basement, it may be harder to sell your home without one. Remember… finishing a basement is the most cost effective way to as much as double your square footage.
Crawlspace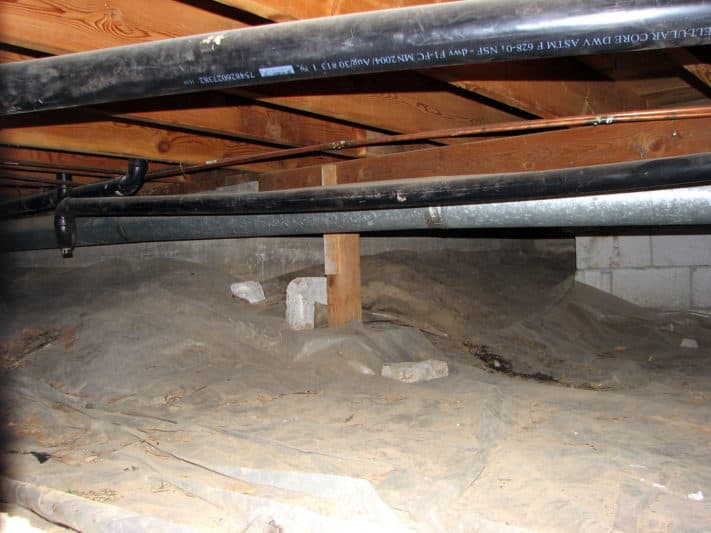 If you plan to build your log or timber home on a sloped property, keep in mind slopes and slabs rarely mix well together.
Building up a sloped property to accommodate a slab would be costly in terms of time, labor and actual expense. If you're not interested in committing to a full basement, a crawlspace may be the right choice for you.
Crawlspaces are simply an elevated foundation supported by footings and a short wall around the perimeter of the house.
Typically, crawlspaces are 18 inches to four feet deep and consist of traditional concrete or newer building materials, like insulated concrete forms (ICFs), which are essentially blocks made of expanded polystyrene that feature an interlocking design and are reinforced with rebar and filled with concrete.
One bonus of a crawlspace: running your electrical wiring and plumbing is a much simpler process than routing through a slab, and allows for easier repairs and desired changes later on. In addition, depending on the height of your crawlspace, you may eek out extra storage space.
Keep in mind you'll want to plan out your crawlspace carefully to avoid major headaches later on — including moisture, allergen and insect infiltration.
Popular options for keeping your crawlspace (and home) clean and comfortable include putting down a multi-layer vapor barrier, adding insulation (spray foam insulation is a popular choice for crawlspace applications) and even setting up a commercial humidifier to the area to ensure the space stays dry and mold-free.
And to keep floors comfortable and draft-free, consider using an energy-efficient structural insulated panels (SIPs) floor system.
Full Basement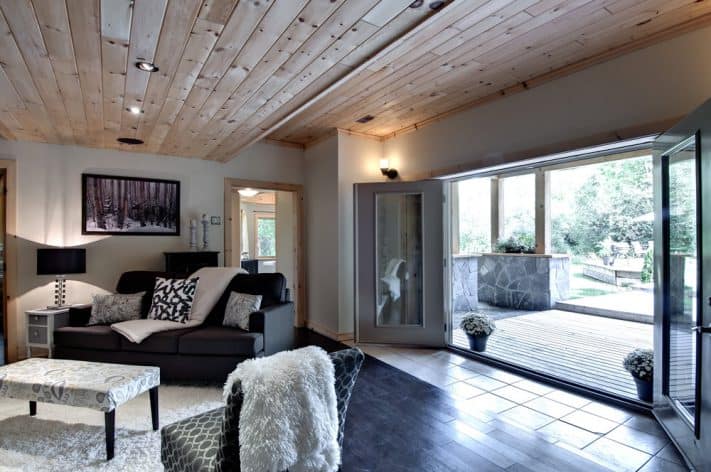 Ready to add extra square footage to your home's design? A finished basement is set to be your new best friend in the foundation world — especially if your lot slopes. And, you'll be in good company, too.
Of the three foundation options, full basements tend to be the most popular choice among our customers. And for good reason. A full basement (here I go again…) is the most affordable way to add extra living space to your log or timber home.
While a full basement can be all below-grade, offering an opportunity for a perfect in-home theater, most clients prefer a walk-out basement if their property is conducive to it.
Not only does a walk-out basement offer accessibility from the backyard, it also ushers in natural light, ventilation and views, helping the basement live as comfortably as the main and upper floor levels of the home.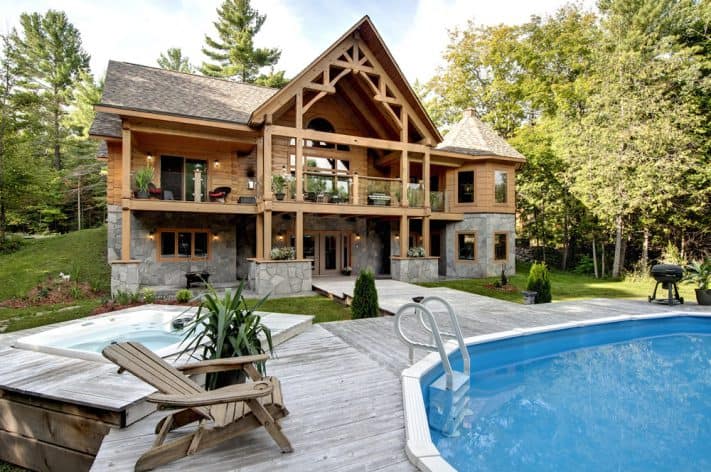 When it comes to construction of a basement, there are a wide variety of opinions concerning the "best" materials and building methods.
Options include traditional approaches, like poured concrete or block walls, as well as more recent building technologies, like insulated concrete forms (ICFs). Each has their pros and cons.
For example, use ICFs, and you won't have to add additional insulation but you'll pay more up front. But to fairly weigh your options, you'll want to ask your builder about the details of the installation process (including time and labor), insulation options (common choices include fiberglass, foam board and sprayed foam) and any potential issues over time, such as cracking or moisture penetration.
Just as a custom log or timber frame home is only as good as the foundation it rests on, we believe the same thing about a business. That's why we've rooted our 40-plus-year-old family business in foundational principles, like integrity and an uncompromising commitment to quality.
Give us a call today to find out more about what sets us apart from the crowd and begin the process of building your custom dream home today.
Got a question about foundations or anything related to building a log home? Go ahead, record your question below and I'll answer it on our YouTube Channel.