It's often said everything in life has a season. For Randy and Lee Reynolds, it just so happened the close of Randy's career - and the fresh start of retirement - signaled a new beginning for the couple in the Kawartha Lakes region of Ontario.
Nearly 30 years prior, Randy had purchased their lakeside cottage, and with its easy waterfront access, it had been an ideal summer getaway for the family for decades. But after so many years of wear and tear, the aging cottage no longer did the perfect location justice, and the couple found they were spending as much time keeping up the cottage as enjoying it.
"The cottage was getting to be a lot of work," says Lee. "We were ready for something more low maintenance."
The Reynolds' "go for it" moment came on an early Saturday morning while they were sipping coffee in bed. "We just looked at each other and said, 'Let's tear down the cottage and build a new place,'" says Lee. "We grabbed a piece of paper and started drawing ideas and designs.
We knew the new build had to be a log home "right out of the gate," says Lee. "It has a different feel than a regular stick frame home. They're solid and cozy; you can feel the warmth of the wood."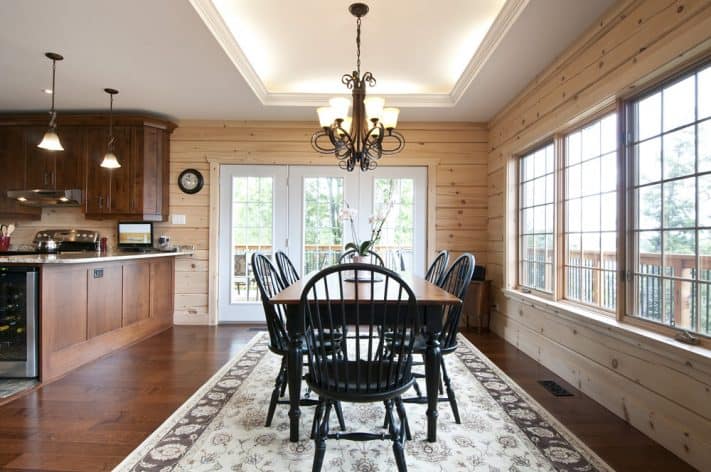 To take their dream from humble beginnings on a napkin to a livable, lakeside perch, the couple turned to Confederation Log and Timber Frame Homes without question. "We'd driven by the facility for years, and had stopped by the showroom and just fell in love."
The Reynolds were able to leverage Confederation's popular Hillcrest floor plan, and then make it their own, by handing off their rough sketches to Confederation's design department. With a few tweaks, the plans for the Reynolds' new log home were ready.
The new layout would place the living areas on the lakeside of the home - something their previous cottage was missing - and would include loads of natural light and stretches of drywall to give the interiors a fresh, airy feel.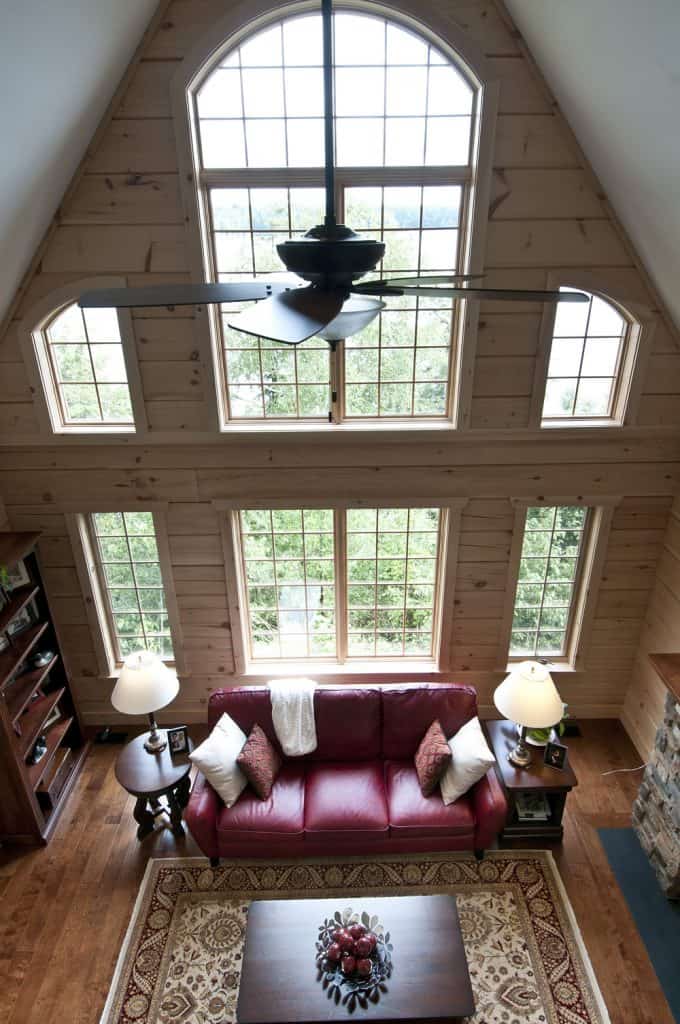 The couple took their build up a notch with architectural details like a stone-to-ceiling fireplace, tray ceilings and a custom staircase.
The design plans would also take advantage of the property's gorgeous views with lots of outdoor living areas, including wrap-around deck and a lower level patio with direct access from the basement.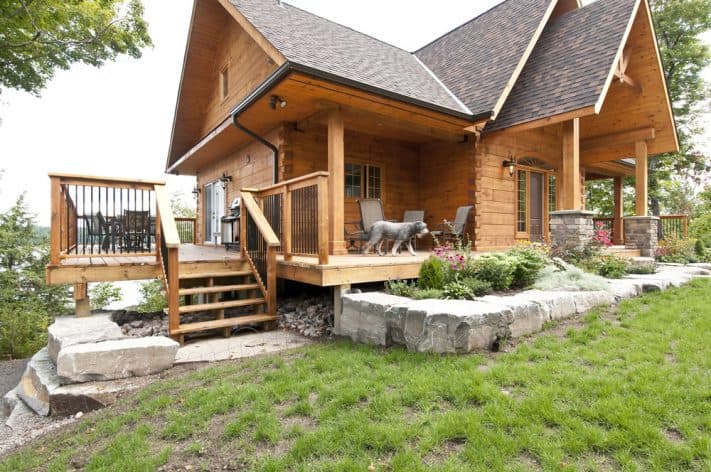 To put the plans into action, the couple teamed up with one of Confederation's preferred builders, Rick Moore - and that's where their story takes a twist. Because they trusted Confederation to put them in good hands, they left the building behind, and embarked on a six-month sailing trip to the Bahamas.
When the couple returned home, their new home was waiting for them.
"While we were gone, we had people checking in and sending us pictures regularly as the lot was being cleared and the footings were going down," Lee says. "We were confident we were in good hands, and it was actually nice not to be there while they took the old cottage down. When we came back, it had turned into something new and fresh."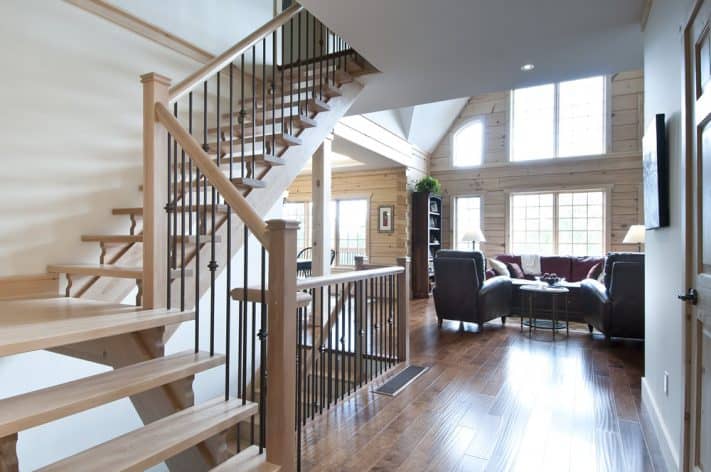 Since finishing the home and moving in full-time, the couple says their home is exactly what a lakeside home should be: relaxing.
"It's an easy, low-maintenance home, especially compared to the cottage," says Lee. Thanks to its easy-living design, she says it's no surprise their floor plan has become the most popular one on the Confederation website. "We kept things simple," she says, "and the living space is perfect."
Ready to see what all the buzz is about? Check out our website's most popular design, the Hillcrest, for yourself. Then, let us know how we can customize it to make it perfect for your family's way of life, style and budget.
Get the Hillcrest floor plan
Sent straight to your inbox. Just tell us where to send it: