If you get our email updates (and if you don't, what are waiting for??) then you'll definitely know Rich Kinsman, our VP of Sales. If you've also been following his personal home building journey, here's the latest: The Revelstoke is done and Rich and his family have officially moved into their new timber frame home. We'll give you the scoop on how they're settling in – and throw in some bonus timber talk, too.
New Year, New Beginnings
It's been said in every ending, there is a new beginning. Rich Kinsman and his family are living that truth — and loving every minute. The days of building permits, designing, revisions, product selections, and construction are behind them.
After a year of planning and building, the couple and their two young children moved into their timber frame home at the beginning of the new year.
"New year, new beginning," affirms Rich. "We went from start to finish in under a year, and with it being a big place and fairly complex, the time frame was pretty quick."
With building behind them, Rich says things have slowed down, and on his days away from the office, he has just one thing on his agenda: enjoying his new home. Thankfully, finding a place to connect with his family and friends — or take in some quiet R&R — is effortless. Welcoming, well-designed spaces stretch across the three levels and 5,000 square feet of the full timber frame beauty.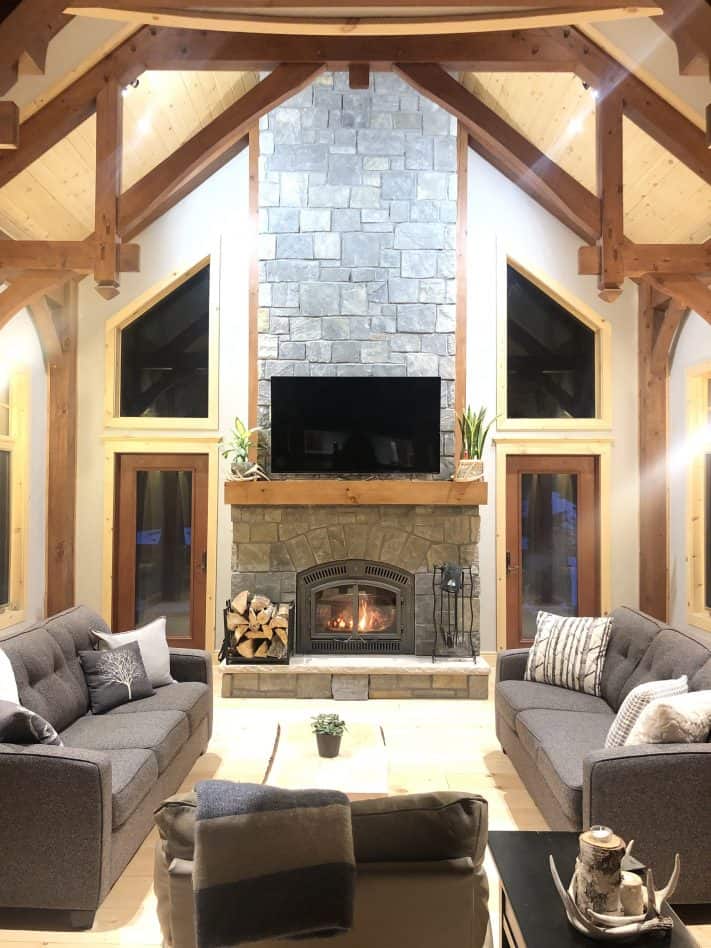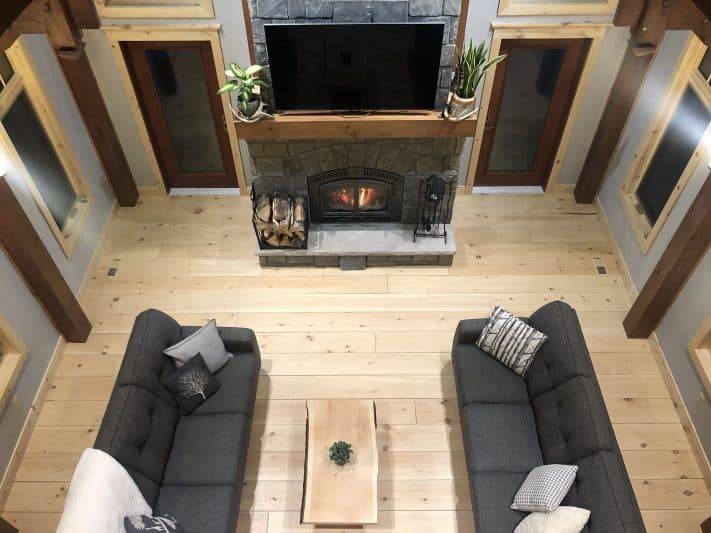 On the main floor, the 2,000-square feet of space practically ooze comfort. The bright and airy rooms feel contemporary (but never cold) thanks to the abundance of natural materials, from the dark-stained timbers that punctuate the tongue and groove paneling on the ceiling to the natural-toned trim that adds warmth to the painted grey walls.
With every room finished the Confederation way — exactly suited to family's lifestyle and aesthetic preferences — choosing a favorite is impossible, says Rich.
"Every time you cook something, you think 'Wow, the kitchen is really cool.' Then, you sit in the dining room and think, 'This is awesome.' Then you move to the great room to watch a movie, and you love everything about that, too,'" he laughs.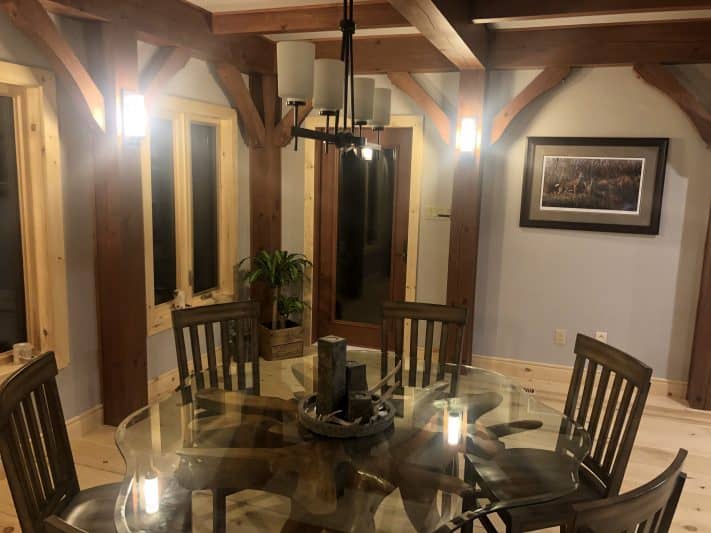 The 1,000-square-foot private ensuite that fills the upper floor gives the main floor a run for its money. "It's perfectly laid out," says Rich. "There are so many features."
One of the smartest: a design that separates the closet and bathroom from the sleeping space.
"That way, you can get up, close the door, shower and get dressed without disturbing the other person," he explains. (Though he admits with two little ones, there aren't many days dedicated to sleeping in.)
Inside and out, the Revelstoke is the perfect home base for the family's daily activities, which center mostly around enjoying their 100-plus acre homestead.
"We have breakfast, then head out to explore the woods. Then, we come back for the kids' nap and finish out the day here as a family," Rich says. "When you see your house go from start to finish, and you finally get to say, 'Wow, this is where I live,' it's pretty surreal. Cool is definitely an understatement."
Timber Frame Pros
When it comes to Confederation wood homes, you have choices — and so did Rich.
Before there was the Revelstoke, there was Rich's first build, the Elwood, a log and timber hybrid. Though he loved the log elements, he was ready to go full timber frame this time around.
Here are two key advantages to choosing timber frame construction for your new home:
Longevity: Your new home is one of the biggest investments you'll make, and no doubt you want it to last. Thankfully, timber frame homes have been proven to stand the test of time — time and time again. Need proof beyond the Confederation Log and Timber Frame homes still going strong nearly four decades later? Look to the Jokhang Monastery. Located in Lhasa, Tibet, it dates back to the 7th century and is considered to be the oldest timber-frame structure in the world.
Flexibility: If you're looking for a wood home that you can customize to the hilt, a full timber frame will fit the bill. "There are lots of choices to make, and they all sort of domino once you choose your timbers," explained Rich. After you select your timbers, you'll choose your interior finishes (everything from ceiling and wall material to flooring and beyond) and exterior finishes (stone, stucco, siding … anything goes). "When it comes to a timber frame design, there are countless combinations," Rich says.
In other words, you can customize to your heart's content. That's what our team is for. They'll help you understand your options and guide you through the process.
Get Rich's floor plan
"The Revelstoke"
Sent straight to your inbox. Just tell us where to send it:
We'll use your email to send you this and other useful information about buying and building a log home.
We hate spam too so we'll never share your email. Unsubscribe anytime.