Join our VP of Sales, Rich Kinsman on the Marc and Mandy Show to discuss the unique features of the Green Woods.
Recently we were excited to have our VP of Sales, Rich Kinsman, appear on the Marc & Mandy Show!
Rich gave a tour of the Green Woods log home with designer Evelyn Eshun. The home features a unique octagonal dining room, with 360 degree views of the surrounding landscape.
But one of the best features of the home is the gorgeous vaulted ceilings with timber frame accents.
When thinking about designing your dream home, ceilings might be the last thing on your mind – but they can make a huge difference on the feeling and impact of the whole space.
Beautiful cathedral ceilings with exposed beams, gorgeous timber frames, tongue and groove details… these are the things that separate a log home from a plain, standard home! When designing your custom log home, you want to make the most of these dramatic features.
But what exactly are your options for log home ceiling design? And how does the design process work?
We'll walk you through that in this post.
But first, check out the short video to take a look at those beautiful ceilings and the octagonal dining room:
Your Two Main Log Home Ceiling Options
When it comes to designing the ceilings in your dream home, you have two main options: wood or drywall.
The all-wood look…
Wood ceilings will give your log home a traditional look and a warm and cozy feeling. Using all wood makes for a consistent design theme throughout the home, and you can play up the contrast with your furnishings and decor.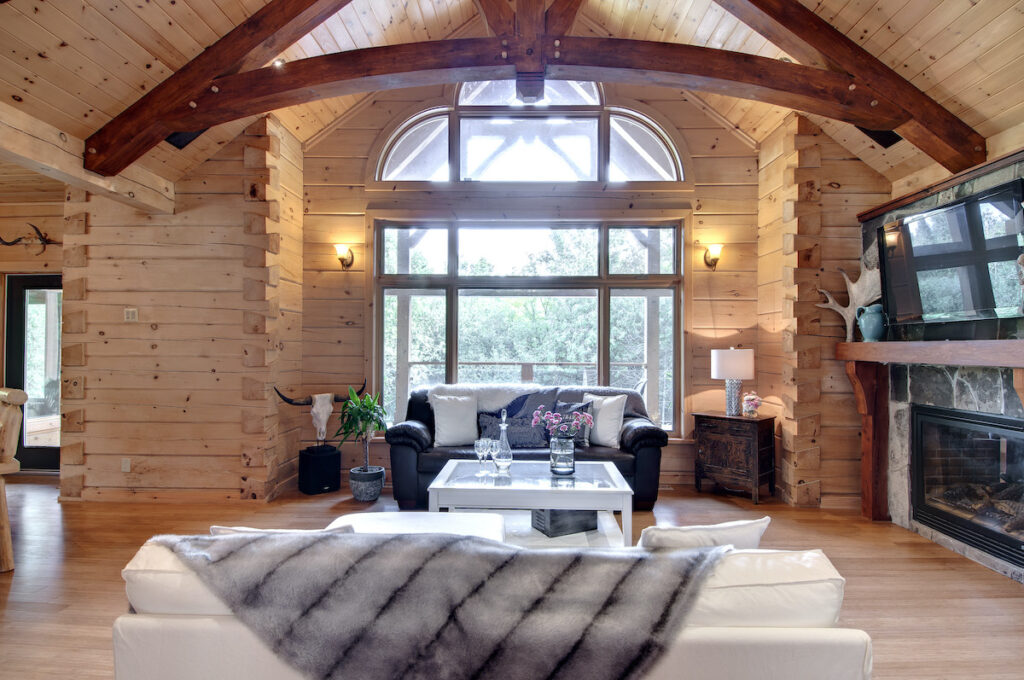 You can add depth and interest to wood ceilings by using different color stains, as in the video. The Green Woods home features a two-tone look, with light-colored ceilings and timber accents stained in a darker color.
…or drywall in any color!
A lot of people have the misconception that a log home has to be all wood, but that's not the case. You have plenty of design options if you don't want to go for the traditional all-wood look.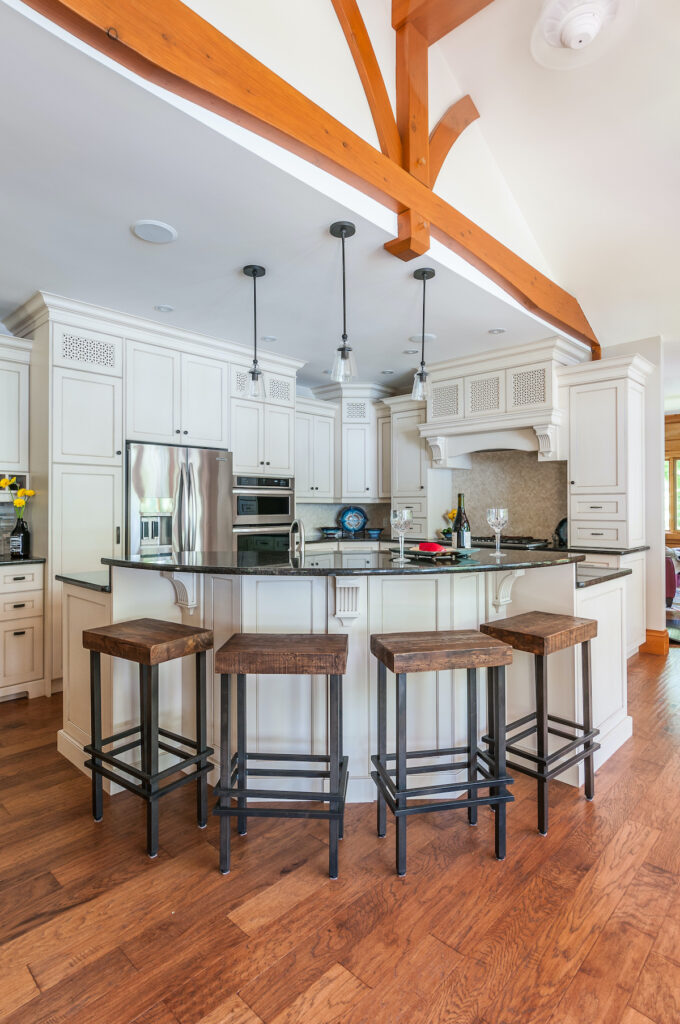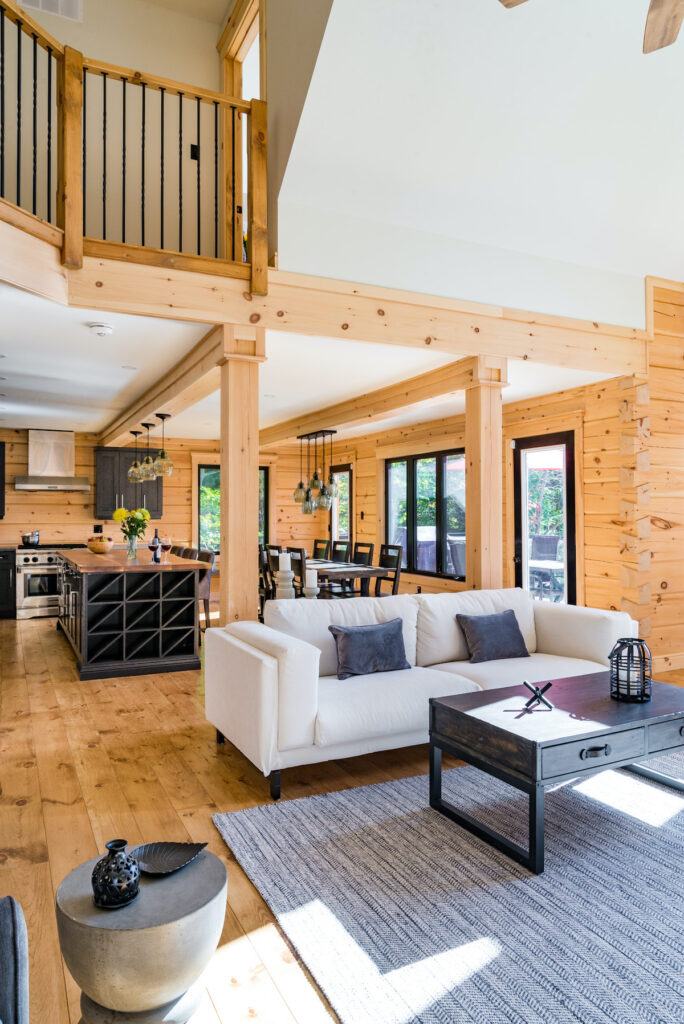 Drywall ceilings will give your log home a more contemporary feel. With drywall ceilings, there are no limitations on color since you can paint them any color you want, from dramatic dark colors to plain white or even bold color accents.
Timber Accents Wherever You Want Them
Whether you go with all-wood or with drywall, timber accents will give your vaulted ceilings that breathtaking, high-impact look so characteristic of a log home.
A lot of our designs incorporate a cathedral ceiling, and we're seeing more and more timber accents.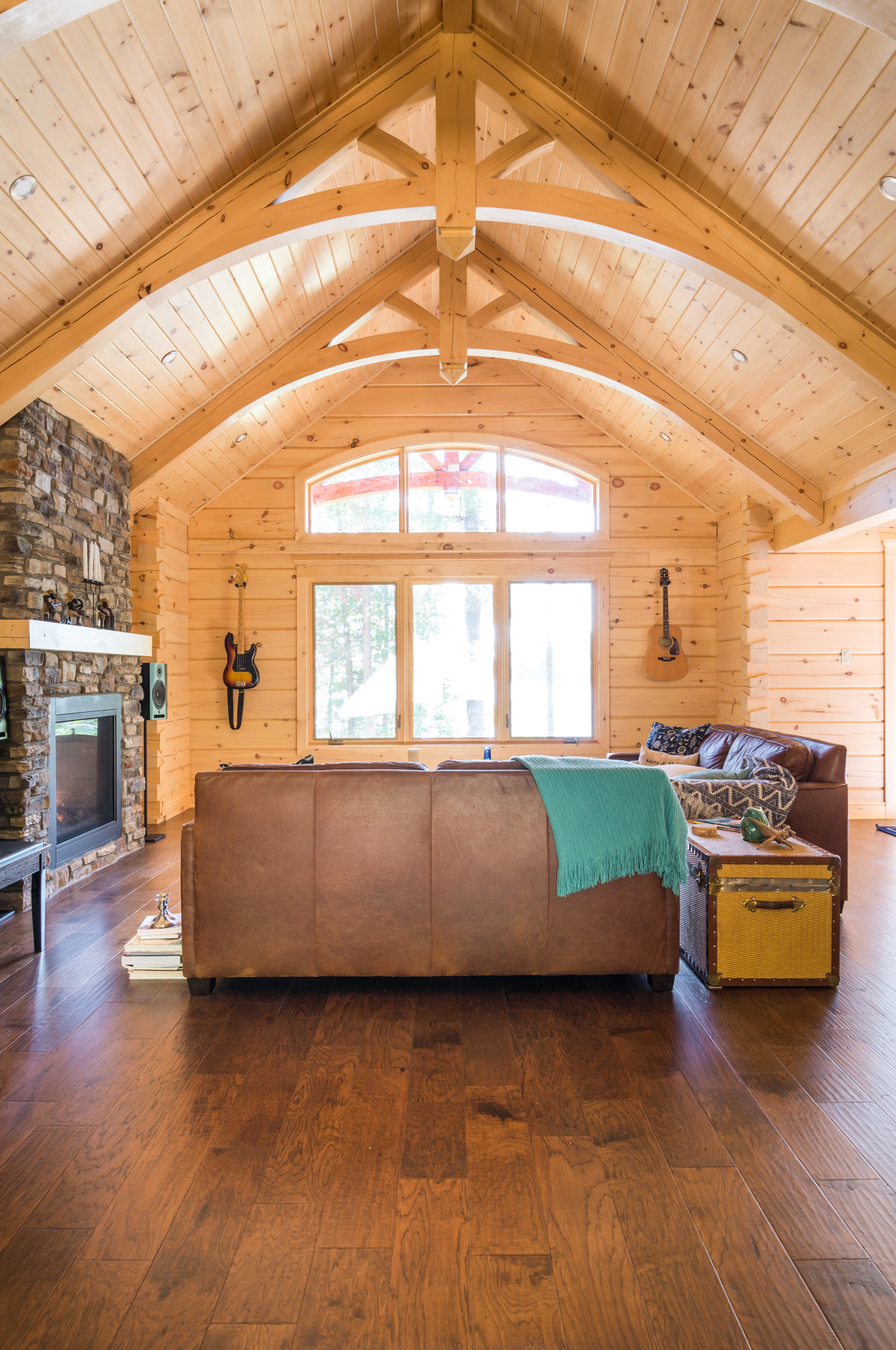 Why Timber Accents Beat Real Timber Frames for Design Options
In a true timber frame home, the timber frames are structural: the log posts that meet the timber beams overhead and connect to the roof truss actually support the house. That means that the placement and design of the timber frames is determined by the house structure.
But in a log home, the timber frame accents are purely decorative. That means you can place them wherever you want, and create whatever look you want.
(You can learn more about the difference between true timber frame homes and log homes in our Essential Guide email series..)
Want two-tone post and beam ceilings in just the kitchen, and brightly painted drywall ceilings in the bedrooms? You can do that.
Want dramatic ceiling trusses custom designed to fit your great room, and a more subtle look throughout the rest of your home? No problem!
The custom design makes timber frame accents more budget friendly as well, since you can choose to use them wherever you want without adding to the overall cost per square footage for the home.
What's the Design Process for Ceilings?
First off we start with the dimensions of the ceiling, so we know what kind of space we're dealing with.
Then we'll sit down with you and talk about what kind of look you like.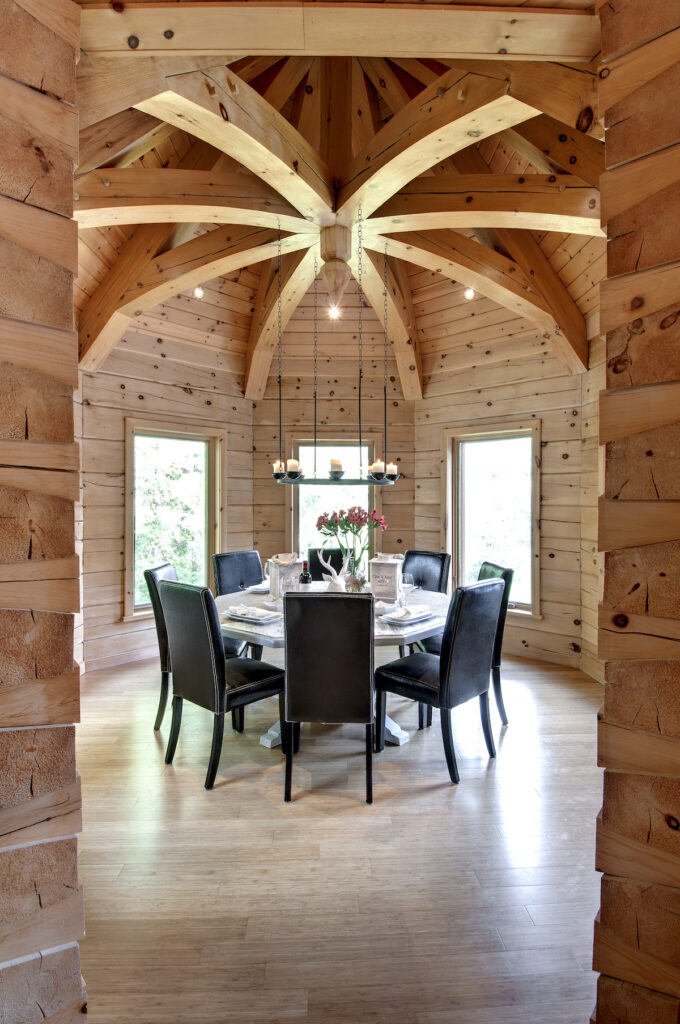 Is there a particular style or look you want to emulate? Do you want to use big, beefy timber trusses for maximum impact, or do you want a more delicate look that blends in to your decor?
Once we finalize the sketches, we do a complete 3D Virtual Walkthrough so you can see how the ceiling will look in real life.
Curious About the Green Woods Home Featured in the Video?
That beautiful home was originally designed and built by our own VP of Operations, Andy Kinsman. The octagonal dining room's vaulted ceiling has a gorgeous timber truss that was handmade just for that room.
The Green Woods plan won the Year's Best Log Home award from Log Home Living last year, out of submissions from all across North America! The design was voted on by over 400,000 Facebook fans.
How to get started designing your own dream home: