We're honoured to have been chosen among the Best Timber Frame Homes of 2021 as selected by readers of Log Home Living Magazine
Article below reprinted from Log Home Living Magazine
An unexpected offer on his existing house led a log and timber home pro to design a bigger, better timber frame home for his growing family.
Rich Kinsman knows his way around timber-framed homes. Not only is he the vice president of 1867 Confederation Log & Timber Frame, it's the family business.
But Rich knows this particular house a little better than all the others he's helped to bring to fruition over the years — this one's his.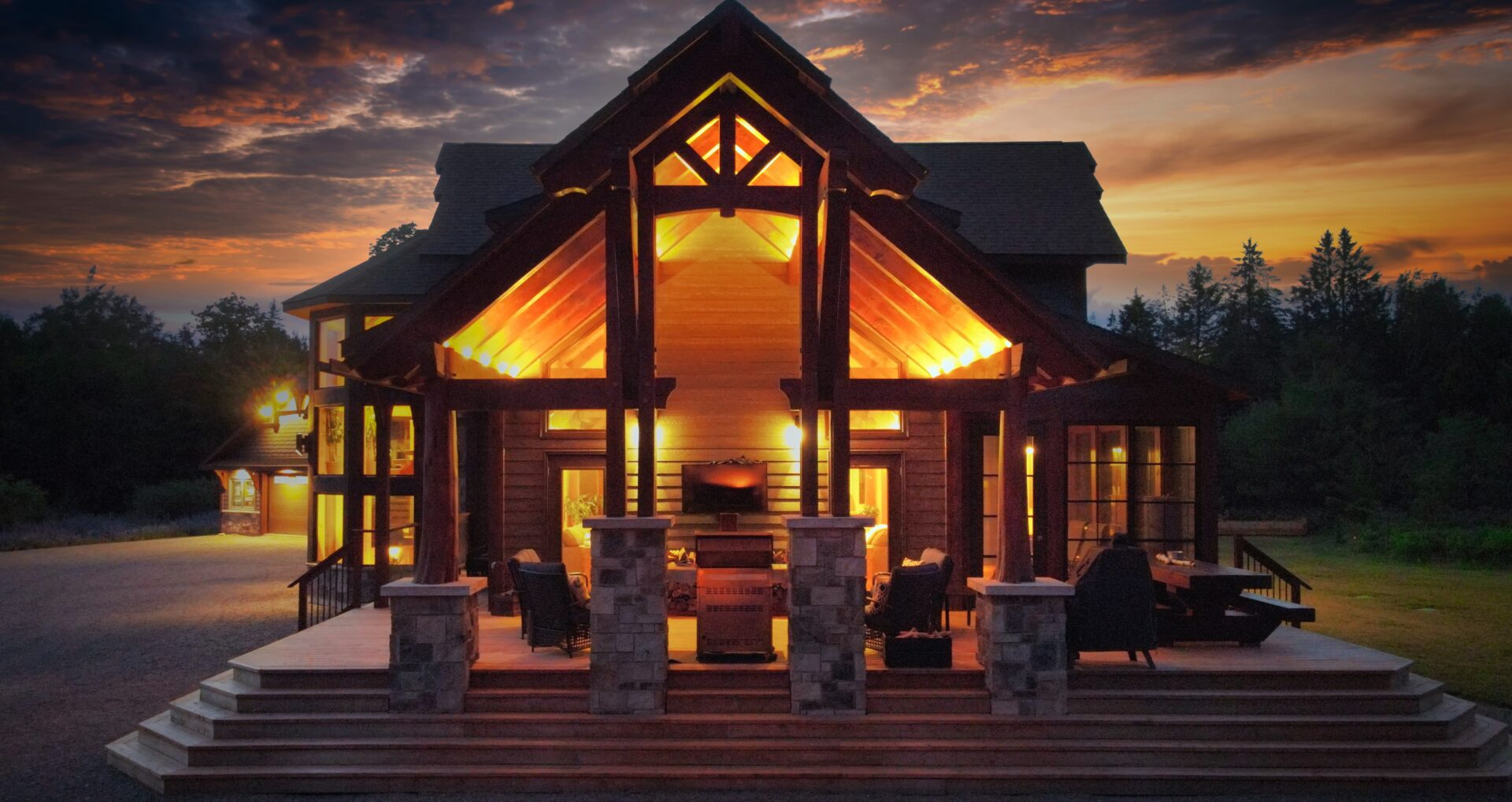 Rich didn't exactly plan on building the 3,077-square-foot home crafted of white pine. But when he, his wife and their growing family got an unsolicited offer on the log home they built several years ago, they saw an opportunity to try something new.
"We had a fellow ask us if our house was for sale. It was the middle of winter, my wife was six months pregnant and we had no where to go, but the offer was good enough for us to say, 'Let's pack our bags,' so we sold," Rich says with a laugh. "We really loved the layout of our log house. This house is very similar but on a grander scale."
The five-bedroom, three-bathroom house is expansive but cozy. The upper level is a dedicated owners' suite, boasting generous sleeping quarters, a 112-square-foot walk-in-closet and a Juliette balcony overlooking the great room below.
"We knew we wanted the master upstairs to be 'our spot'," says Rich, "but we wanted to have the kids' rooms close, so they're located below us on the main floor."
Rich purposely placed them toward the back of the house. "If we are entertaining and the kids are in bed at 7:30, we don't want to disturb them."
But make no mistake — the vast kitchen/dining area that runs front to back in the house is much more than a sound buffer between children and adults.
Coming from a log home, Rich wanted to incorporate as much wood as possible. "I didn't want a house with timber accents," he shares, "I wanted to pour the focus into the wood."
The kitchen showcases white pine posts, beams and floors. "With young kids like I have, floors are going to get beat up. The distressed pine floors will look better with wear.
"We started the design process with a list of criteria, not a floor plan," Rich continues, "and that's what I tell my clients to do. I know that you want a living room, a kitchen, a bedroom, etc., but what's the functionality? What do you want it to feel like — that's what's important. Then we'll design it around those criteria."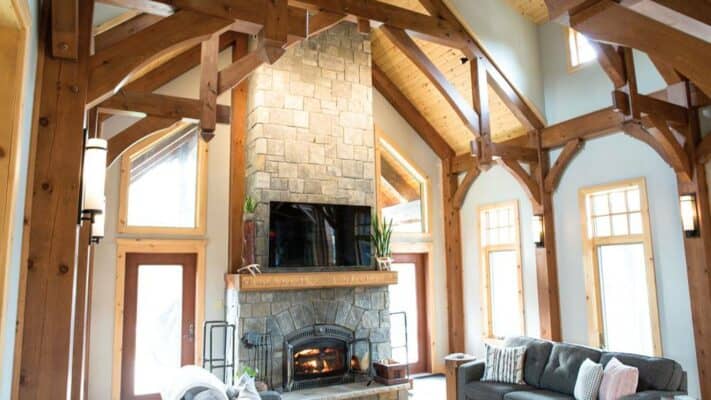 For the Kinsman abode, one of those requirements was a sunken living room. In Rich's view, the wonderful wide-open spaces that come with timber frame construction could use a little transition.
"Placing a step down to the living area makes you feel like you're in a different room." Rich says.
The levels are connected by an extra wide staircase that occupies a two-story bump-out comprised of windows. This choice lets in a ton of natural light, but it also removes the stairs from the flow, boosting the home's livable square footage and spacious design.
"With how open timber homes are, one decision dominoes into the next," Rich says. "From the stain of your beams to your flooring choice, you have to give it all a lot of thought. But we are so fortunate — we don't need anything else."