Enjoying nearly two decades of Confederation log home living on Ontario's Horseshoe Lake is one family's good fortune.
Sometimes you have to let go of one thing to make room for something better. No one knows that better than Bill and Laura Muirhead.
After nearly a decade of making memories with their three children in a lakeside cottage they had purchased in the Haliburton highlands region of Ontario, the couple knew it was time for an upgrade.
"It was a handyman's special to get the cottage functioning in the winter," explains Laura. "At first we were planning on making some changes to it, but we were warned that would turn into a nightmare."
Still, embracing something new wasn't easy.
"It took us about three years of pondering before we decided to tear it down and do something different. We had purchased the cottage when our kids were 1, 3, and 5 years old, so they had some amazing memories in the cottage," she says, recalling days filled with tubing, fishing and biking around the lake. "We were really worried about the new home not having that same sense of warmth and comfort."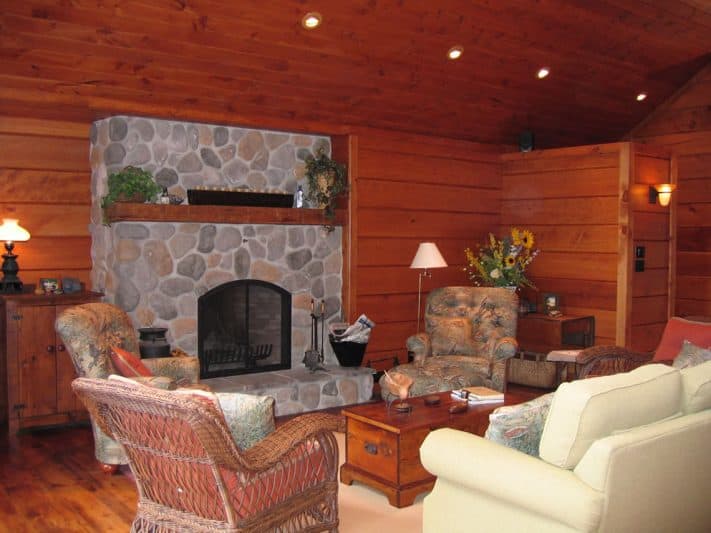 Turns out, those worries were not only unfounded, they were what led Laura and Bill to discovering the type of home they had always dreamed of — one with all of the easy-living benefits of new construction and the nostalgia of a long-standing cottage.
"We were attracted to logs right away because they have so much character, and we wanted the new home to have that old cottage feel" says Laura. "Rooms full of plain drywall and paint wouldn't have been right."
At first, the couple waffled between square logs and round logs, but a trip out west settled the debate.
"The round logs just made for too big a structure," says Laura. "We are understated kind of people. On our lake, a big round log cottage would be very noticeable."
And while we do offer a rounded, "D" log profile, like the vast majority of Confederation clients, the decision was clear: "We decided we wanted square logs and Confederation Log & Timber Frame was our only choice," says Laura. "We had some personal connections and we knew they offered a quality product we could trust."
Because the couple didn't want anything too showy, just an inviting escape that would give their family a place to stay connected, they opted for a low-profile bungalow that would keep the focus on nature and the home's big water views.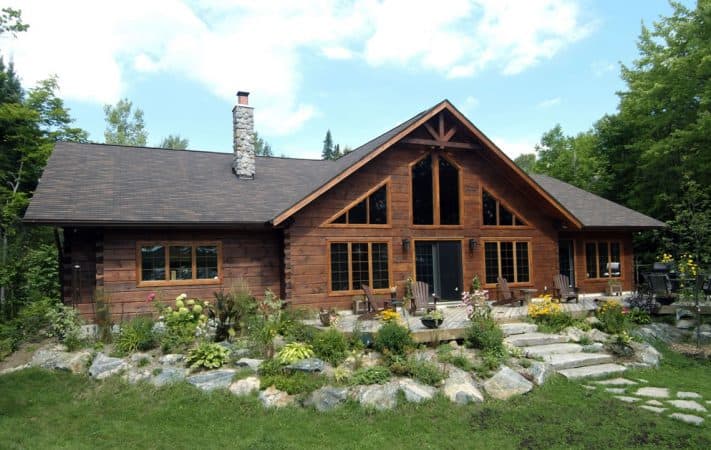 They also worked alongside Confederation's design department to stay within a 70-by-40 footprint, while still offering five bedrooms, two bathrooms, a four-seasons room and space for a massive 100-year-old pool table that came with the original cottage. (Seating 25, it has doubled as a dining room table during large gatherings, such as their son's wedding and Bill's parents 50th wedding anniversary celebration.)
Throughout the finishing process, the couple kept their goal of adding character-rich details front and centre. To achieve a nostalgic feel, they used pine log siding on the interior walls and stained the wood a warm mahogany hue.
They also used reclaimed pine boards from a tobacco barn as the flooring.
"Those things, along with the decor, helped create an antique-like feeling in a new place," Laura says.
Fittingly, when the family all gathers at the cottage, their daily activities recall history, too.
"Just like when they were young, our kids still fish, swim and bike around the lake and gather around the campfire at night," she says.
The only difference? They now have spouses to join in the fun.
With their kids grown, the cottage has become even more of an anchor point for their family.
"It's not just a house" Laura says. "The kids all live in different cities, and our Confederation log home is a foundational gathering place for our family."
And, she doesn't expect that to change anytime soon: "Sixteen years later, we are still as thrilled with the home and the whole building experience as we were at day one. I'm confident it will still be standing when our grandchildren are grown. We feel very privileged we were able to live this life with our kids and create a legacy for the future."
Get the Islander floor plan
Sent straight to your inbox. Just tell us where to send it.
We'll use your email to send you this and other useful information about buying and building a log home.
We hate spam too so we'll never share your email. Unsubscribe anytime.