When you hear Steve and Helen Long talk about their first vacation cottage, you might think they were talking about an old pair of pants. When the couple first purchased the 1940s-era cottage in 2010, it fit their family well. But over the years, as their family grew and the home aged, it became increasingly snug, worn and dated. It was time for an update.
The couple slowly began the process of renovating the cottage. They added an additional bedroom to accommodate their five kids. Quickly, they realized a bathroom was in order, too. (All seven people—and guests!—had been sharing a single bathroom.) But even after the addition of a half-bath, "It always seemed we were one bathroom short," says Steve.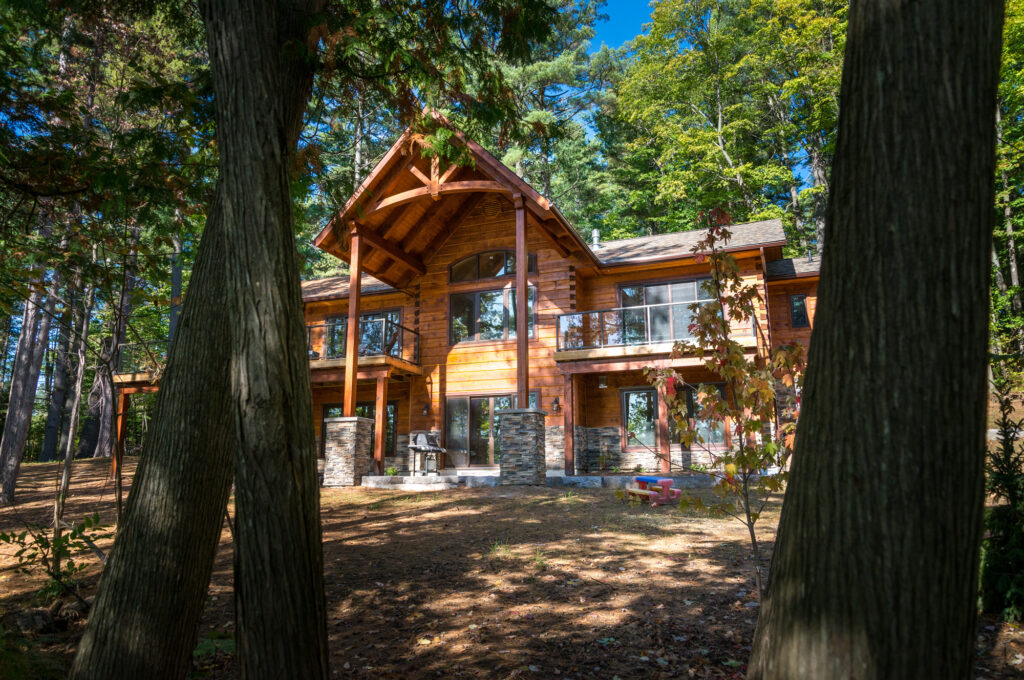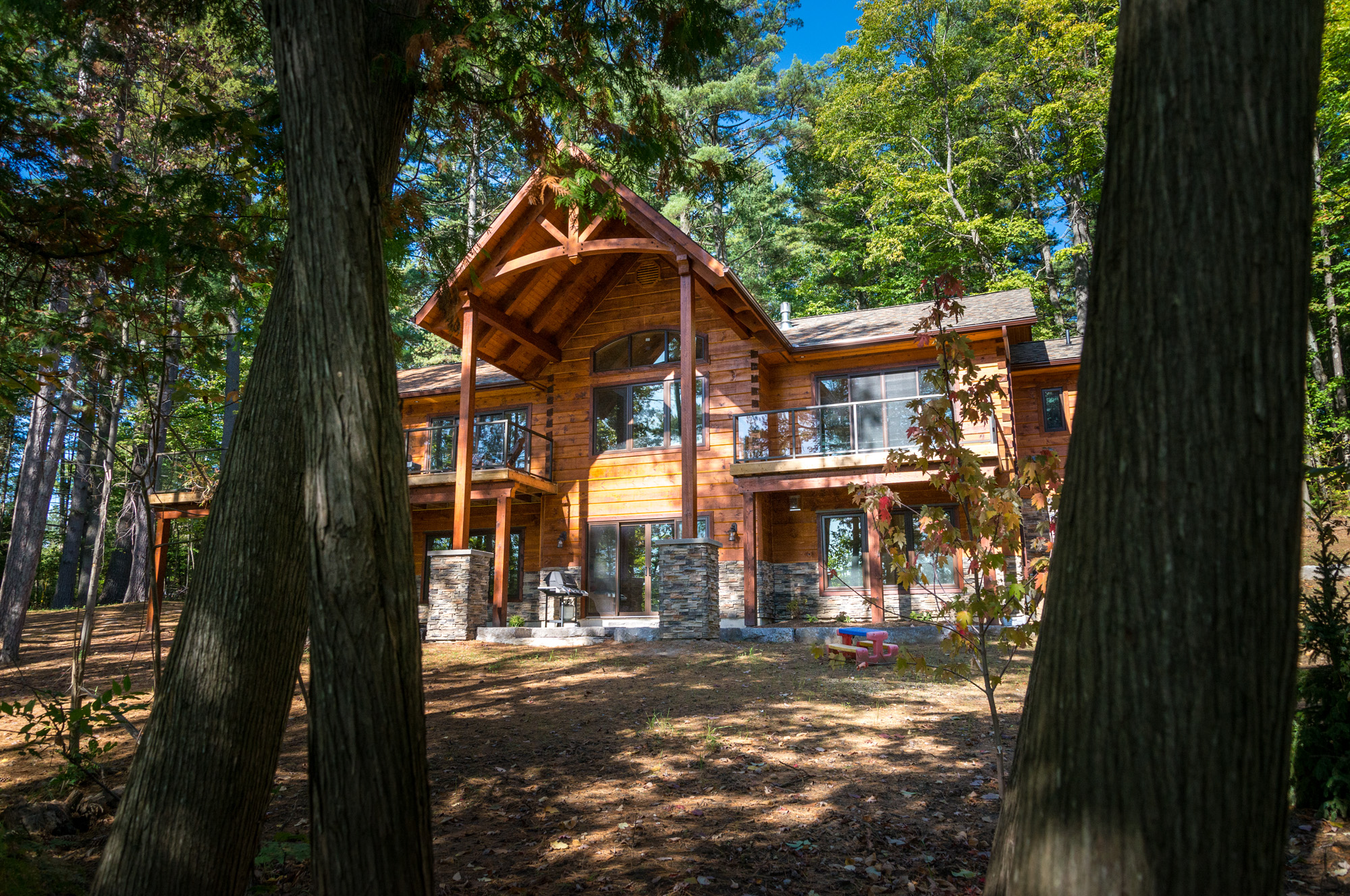 Plus, neither of the additions solved the problem of the cramped living room, dining room and kitchen. To create much needed living space, the couple looked into adding a basement. Besides upping their square footage, the Longs hoped the basement would solve their long-standing maintenance issue: frequently frozen pipes. "The house was up on stilts, so anytime we would go up in the winter, the pipes would freeze," explains Steve. But after researching the process of adding a basement and talking with friends and builders, the couple decided to scratch that plan. "That's when we began thinking about starting over," he says.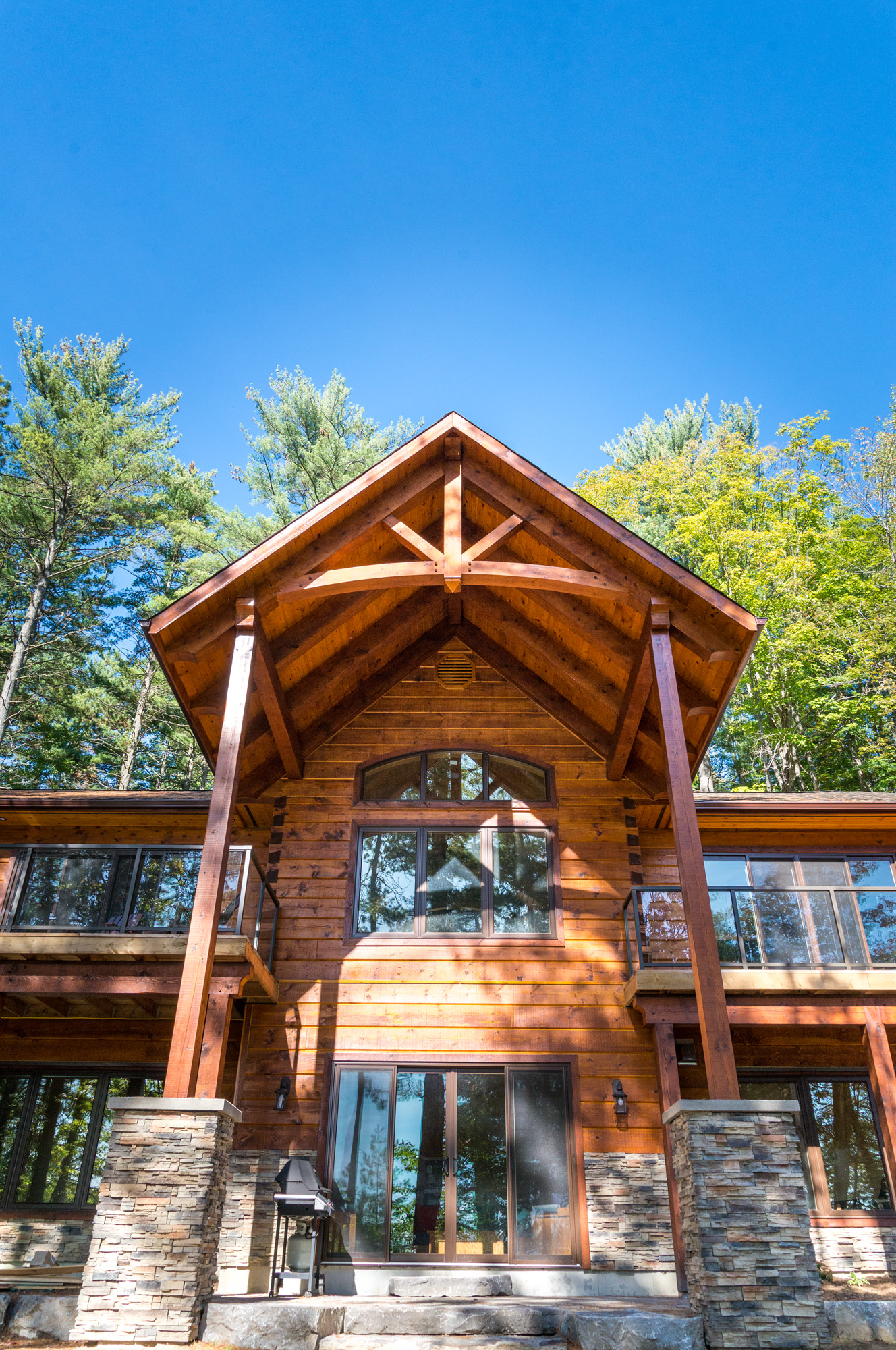 "My wife and I both have pretty high-stress jobs, so we wanted a place we could unwind and take it easy." (Read: a place where they wouldn't have to worry about scheduling shower times and fixing freezing pipes.) It didn't take them long to decide that building a brand new cottage made sense. They could stop throwing money and time into an endless list of home improvements, use their resources to create the home of their dreams and spend their vacations relaxing not repairing. "In the grand scheme of things, we knew that starting fresh was the way to go," he says.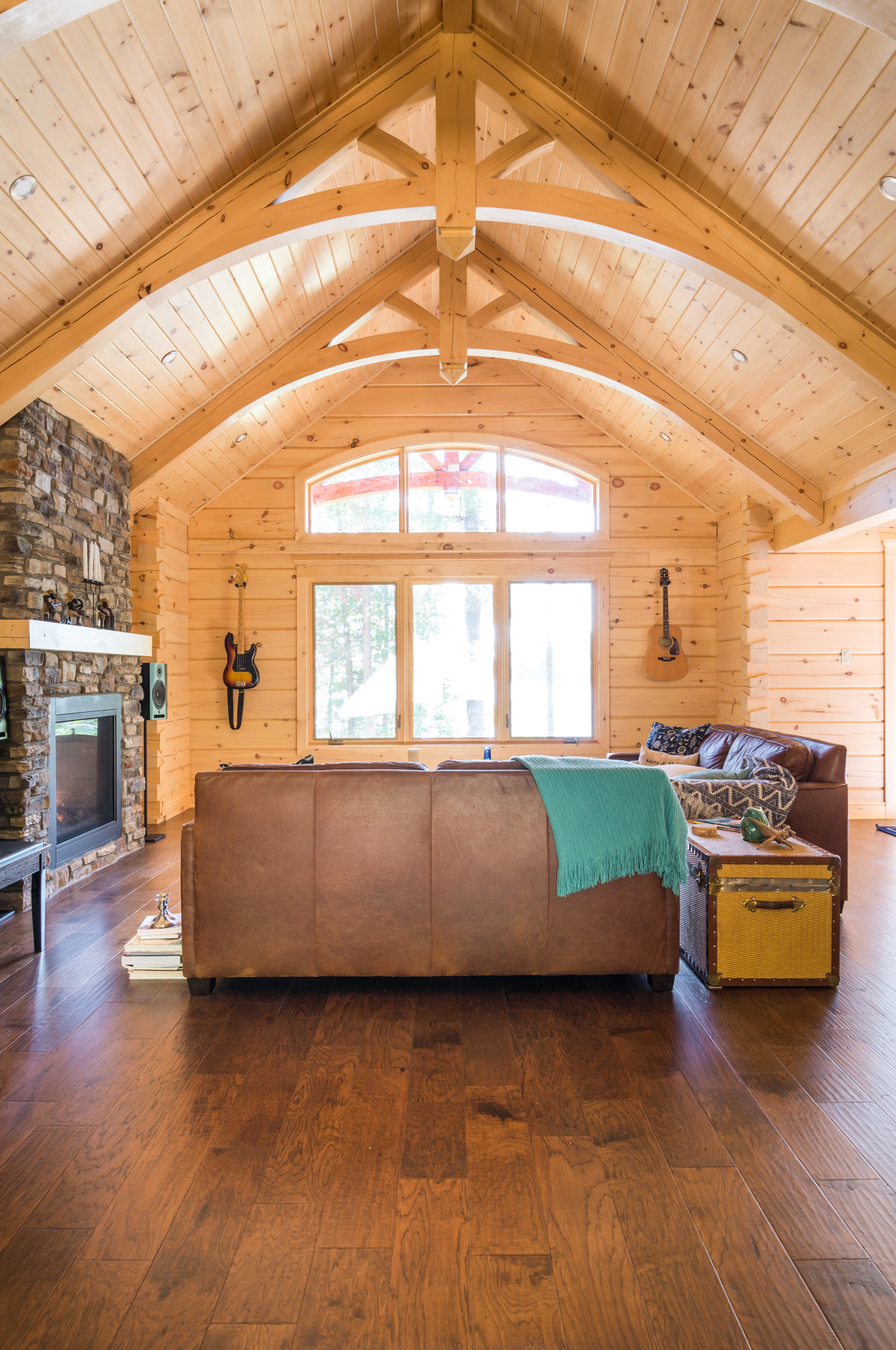 First and foremost on the couple's list of "wants" in the new cottage: they wanted a place that would fit them. It was this requirement that spurred them on to Confederation Log & Timber Frame. "When you work with Confederation, you get a house that is designed by you for you," says Steve. "Our house fits our lifestyle and exactly the way we want to do things."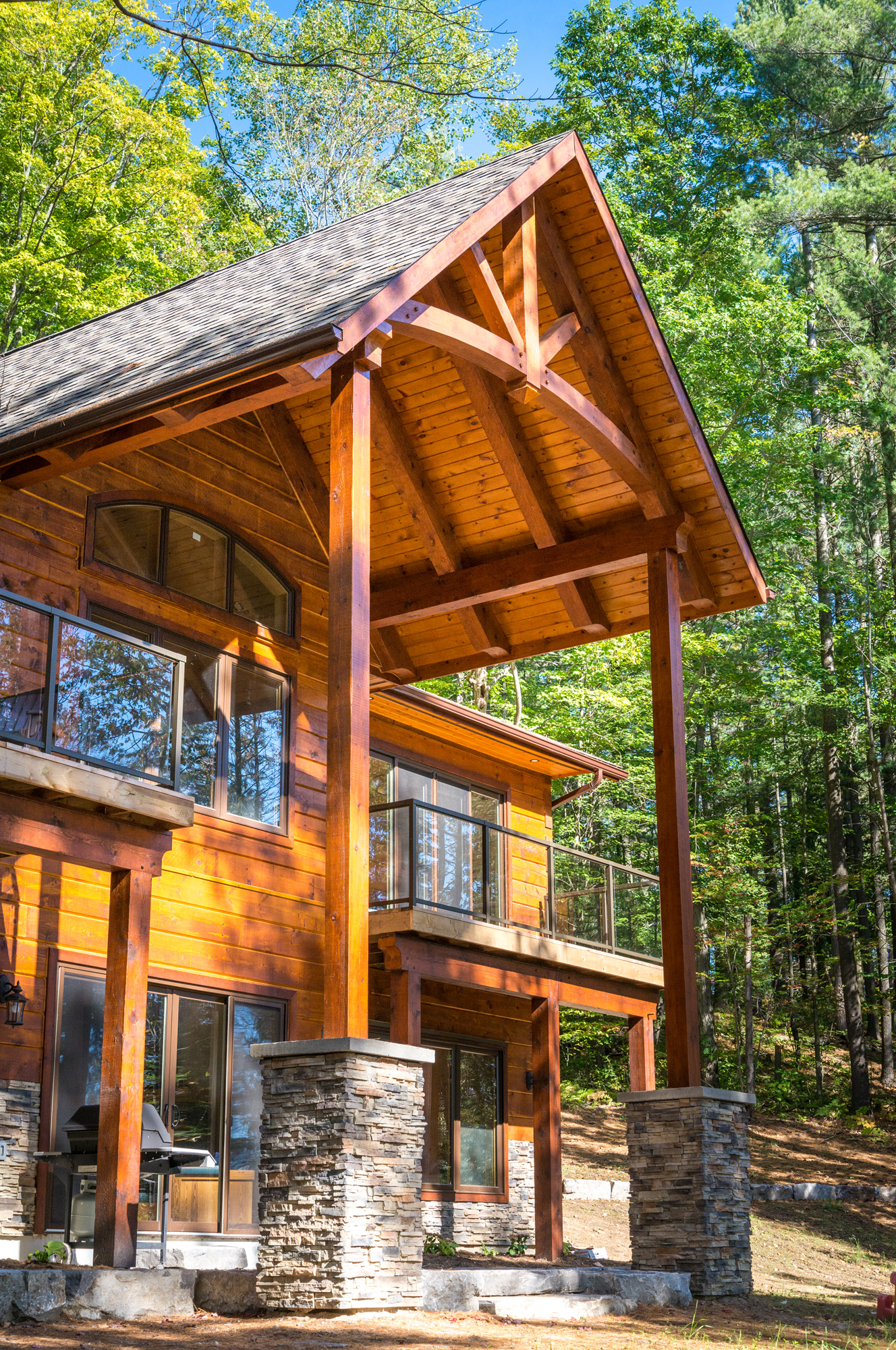 During the design process, they zeroed in on what they didn't love about their original cottage and created a fix in the new floor plan. Topping the couple's wish list? Plenty of room for guests, privacy for them and views of the lake. Keep reading to see how this family started fresh and what they did to create one of the most popular Confederation floor plans.
What they did: Planned for Privacy
With just over 1,000 square feet and a single floor, it's no surprise that the original cottage offered little room and privacy for the Longs and their guests. After years of vacationing in a fishbowl, the couple longed for quiet, out of the way spots that would give everyone breathing room and a chance to rest and recharge. Enter: their take on a split floor plan.
The upstairs, a bungalow-style design with open common areas and a single en suite bedroom, allows the couple to live comfortably on the main floor when it is just the two of them. When the crew is all in town, the basement offers its own living space with kitchenette, three additional bedrooms and a bathroom.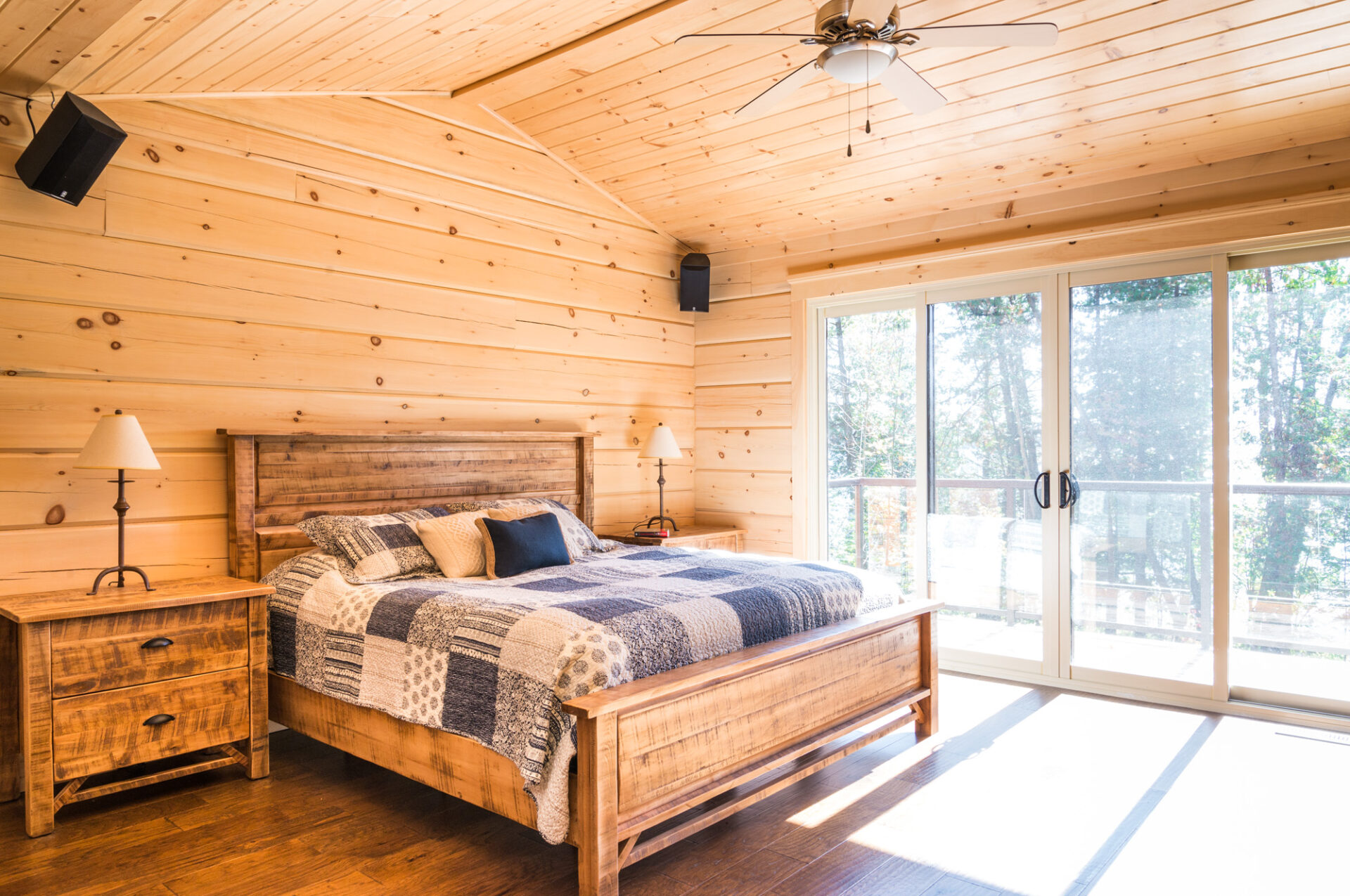 They arrived at the layout as a result of suggestion by their Confederation designer. "He told us, 'Design the cottage for the people that are there 90 percent of the time not the people that are there 10 percent of the time," Steve says. "The primary part of the house functions perfectly for just the two of us. It was the best advice."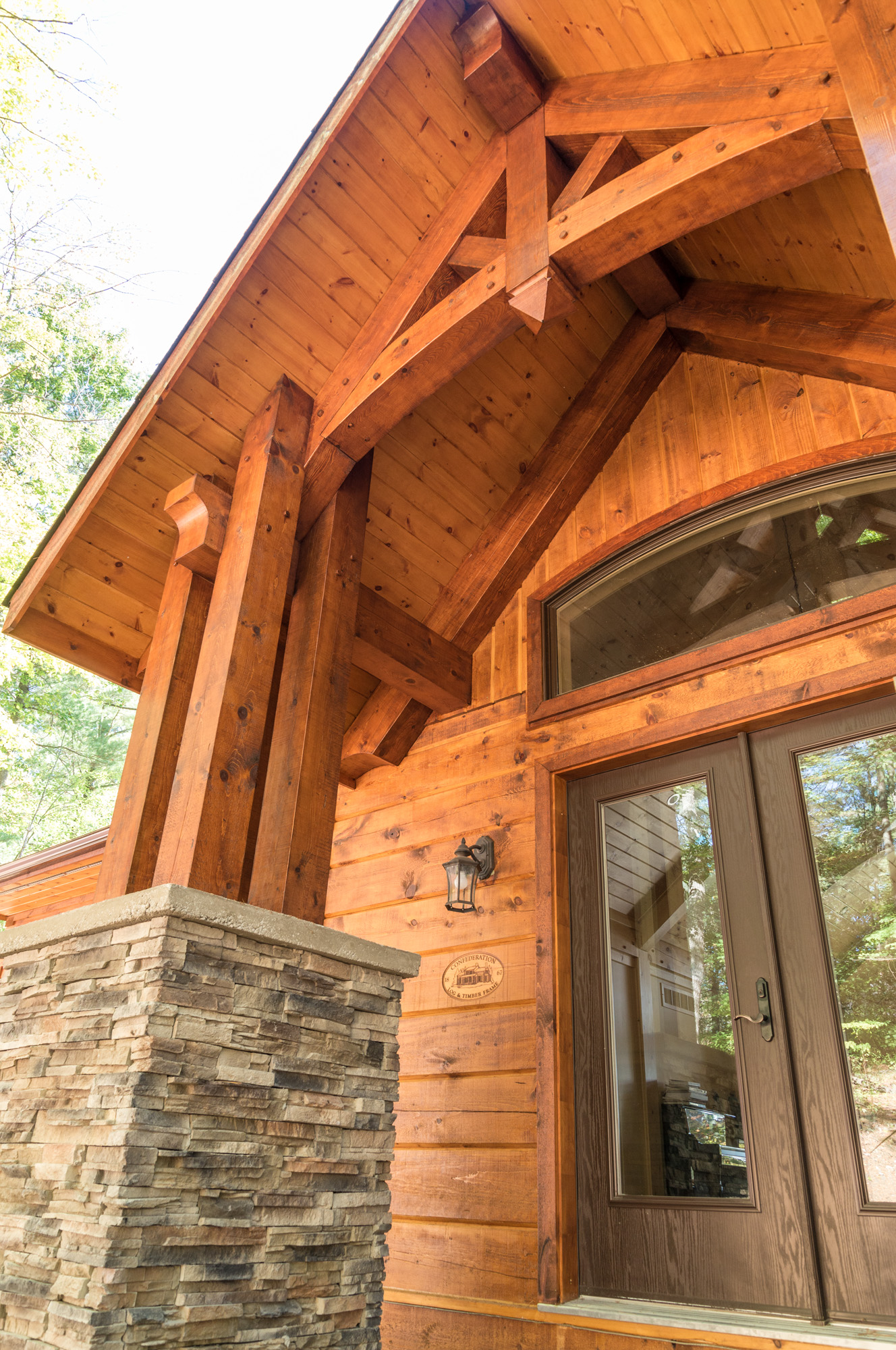 What they did: Selected natural-looking, naturally-insulating materials
The original cottage, poorly insulated and built on stilts, felt perpetually uncomfortable—too cold in the winter, too warm in the summer. Because the Longs planned to use their home year-round, they wanted it to be comfortable no matter the outdoor temps. Using logs was a no-brainer. "We were drawn to them because they're good for insulation and will last for a long time without a lot of maintenance," Steve says.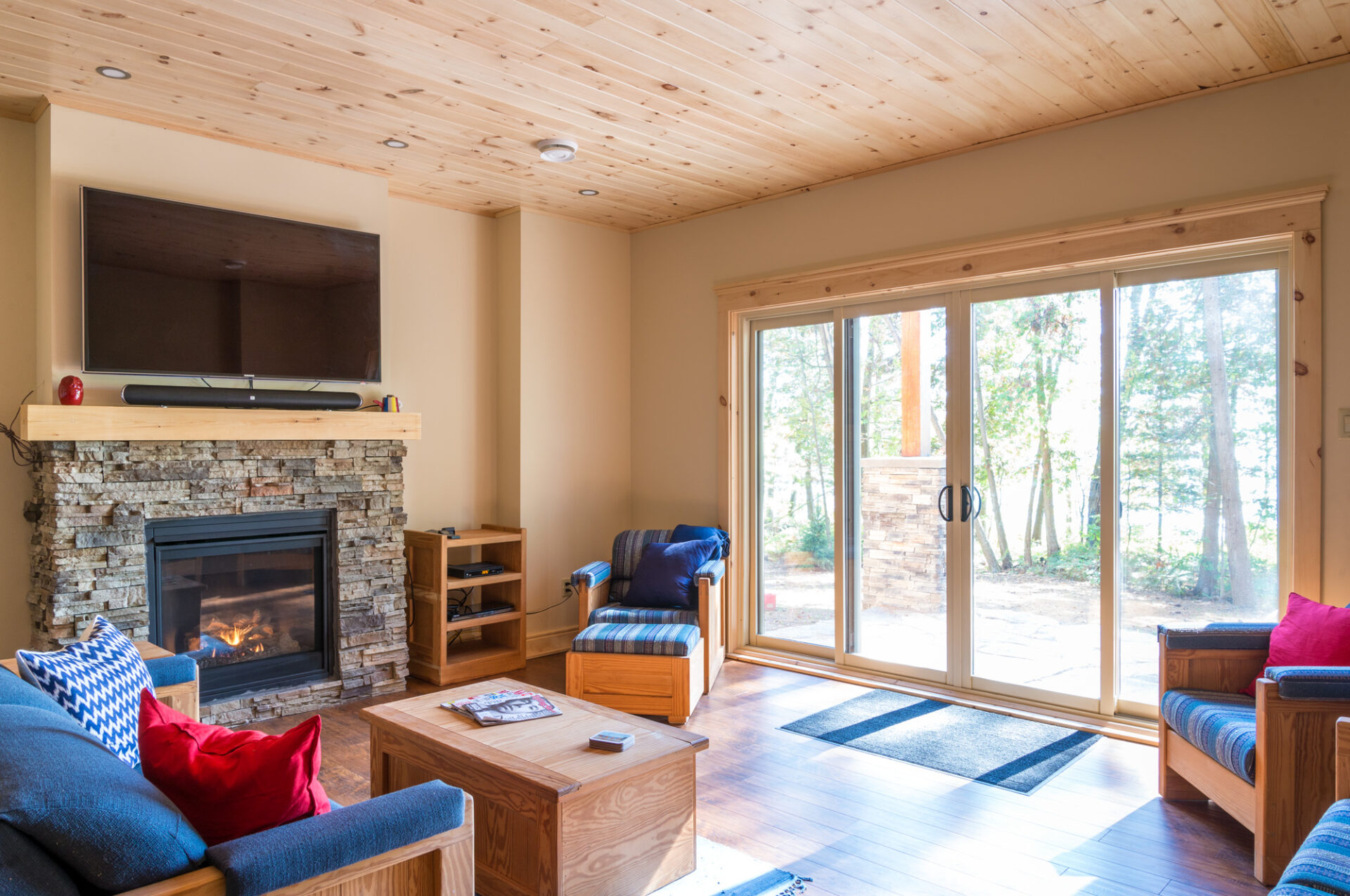 But it wasn't just the logs' insulating abilities and longevity that sold them. They also liked the idea of adding a log structure to their treed property. "We wanted something that blended into the surrounding scenery." says Steve. "There are some people around us that put up these big, brick cottages, and they don't match the landscape. When you drive by our cottage on the boat, it fits in well."
What they did: Expanded the kitchen
In the original cottage, having two adults in the kitchen at once required a careful choreography of movement. "Everything you needed to use was crammed together, so you couldn't cook and unload the dishwasher at the same time without tripping over each other," says Steve. "As a result, my wife was very particular about the design of the kitchen."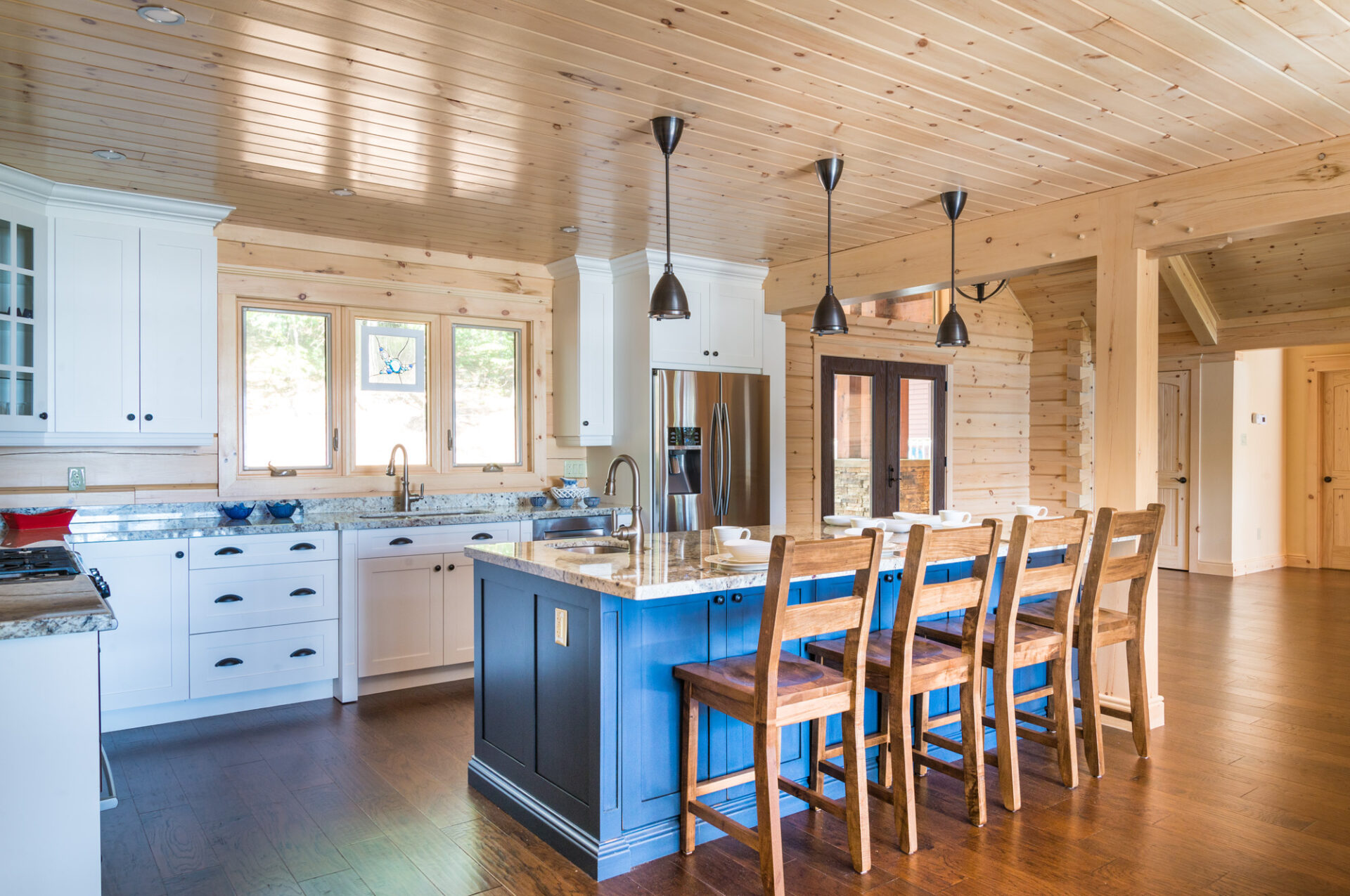 The new plan expanded the single-person space into an area comfortable—inviting even—for two, with plenty of space between appliances and separate zones for different tasks. (For example, a coffee bar sits in an out-of-the-way corner.) They also made sure the adjoining dining room was spacious enough to include everyone at a sit-down dinner; the table seats 12 comfortably. "It's designed to fit the way we live," Steve says.
What they did: Maximized views
While the original cottage was built up on stilts, it didn't sit high enough to capture the property's stunning views of Twelve Mile Lake. They elevated their new Confederation cottage, maximizing watery vistas.
To take full advantage of the scenery, they incorporated plenty of glass into the lake-facing rooms, including a wall of windows in the great room and a glass-encased sunroom, which is now their favorite spot in the house. "You can find us relaxing there on any given morning, coffee in hand, reading the paper and enjoying the view," says Steve. "It's a good life."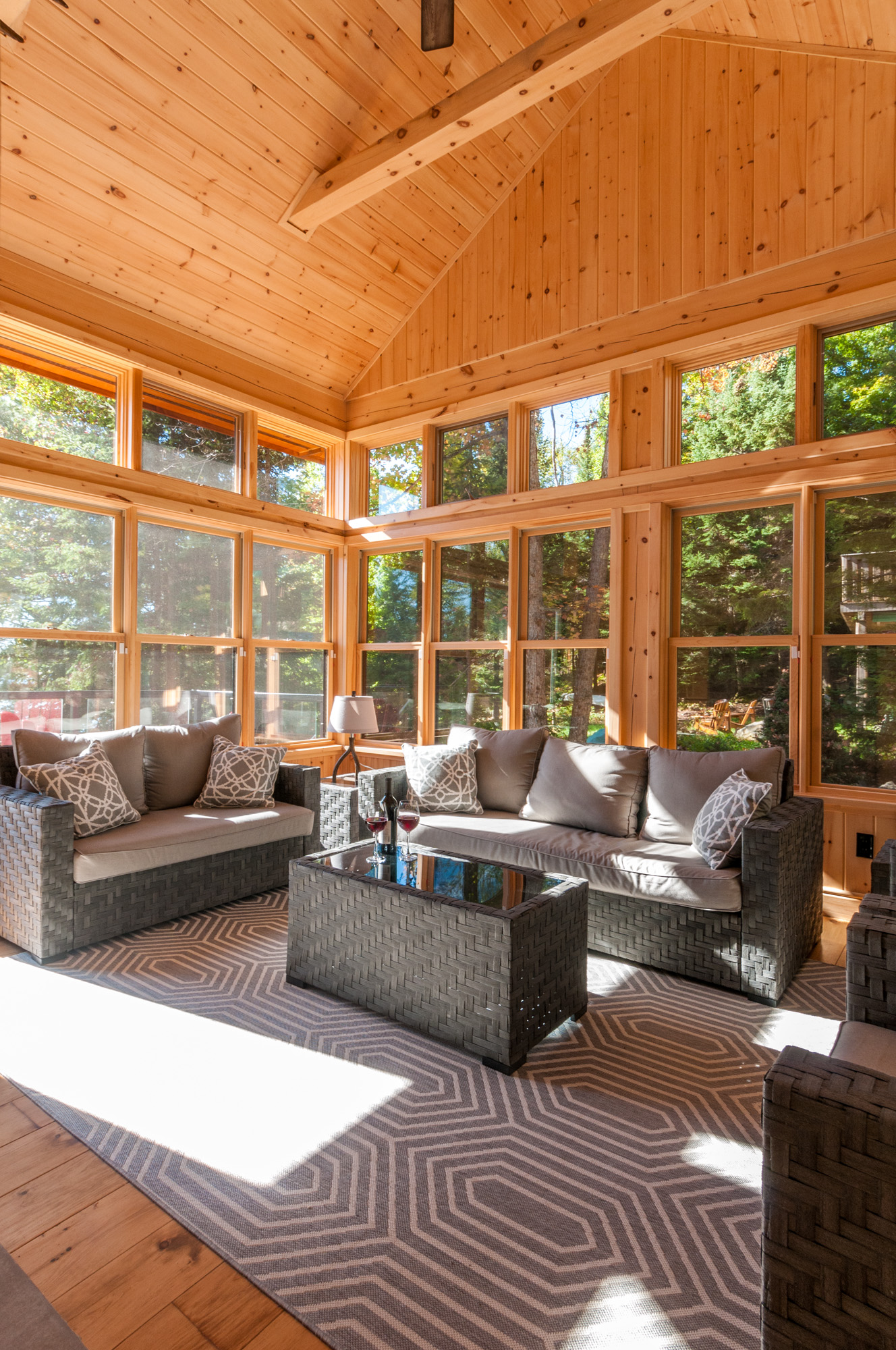 Want to know more about the Long floor plan — or, better yet, see it for yourself?
Get the Cricket Creek floor plan
Sent straight to your inbox. Just tell us where to send it:
We'll use your email to send you this and other useful information about buying and building a log home. We hate spam too so we'll never share your email. Unsubscribe anytime.