Take a moment to imagine your dream home. Does a timber home with modern design details come to mind? Or maybe a traditional, wood-on-wood log cabin fits the bill? No matter which camp you're in, here at Confederation Log & Timber Frame, we've got you covered. Every home is a custom home, and our design options are as plentiful and creative as your vision.
Whether you're craving a rustic-heavy look, a contemporary creation or something in between, we can guarantee one thing: those dark, cramped images of log and timber frame homes of yesteryear are nowhere to be found.
Get our Log & Timber Frame Design Guide
Sent straight to your inbox. Just tell us where to send it.
We'll use your email to send you this and other useful information about buying and building a log home. We hate spam too so we'll never share your email. Unsubscribe anytime.
That's why our nearly limitless design options will help you balance and combine wood elements—and other materials, like drywall, metal and stone—in a way that will plant your log or timber home firmly in the 21st century.
And, if you're feeling a little overwhelmed by the choices, don't worry. You can rely on our almost 40 years of expertise to help you create a look that's as timeless as it is up-to-date and, most importantly, that is personalized to you and your family.
Let's check out a few of our favorite ideas for doing just that below—and find out about our surefire way to help you make your design decisions with total confidence.
Mixing Materials in your Log and Timber Frame Home
In the world of log and timber frame homes, less really can be more. This is especially true when it comes to how much wood you choose to incorporate into your home. We know you love the look of logs and timbers, and so do we. But here's a little secret we've learned over the years: Using a variety of building materials, from drywall and metal to stone, will enhance and emphasize—rather than detract—from those beautiful logs and timbers.
Using drywall in a log or timber home is one of the easiest ways to inject contrast and colour. Drywall offers ample opportunity to create rich textures; faux finishes, wallpaper even wainscoting are all fair game on sections of drywall. And because these stretches of non-wood give the eye a chance to rest before it lands on another timber or log element, they actually serve to accentuate your home's true star player.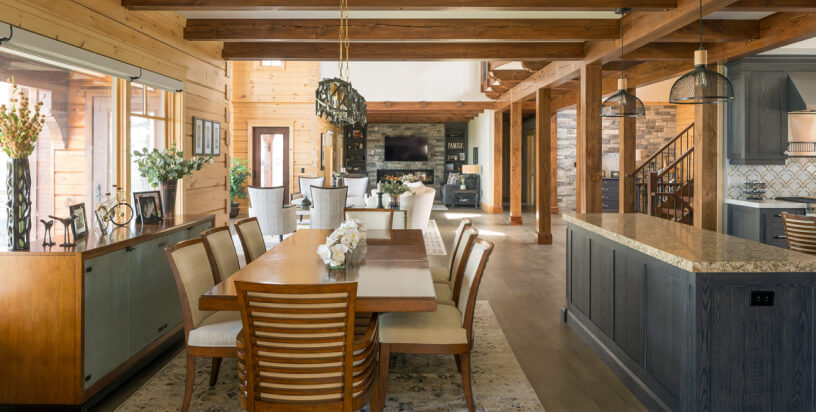 Another benefit of drywall is its ability to keep a log or timber frame home current with changing trends. Repainting walls can quickly, easily and inexpensively transform the feel of any space. In fact, we recently updated the look of our own model home by covering over the existing burgundy walls with a wash of grey. What a difference!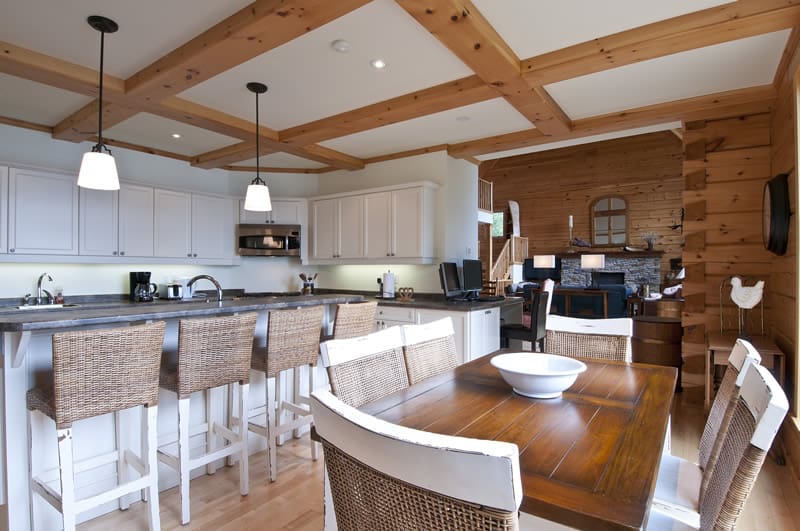 Because so much of the personality of home is in the details, it's no surprise that metal elements are a popular way to invite contrast into wood-filled interiors. The organic feel of metal melds seamlessly alongside warm wood tones. Staircases and open lofts are prime spots for introducing metallic elements, from railings to post caps, while timber structures invite details like steel connector plates and brackets.
In keeping with the earthy feel of metal, stone accents are another option for making a style statement in your interior spaces. Some popular spots for stone work include accent walls, fireplace surrounds, facing on a kitchen island and even as the base for log posts. Not sure whether you'd prefer a simulated river rock, drystack veneer or natural limestone on your two-story fireplace? No problem.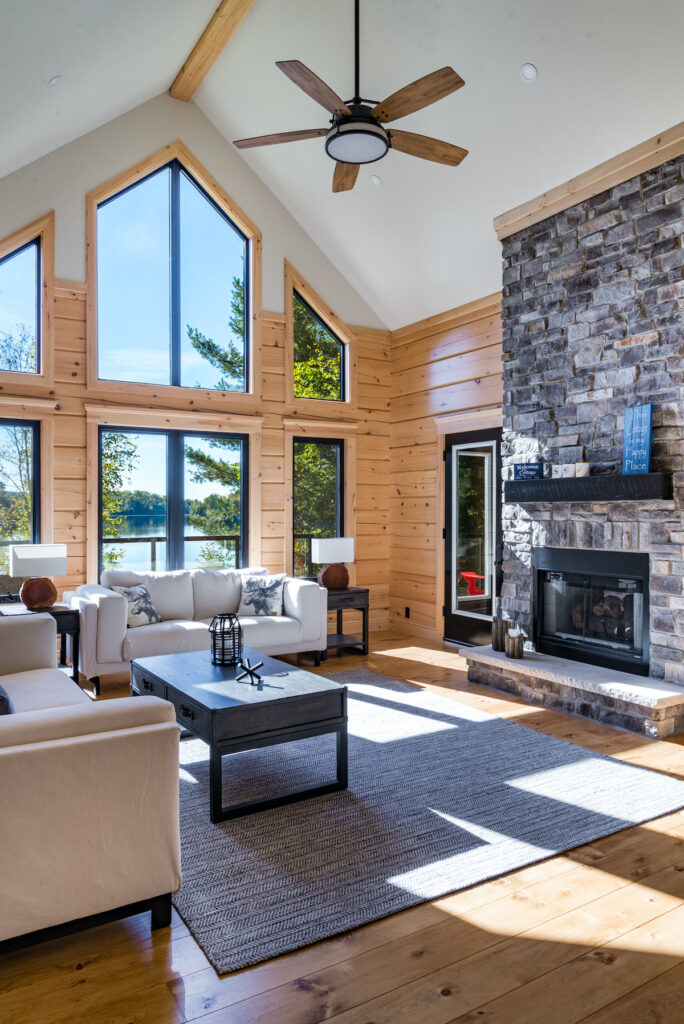 Enter: our secret weapon. We can take you on a virtual 3D walk-through of your new custom home before you make any final decisions. During the "tour," our certified designers can help you see (and swap out) finishes with just the click of a button; so you'll be able to see exactly what the finished product will look like from the start.
The Myth of Wood Overdose
Now that we've shared one secret with you—less can be more—it's time to share another: There is no such thing as using "too much wood" in your log and timber frame home. For our readers who aren't purists, hear us out.
We have all seen the log or timber structures that look more like a sauna than a home. At first glance, it might seem like a wood overdose is the culprit, when in fact, 100 percent wood structures can include just as much visual variety as a home that incorporates drywall or stone.
The trick to making an all-wood look work is to remember this mantra: contrast is key. As with bringing in drywall, metal and stone, it's essential to vary tones and textures in order to visually define desired elements.
Here are some of our favourite ways to play up the interiors of all-wood structures: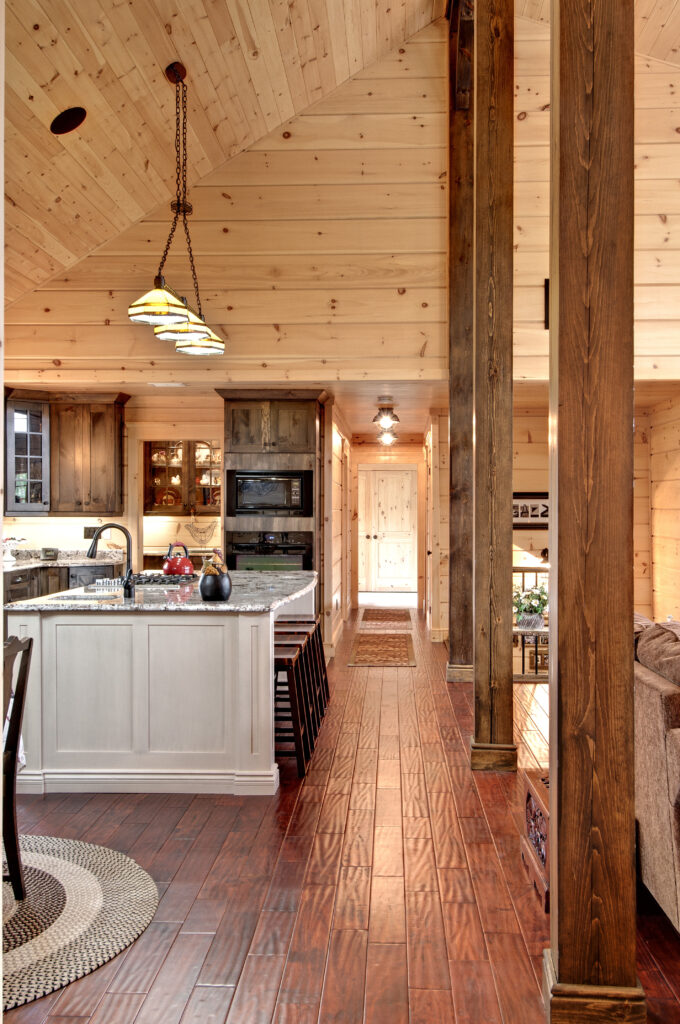 Introduce architecturally-rich design features, such as decorative log posts and beams, timber accents or wood panelling, like tongue-and-groove applied horizontally or vertically to interior walls or ceilings.
Accent exposed timbers or other design details with a contrasting stain to play off neutral-coloured walls or ceilings. Think beyond basic brown tones to make a major impact. Opt for a mossy green or cranberry red for a more traditional look, or try grey tones or whitewashing for a contemporary vibe.
Paint or stain cabinetry. In addition to creating architectural interest, adding contrast with cabinetry can help create distinct spaces in open concept plan where rooms aren't readily defined by walls.
Varying interior window and door trim colour and design. Adding a pop or colour or architectural flair to your trim can turn typically plain elements into eye-catching statement pieces. Tip: Create a seamless flow by keeping window and door trim consistent throughout your interiors.
The Finishing Touch
Once construction is complete, the process of creating a home that reflects your own personal style continues. Both log cabins and timber homes can veer towards contemporary or rustic depending on the finishing touches you choose. Fill your spaces with furniture, textiles and artwork you love, while keeping these three tried-and-true tips in mind:
Mingle family heirlooms and antiques alongside newer pieces for interiors that feel warm, welcoming and collected over time.
Leather, wool and chenille are natural fabric choices for a log and timber frame home, but consider velvet, damask, linen and even silk for an unexpected flair.
Look to furniture and accessories with glass and metallic accents to add layers of texture and visual interest to wood-filled interiors.
Get our Log & Timber Frame Design Guide
Sent straight to your inbox. Just tell us where to send it.
We'll use your email to send you this and other useful information about buying and building a log home. We hate spam too so we'll never share your email. Unsubscribe anytime.