Monika Gazzola has always known she wanted a log home. After purchasing land in Kirkfield, Ontario, it didn't take much for her to convince her husband, Serge, that they should build their dream house on the property.
A couple of friends of the Gazzolas had recently built their own log cabin up north, and both Serge and Monika loved the warm and cozy feeling of being surrounded by wood. Monika knew she wanted something similar, but without the round logs that tend to gather dust.
A fateful meeting with Confederation Log & Timber Frame

Coincidentally, the couple met Rich Kinsman of Confederation Log Homes at a boat show around the same time they were looking into building permits.
"Meeting Rich at the Boat Show a year ago was a turning point in our lives," Monika recalls. "There was a trust factor right away. It was such a good feeling. You know these people are with you, and want to help you achieve your dreams."
The seminar "enlightened you to all the 'WOW' factors of a log home," Monika says. "They helped you to understand the green efficiency of a log home." They also learned about the process of working with Confederation, and how they would work with the Gazzolas to help to make their dream home a reality.
"Of course when you're building your dream home, you have your own plan in mind," Monika says. "It was important for me to have that house built."
After looking through all of Confederation's log home floor plans, the Gazzolas decided to combine two different floor plans together, with their own twist on the details.
"The Victoria plan is what drew me in, but it was two stories," Monika explains. The couple wanted their custom log home to be as accessible as possible, so they could live out their lives in it. "I'm building my house so it'll never push me out," Monika says. In the end, they decided to combine the Victoria plan with The Preachers one-story plan, and include 3-foot doorways to accommodate wheelchairs.
Monika and Serge put together a list of priorities, and the design team worked with them to create their custom floor plan.
"The design team at Confederation is second to none," Monika says. "They were indeed partners in every sense of the word."
The Gazzolas reviewed two versions of their custom floor plan, making small tweaks and changes before they decided on a third finalized version. Confederation created a 3D walkthrough of the floorplan so they could experience what it would be be like to walk through their new home.
Get the floor plan
Sent straight to your inbox. Just tell us where to send it:
We'll use your email to send you this and other useful information about buying and building a log home. We hate spam too so we'll never share your email. Unsubscribe anytime.
"Before we knew it our plan was starting to develop and our beautiful house was created. When the time came to join a session of our 3D walkthrough which showed you the inside of the house, we were astounded at the beauty that our home possessed," Monika remembers.
"Our dream house has become a reality. The peace, tranquility, and warmth of living in a log home… it's like smelling lavender all the time. It's so relaxing. I've never slept so well in my life."
Building a dream house - it gets competitive

The entire process was a collaborative effort, with Monika and Serge working together with Confederation and their contractors to design every detail. When dealing with contractors, Monika had one rule: "If you wouldn't do it in your house, don't dare do it in mine! If there's something questionable, you tell me."
In every aspect, the Gazzolas wanted the house to be light, bright, and welcoming. They decided against staining the wood, using a clear varnish only. "When you first walk in, you'll notice a lot of wood," Monika says. "Only the bathroom is drywall." The wood walls give the home a cozy, warm look, and Monika and her guests find the smell of the wood throughout the home pleasant and relaxing.
It did make decorating a bit of a challenge, though.
"We needed 'pop'," Monika explains. "When you build a wood house, you have to go more colorful. In a lot of my stuff you'll see bold colors – but not wild. Bold, but calm."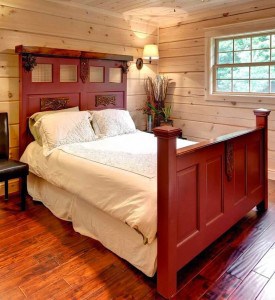 They had the interior doors painted black, and Monika and her sister held a challenge to create their own colorful headboards out of upcycled doors. Monika created a green and white headframe, with side rails purchased from Ikea and painted to match, while her sister painted hers a deep wine color.
Monika and Serge started their own Facebook group to keep interested friends and family members in the loop on The Homestead's progress. The group members voted on Monika and her sister's upcycled bed frames. "My sister won by two votes!" Monika laughs.
While Serge loves the open gathering room, Monika's favorite room is the kitchen. She chose a slate countertop, shaker cabinets, and a butler's pantry to match.
The kitchen was designed with family in mind. "In the kitchen, you can have multiple people working," Monika explains. "It's made so people can participate and socialize. It's all about warmth, coziness, and being together."

A peaceful Homestead
When Monika and Serge stepped into their new home for the first time, "that was the most exciting thing in my life! To watch something come from a plan, to paper, to built… there's nothing like it," Monica says. "Our dream house has become a reality. The peace, tranquility, and warmth of living in a log home… it's like smelling lavender all the time. It's so relaxing. I've never slept so well in my life."