Designing and building a custom log home is your dream. But, the truth is, building a dream home can turn into a nightmare if you don't choose your log home company carefully.
Unfortunately, we've heard enough of those "gone south" stories from folks who have turned to us for help after a disappointing (or even disastrous) experience elsewhere.
Here's the truth we share with those folks: Having an excellent log home building experience doesn't happen by chance.
After over four decades you learn a thing or two about tried-and-true materials and methods that will produce a solid, quality built log home every time. Our process is founded on those time-tested techniques, including using only quality logs, up-to-the-minute design software and an unerring commitment to our clients' satisfaction.
We are willing to spend a little more time and effort to get things right, and this philosophy permeates every area of our business, from the forests where we harvest our trees to our design process.
It definitely impacts how we do things in our production facility, the final in-house step of creating a Confederation custom home.
After a Confederation home is custom designed, and we've been given the homeowner's stamp of approval during the virtual 3D-walkthrough, the blueprints are sent to our production team where the logs are cut, drilled and pre-assembled.
We talk an awful lot about the custom design process but what happens once your home is designed is every bit as important. Let's take a look at what happens once your home goes into production…
Log Preparation
Before the log begins its journey, it is inspected by a human being on all four sides to verify quality. (We look for things like checking and sap pockets).
Once approved, it is sent to the saw station where it is cut and drilled to the exact specifications in your plan. (This includes pre-drilling for all electrical outlets, switches and light fixtures — a bonus that makes Confederation homes an electrician's dream.)
Next, the logs are transferred to the dovetail machine and, finally, the sanding stations.
While other companies use a single machine to do it all, we know technology isn't infallible. We know nothing beats the human touch. At each of our machines for sawing, drilling, dovetailing and sanding, we have a skilled set of eyes inspecting the logs.
Once the machines have done their work, on-site craftsmen use hand tools to do any necessary fine-tuning, and the logs are manually marked to allow for easy assembly.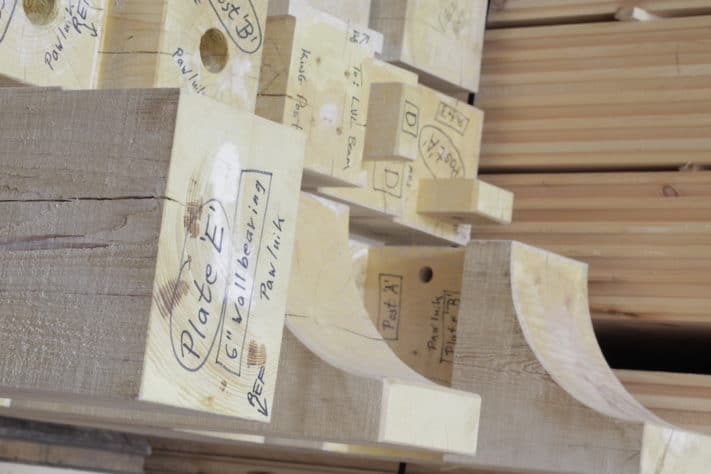 A result of our hands-on approach is that over the course of production, every log package will be inspected not once or twice but eight times, including by the craftsmen running the saw, sanding station and dovetail machine.
Pre-Assembly (the secret to a stress-free build)
Here's something you may not be aware of…
After the logs are prepped, we pre-assemble your entire log home on the shop floor, just as it will go up on your property.
Yes, you read that right.
In addition to verifying every log is cut to the correct length, we run a rod down each hole to make sure they are all lined up.
If there is anything that was missed during the design phase or log prep, this is where we make it right — long before it ever reaches your job site.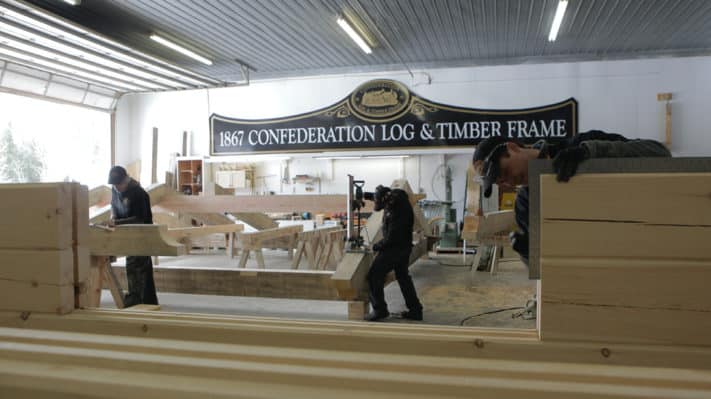 And since we pre-assemble each home within our production warehouse, we don't have to worry about inclement weather slowing us down.
Your log home will be protected while in our facility and quickly and easily assembled once it reaches your home site. (An important factor for anyone building in an area or during a time of year prone to rain or snow.)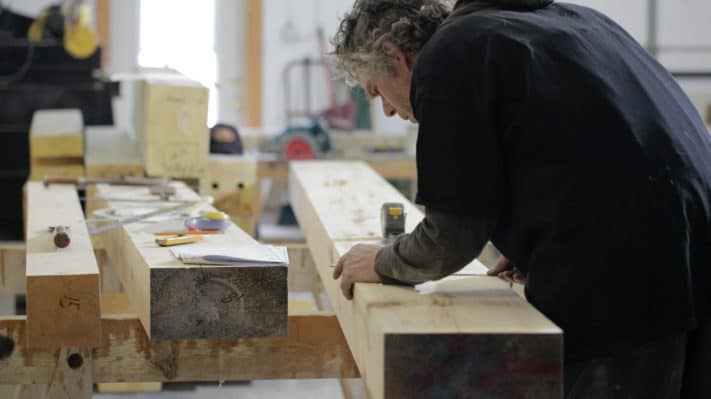 Concluding this part of the process, a lead craftsman vigilantly verifies every log, corner, window and door opening and each hole are finished correctly.
At this point, you'll be invited to complete a full inspection on their log wall system. If you can't make it to see us, we'll send you a full set of images.
After the home has been pre-assembled and inspected, we know that whether it is going across town or across the globe (we have shipped our homes as far away as Japan!), it will be perfect when it leaves our facility.
And the crew packaging the logs for delivery work hard to ensure they stay that way, carefully loading the logs to ensure safe transport and easy off-loading.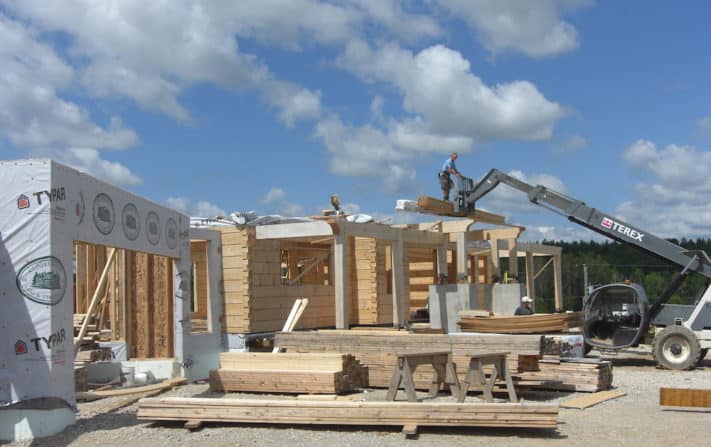 In the end, the extra attention and time spent means a successful kickoff to your dream home. No missing or mismatched parts means no delays on your end and happy campers for us.
Win. Win.