From the rustic and traditional to the bold and contemporary, the latest log cabin kitchen trends are all about versatility and contrast!
Log homes offer endless opportunities to play with texture and color combinations, whatever your style is. In fact, our designers here at Confederation Log & Timber Frame have noticed that more and more log home owners are opting for a more modern, contemporary look instead of the traditional all-wood aesthetic.
Curious about what else is trending in log home kitchens? We were, so we asked our head designer Matthew Reinwald to weigh in, as well as a couple of professional kitchen designers. Here are the 6 top trends they've identified in log home kitchens.
1. Kitchens as the Center of the Home
Open floor plans have always ruled for log homes, but Louie Katsis, Certified Kitchen Designer at Olympic Kitchens, says that kitchens are becoming more and more "active living centers," where "the line between living/dining and kitchen are blurred."
There is a recent trend towards smaller floor plans as a whole, but not necessarily smaller kitchens. "I wouldn't say the trend is towards smaller kitchens," says Katsis. "Most clients are not dreaming of a massive mansion anymore, but rather a smart, well-designed home that works for them."
"If anything, people would rather have the larger kitchen," says our head designer, Matt. "Really, more counter space is what people are looking for so they can have a working area."
Natasha Nash, Designer at Laurysen Kitchens, has the same experience with keeping kitchens large, open, and a continuous part of the home. For log homes, she says, "one of the difficult aspects is trying finding wall space for cabinetry. So a lot of them have extensive islands. The last log home I did had a 12 foot long island. Basically their entire kitchen was an island!"
In Your Home: Your kitchen isn't just for cooking! When choosing your design options, think of your kitchen as the heart of your home.
2. Slate Floors
The all-wood look is becoming "way less popular," says Katsis.
With log home kitchen floors, says Matt, many of our clients "will primarily lean more towards the tiles or ceramics."
Nash agrees that lately it's all about slate. "Usually if they're not doing the wood, they're going to be doing a natural stone, and it's usually slate. They're not going towards the marble or anything like that – it's not going to fit."
While slate may be trending right now, many owners still stick with wood throughout the house, Matt says. "With the log homes they do like the feel of the wood continuing throughout."
In Your Home: While wood flooring helps to keep your home design consistent, slate flooring can provide a welcome and more modern contrast.
3. Monochrome Cabinets
"Black is definitely trending right now," says Matt. "With the kitchens I would say they are going more towards the contemporary. They are going more for the clean, finished look. What is fairly common is the mix of black with natural wood color."
In Nash's work designing log home kitchens, she's found that "the black trend is more regional," but "white and grey are way more popular" than before.
"The thing about log homes is, you're going to have a lot of wood in there. So any time you have a lot of wood in the structure, you want to counterbalance that with something that is solid," Nash explains. "I've never done a wood cabinet in a log home. Usually it's a painted finish, a cream color – not a stark white but an off-white – or a grey. Though white is a lot more popular than grey for log homes."
"Off white is popular," agrees Katsis. "Gone are the days of knotty pine for kitchens."
In Your Home: Kitchen trends in cabinetry are all about playing up on contrast. Don't be afraid to go bold with bright white or striking black.
4. Quartz or Granite Counters
"In cottages, a natural-looking counter is preferred," says Katsis, with many clients opting for "practical quartz counters that look like real stone."
"Quartz tends to be the reigning king right now," agrees Nash. "Though I will say within the log home community, they tend to go for more natural finishes. So I'm seeing more granite in log home building than quartz, because the rest of the space is pretty organic."
"You either have really wild patterned granites, or you're going to have the really, really plain quartzes. There's no middle ground," Nash continues.
In Your Home: Again, this trend is all about contrast. A patterned granite can be the focal piece of your kitchen, or a solid quartz can help to unite a busier look.
5. Live Edge Breakfast Bars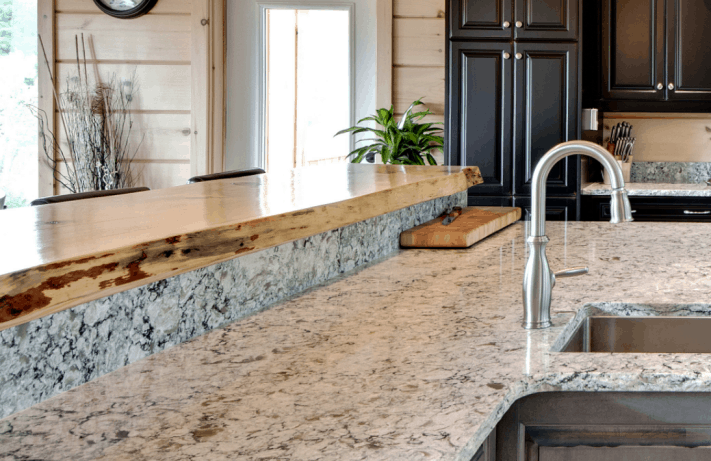 "A lot of homes are starting to do a live edge countertop for the breakfast bar," Matt says. "What a live edge is, essential it's a piece of lumber but instead of it being a square cut on the end of it, it's got the natural features of the log."
In Your Home: The touch of natural wood at the edge of a breakfast bar counter is a subtle way to continue the wood texture throughout the house, without overwhelming the decor with one texture.
6. Chimney Style Range Hoods
Playing up the contrast of the stainless steel range hoods against wood walls and painted cabinetry makes for a very trendy, modern look.
"We used to see a lot of wood facade, but stainless steel are a lot more common," says Nash. "That mixture of textures that's a lot more common in log homes than it is in standard home. Because you've got this automatic texture everywhere, people are really playing off of that by picking up on different textures in the room."
In Your Home: A smooth, reflective metal is a beautiful way to play up the contrast between your bold cabinets and the wood of a log home.
Your Kitchen, Your Style
Log home kitchens can be rustic and traditional, or modern and contemporary – it's all in the details. We've seen our clients run the gamut in their own homes, or even mix up the two extremes together.
"Clients still want that rustic charm, but it's more subdued," says Katsis. "A rustic wood floor and a few rustic accents pieces will usually do the trick when mixed into a modern backdrop."
While log homes may bring to mind rustic decor, don't feel limited in your design options! Playing with texture and bringing modern color and finishes into the mix, you can create a modern, stylish kitchen in your log home.
What does your dream kitchen look like? Are you playing with texture for 2016, or are you in love with a more traditional log home look?
Have a question for our design team, or want to get started designing your own log home? Try our Getting Started Worksheet: