Refuge on the Lake
In the face of personal tragedy, one couple's creates a custom log home that speaks to the soul.
Depending on Mother Nature's mood, the weather on Lake Scugog—a natural gem in the Kawartha Lakes region of Ontario—can be surprisingly turbulent. Winds blow at gale force, sweeping the rain sideways. Michael Lamers' and Cheryl Higgs' log home stands sentinel over it all.
When the storm subsides, the waters seem particularly peaceful, by contrast. And, it's fitting really—this calm following the storm—because, for the couple, that's exactly what this home is: a return to calm, a respite after the storms.
For years, this beautiful stretch of land was home to some of Michaels' fondest memories. He first began visiting as a boy when his family purchased a cottage on the lake where they spent summers boating, fishing and enjoying long, lazy laid-back days. Michael often returned to those memories while spending the next few decades living in the city. Finally, he and Cheryl decided to take the plunge back into lake life.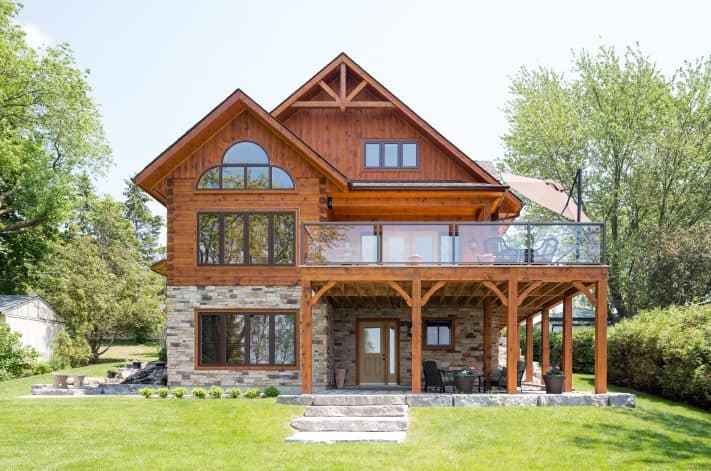 The current cottage wasn't suited to year-round living, so they planned to raze the original cottage and build a place they could live full-time. They wanted a forever house that would allow them to age in place and had ample room and privacy for Mike's aging parents to live in from the start.
They signed on with a company specializing in pre-fab builds, and in the beginning, all was well. Suddenly, communication ceased. "They were stalling; they wouldn't answer emails," Cheryl explained. "Then, we found out they went bankrupt.
From there, "everything went crazy," Cheryl recalls.
Because the company was filing bankruptcy, their funds were in legal limbo. But finances were far from the hardest part of that season. During this time, the couple lost their son in a car accident overseas. Shortly after, Mike's mother was diagnosed with cancer and his father with Alzheimer's.
"Honestly, it was all kinds of craziness," Cheryl says. "But we still wanted to move forward with building. It gave us something else to focus on."
So, as life's storms raged, Cheryl went to her computer and googled 'custom home builders in Kawartha Lakes.' Confederation came up. After some research, the couple realized the Bobcaygeon plan checked all of their boxes: an open concept living area, master en-suite on the main, a grand double-sided fireplace and an in-law suite in the walk-out basement.
They traveled to Bobcaygeon to see the model in person and were sold. "I always loved a log house," Cheryl says. "There is something about it—it feels very different than other houses—it's so comforting and warm."
While meeting with the design team, they made a few adjustments—flipping the position of the kitchen and dining room and adding a home office upstairs. "Confederation took the time to listen and make it right for us," Cheryl says. The building process was seamless, and the couple moved in the following summer.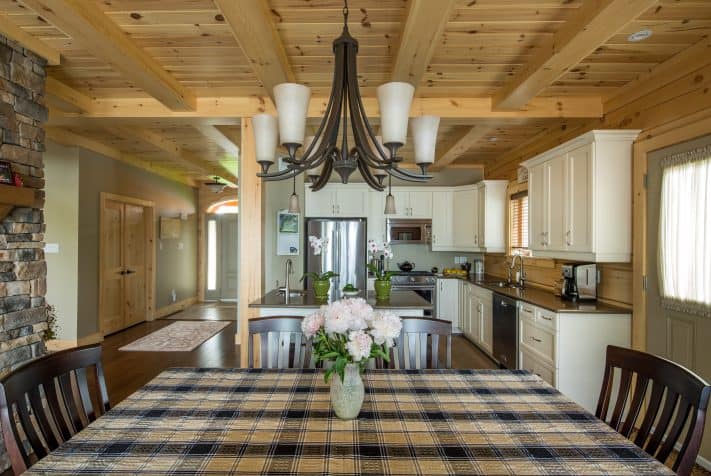 Today, the home that was born out of trial is a place of solace for Michael and Cheryl—and for many others. The couple has an unspoken open door policy. Mike's mother lived in the in-law suite for only three months before passing, but the area rarely stays empty for long. It has served as a refuge for friends going through personal hardships and also a place of celebration. (The couple recently hosted their daughter's wedding party there.)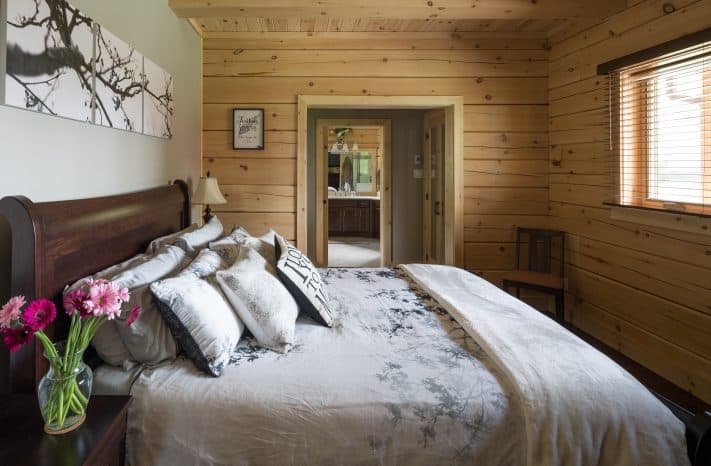 People come together under their roof to heal and rejoice over the hardest and best things life can bring. Cheryl believes part of the attraction to the home is its beauty. Even surrounded by the best nature has to offer — sun, sky and water — the home's beauty still stands out. "People come by on the lake all the time in their boats or kayaking. They always stop and look and you can tell people are taking it all in. Inevitably, you hear some kid go 'Wow, look at that place.'"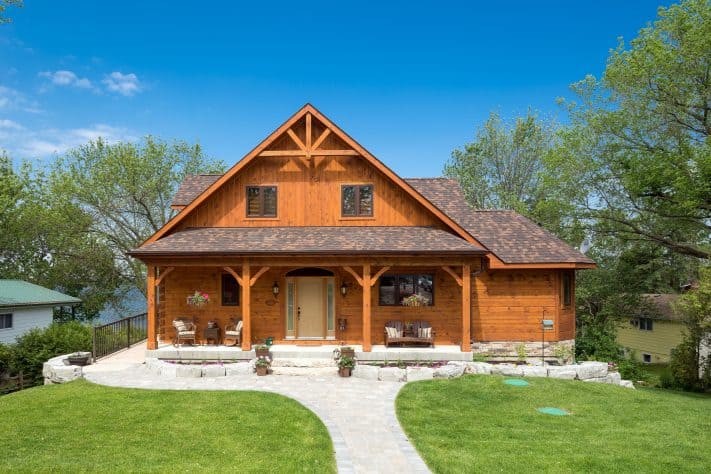 With an artful mix of stained logs, timbers, and stone, the structure is eye-catching on a visual level, but there is more to the home's attraction. In the face of personal tragedy, the couple persevered and created a home that hearkens to the eternal — beauty, endurance and hope amid the deepest hurts. "It's a peaceful, comfortable, comforting place," says Cheryl. "It's the perfect place to heal."