You've waited your whole life to build the home of your dreams, so settling for anything less than knock-your-socks-off perfect shouldn't be an option.
If you're needing a little inspiration to take your home to the next level, you're in the right place. We've rounded up seven clever design tweaks that will move your new log or timber home up the scale from good to off-the-charts great.
More Wood = More Style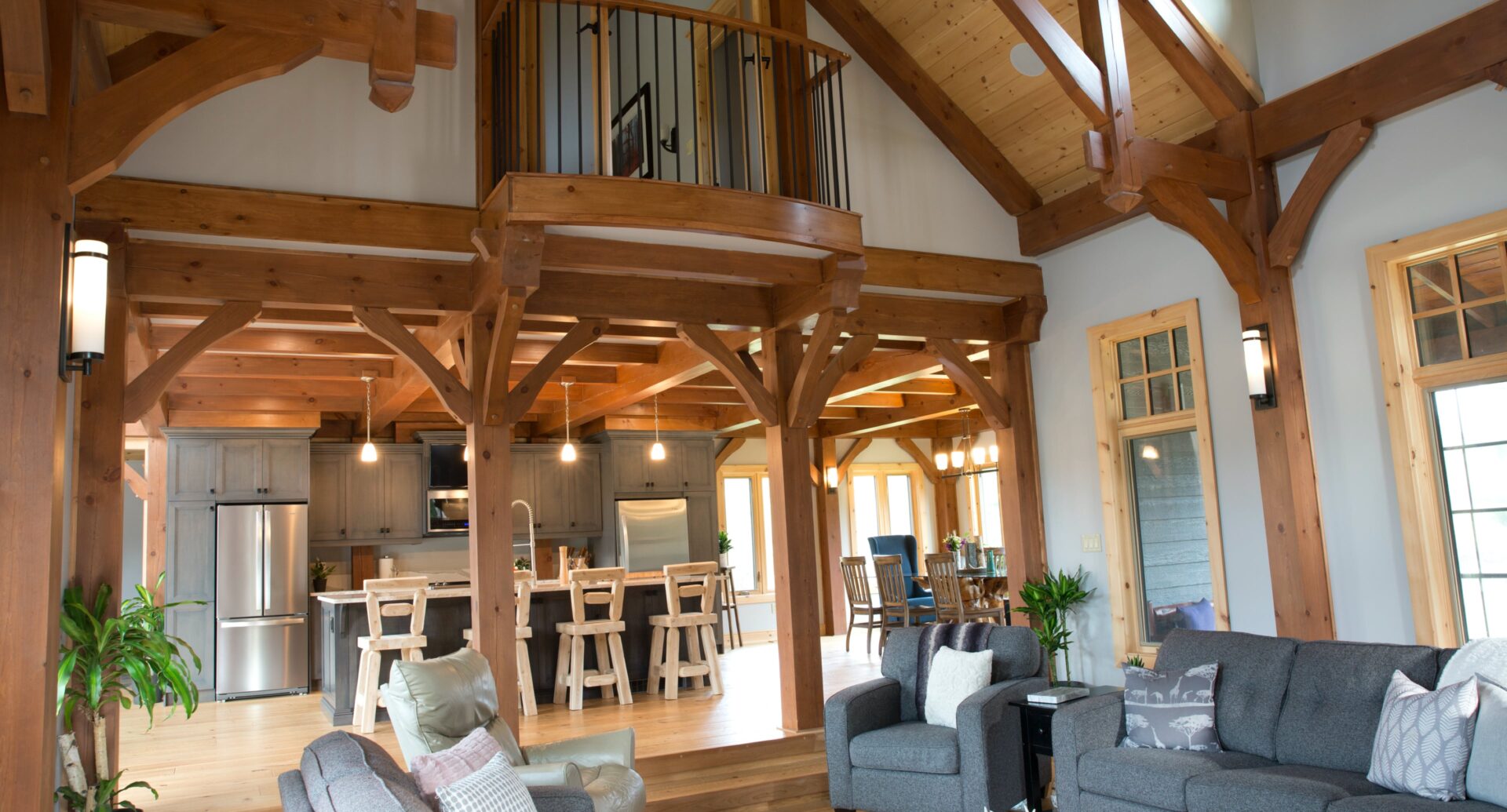 Your house is already made of wood, so adding more wood may not jump out as the first way to bring another layer of style to your new home. But trust us on this one. Timber accents are our favorite way to add flair to a log or timber frame design.
Adding finishing timber touches (think: posts and beams, decorative brackets, corbels, fireplace mantels, stair rails, etc.) pack a subtle but powerful design punch and can be customized to your budget and individual style.
Pro tip: opt for straight and angular accents for a modern look or choose curved and arched details for a traditional approach.
This kitchen was custom designed for the Revelstoke. Get the floor plan for this home.
Things are Looking Up
For Confederation clients who want to take their home's design over the top, we suggest looking up – to their ceiling design, that is. If you haven't thought much about the ceilings in your new home, you're in good company. It's common for the overhead space to become an afterthought, but ceilings offer an opportunity to make a major impact on the look and feel of your space.
Wood ceilings are a traditional choice in a log and timber home, but thanks to a multitude of wood options, they never have to be boring. There are endless ways to add unexpected flair and draw all eyes upward in your home.
A vaulted ceiling with tongue and groove and exposed beams is at once impressive and inviting. A lowered ceiling – say, the kitchen area under an open loft – can get a style boost with beadboard or exposed joists that maximize the feeling of coziness.
Or, think outside the box with finishes like corrugated aluminum or reclaimed timbers.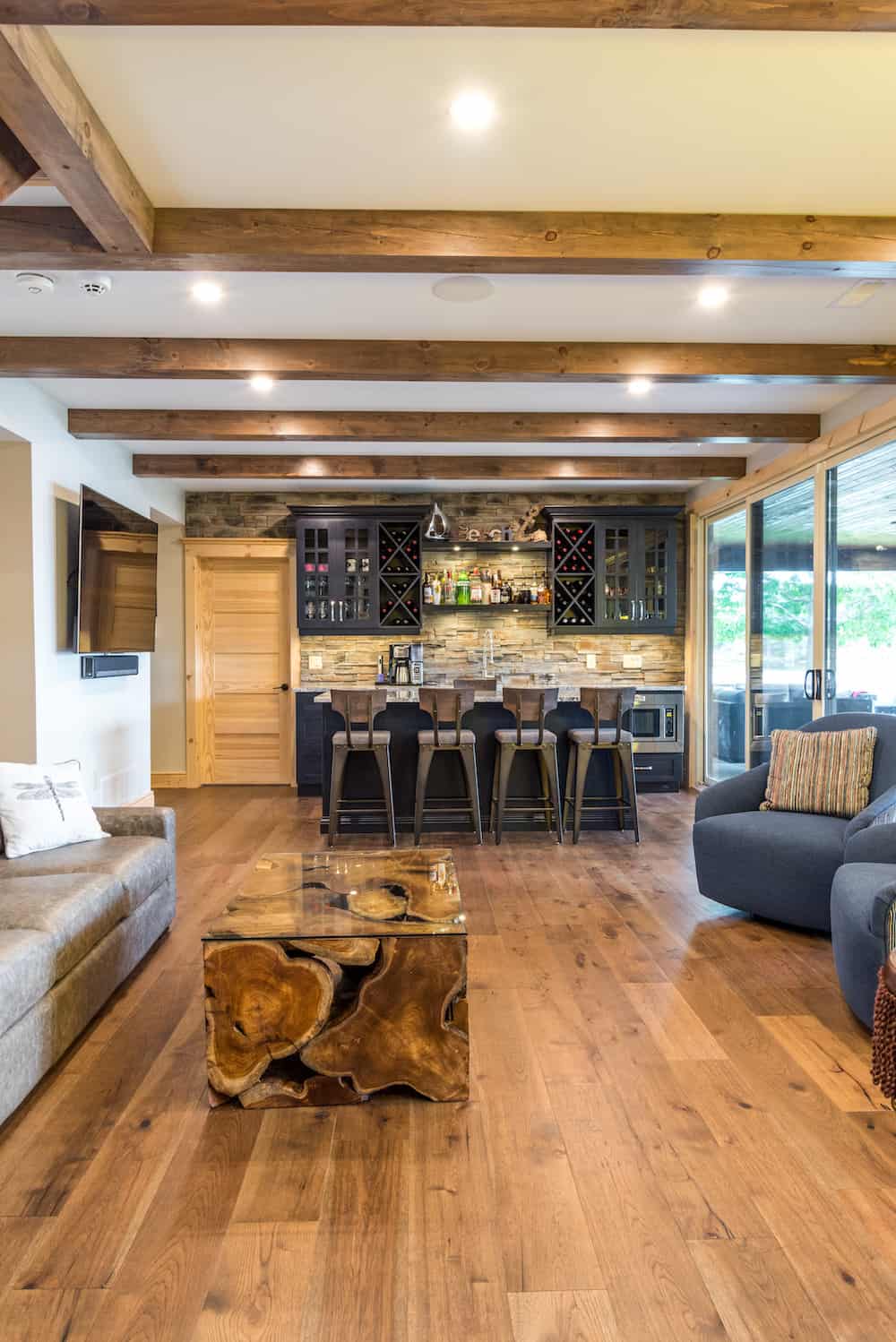 Whichever material you choose, don't forget to add your own style with color. Keeping your ceiling lighter than your wall and timber accents – whether with stain or paint – can create a feeling of spaciousness while a darker tone will give the space a more intimate vibe.
Once you've settled on your ceilings design, highlight your work with proper lighting. Include statement pieces, like chandeliers or pendant lighting, and accent lighting, like directional recessed cans, track lights, or spotlights, to show off the structural frame and decorative accents.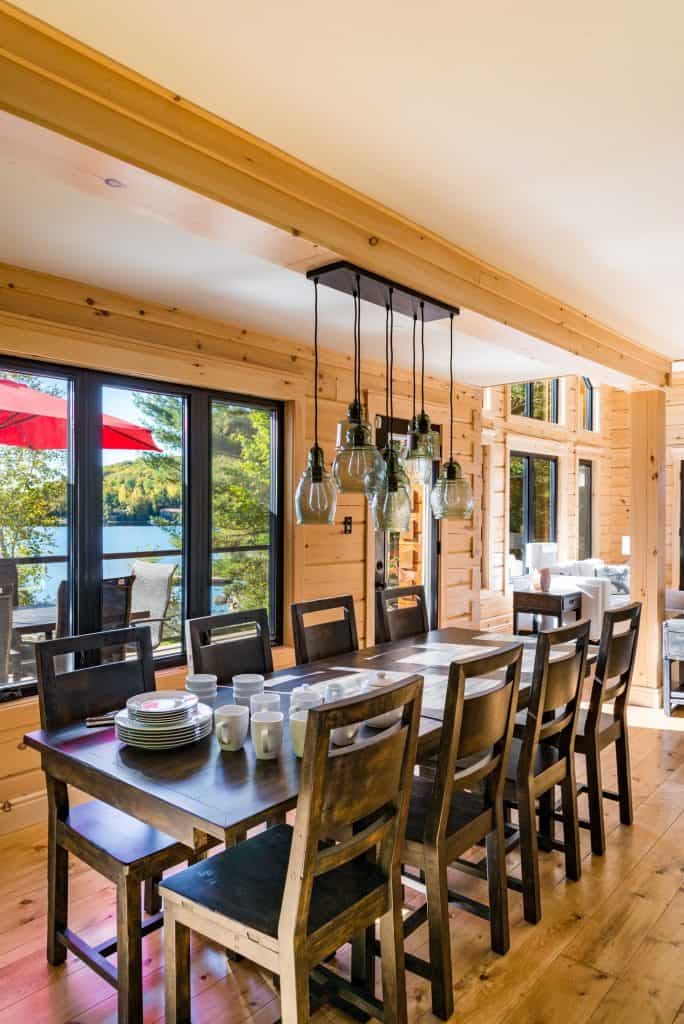 Say So-Long to Clutter
We're going to talk closets here, but let's talk universal laws first. Trust us; they relate. Entropy is the law that everything tends towards disorder, and nowhere is this law in stronger effect than in closets.
If you've ever lost a shoe under a jumble of clothes, let your closets become a chaotic catch-all for random storage, or just find yourself closing your closet doors and ignoring the clutter, your new home needs closets that will practically organize themselves.
Besides tossing some of those non-essentials, having a thoughtful design and organization system will help you easily maintain order and maximize storage space. To achieve the organized closet of your dreams (you know, the kind you see on Pinterest or Instagram), opt for smart features like built-in shelving and pull-out storage drawers, nooks, hooks and shoe racks.
Get Fired Up
Columnist Gladys Taber once said: "A house with no fireplace is a house without a heart."
And, apparently, Confederation folks agree.
Cozying up in front of a roaring fireplace consistently tops our client's favorite things about their log and timber frame homes. Besides being the perfect spot to cuddle up with a good book, your fireplace can help reduce heating costs and create a natural focal point.