The beauty of the bungalow (all these years later)
This old-school style is coming back in a big way. We break down why the bungalow — or ranch home — is a smart design choice and how you can make a bungalow floor plan fit you whatever style or stage of life.
Building your dream home is no small matter. Every choice you make during your building journey will impact your future home, but maybe no choice is quite so important in affecting the ultimate outcome of your log or timber home as the layout you select.
Because our process always includes custom design services, you'll find all kinds of designs to fit your vision. But there's one design style, in particular, that's been attracting extra attention lately: bungalows are making a comeback — and for good reason.
Bungalow homes came onto the architectural scene in the late 1940's and remained at the height of popularity through the 1970s. In 1949, Architectural Forum magazine declared about ranch-style homes: "never before in the history of U.S. buildings had one house type made such an impact on the industry in so short a time." Sure enough by 1973, sixty-seven percent of newly constructed homes were bungalows.
Now, nearly fifty years after their peak, bungalows are back on the scene in a big way.
Bigger and brighter
Of course, today's bungalow homes aren't just a carbon copy of their predecessors. Where the original bungalow floor plans often topped out around 1,500 square feet, ranch homes today often range up to 3,500 square feet. And where interior dividers once broke up the flow of space in original ranch-style homes today's floor plans feature full open layouts.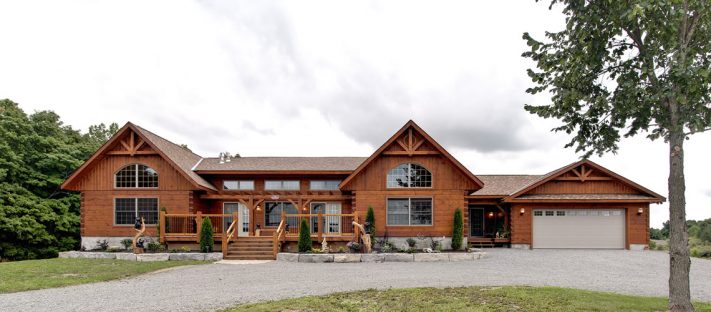 Beyond the simple square footage, today's open concept bungalow plans just feel spacious as a result of bigger windows and higher ceilings.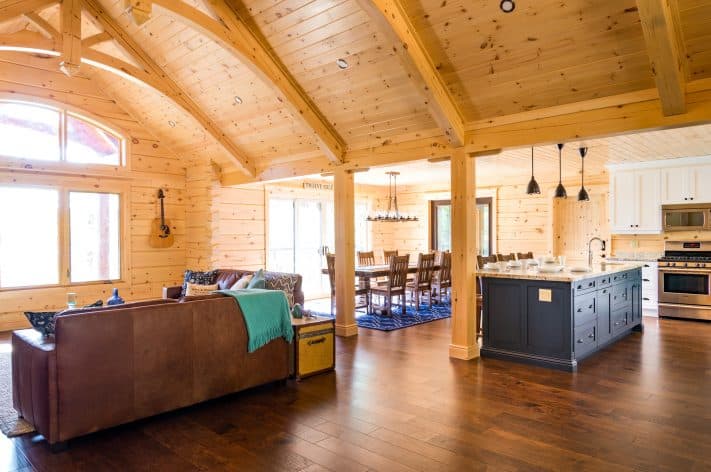 Today's single-level plans often feature ceiling heights of 10 to 12 feet — a change that's easy to make as a result of the simple roofline (and absence of a second story) in ranch-style structures. These higher ceiling heights also allow for special windows features, such as clerestory windows near the rooflines and prow windows in a gable end of a great room, for example.
Then and now nothing beats a bungalow for access to outdoor living. Where sliding glass doors used to be the standard way to offer access to the outdoors, today you'll find beautiful French doors or even walls of glass that fold or retract into walls to create unhindered movement between indoors and out — from any room in your home.
Other Big Bungalow Benefits
While there are lots of reasons to find beauty in a bungalow log or timber frame home here are some compelling reasons to consider it as you ponder our many floor plans.
Lifestyle considerations
For many thinking about an active retirement, a bungalow is very appealing. Eliminating stairs and having everything one level is the single easiest way to enjoy your dream home for as long as possible.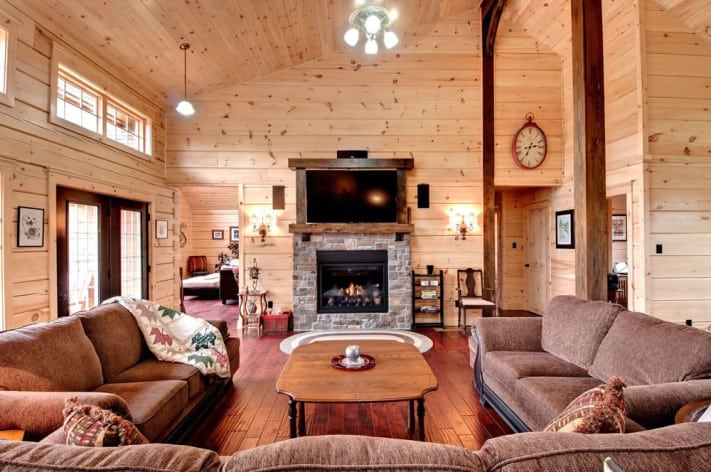 Design flexibility and budget considerations
Many bungalow floor plans are built on a simple design — generally, a basic rectangular shape — making it easier to design and construct. This often translates into increased affordability when compared to more complicated plans.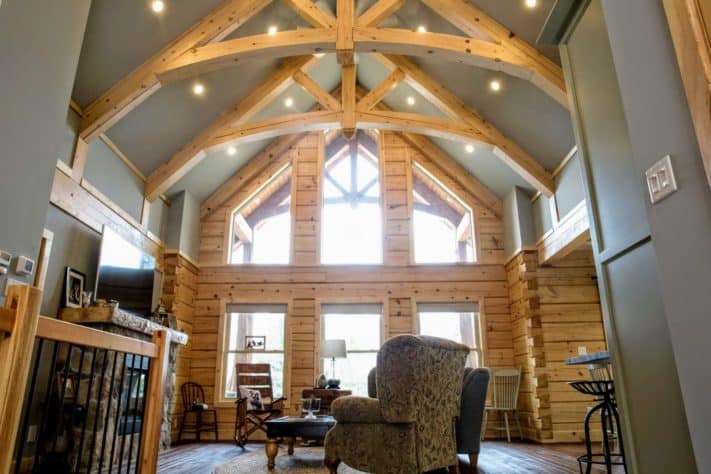 But don't worry, simpler doesn't mean boring.
Timber entryways and interior accents, interesting rooflines with soaring ceilings and decks mean your home will be anything but a simple box. Structural or decorative trusses, curved chords, and finer details, like corbels, brackets and unusual railing features, all add flair to a basic design.
And remember, a bungalow can be many different shapes — wings and L-shaped plans add interest to your home.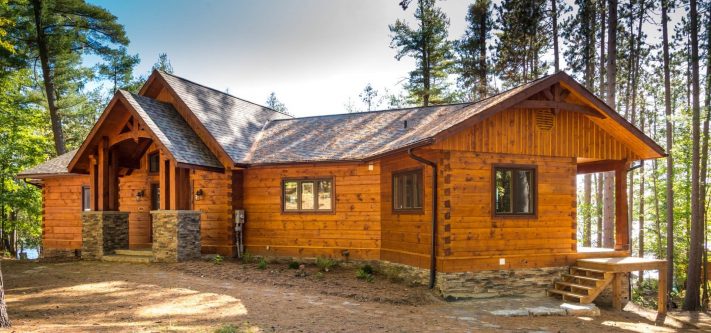 Remember to consider a variety of materials to bring texture to your ranch home. A couple of examples include board and batten, cedar shakes or stone accents, like skirts and columns.
And finally, a walkout basement means you can as much as double the square footage of your home. And yes... although it looks like a two-story home from that side, it really is a bungalow.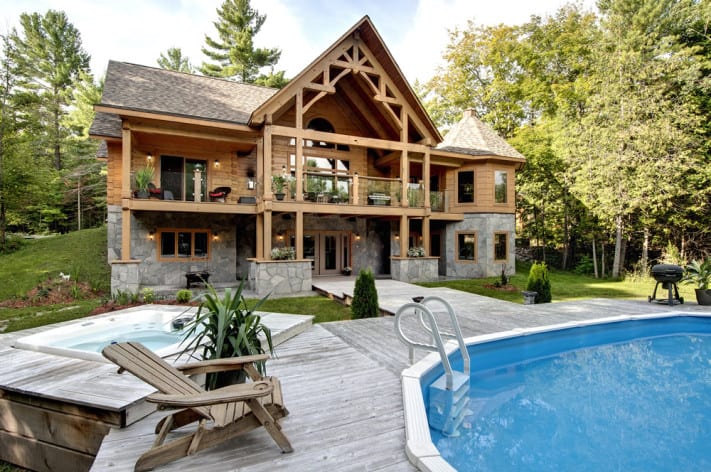 3 more good reasons to consider the bungalow...
Ranch style homes are also free from the overhead noise that often comes with two-story homes.
They're also less expensive to heat and cool, as a single story maintains a comfortable temperature more evenly than a home where heat rises into the upstairs and the cool air stays settled on the first floor.
Ranch homes are easier to maintain. It's a step ladder vs. extension ladder.
Lastly, another bonus of ranch-style homes is the relative ease of making changes to the home in the future. If you decide to add an addition down the road, renovating a bungalow is generally an easier and therefore more affordable bet.
See the Possibilities
If all of the benefits of ranch-style living catch your eye, but you can't get past the idea of a plain Jane structure, it's time to update your vision of ranch-style homes. With thoughtful planning and a few special design tricks, you can take a boxy ranch home from so-so to stunning.
And, if you need ideas for making your ranch home special, Confederation's in-house design team can help you come up with a plan that will fit your personal style and budget. With the right plan in place, we can guarantee you'll never even miss that second floor.
Get FOUR bungalow floor plans
Sent straight to your inbox. Just tell us where to send it.
We'll use your email to send you this and other useful information about buying and building a log home.
We hate spam too so we'll never share your email. Unsubscribe anytime.