Pop quiz time!
If you're ready to take the plunge into creating the perfect log or timber frame home, but not sure which one is right for you, our log and timber home questionnaire below can get you started in the right direction.
Don't worry, you don't need a cheat sheet for this one, but you may want to prepare for some surprising log and timber frame knowledge headed your way.
Let's find out if you're a log or timber frame person…pick A or B for each question and read on!
1A. The thought of being surrounded by wood makes you feel more relaxed by the minute.
or,
1B. You love the look, feel, and smell of wood but also enjoy a mix of materials, such as drywall, stone and even metal.
If you think "A" means you're a log cabin lover, while "B" puts you into the timber frame camp, we've got news for you: Whether you choose a log or timber frame home, you can have as much exposed interior wood — or as little — as you want. And, you can incorporate a wide variety of materials into your design, no matter what style you choose.
The fact is, you can achieve drastically different aesthetics while building a log or timber home, depending on the design and the finishes you choose. Take, for example, the log homes we've built for customers over our past 41 years in business.
Check out our gallery of homes, and you'll see everything from cozy, all-wood log cabins with warm-toned stain to sprawling lodge-like log homes that include drywall, stone and whitewashed stain. You'll discover the same variety in our timber frame homes, too, including in our timber frame model.
The bottom line: whether you go with logs or timbers — or choose a combination of the two with a log/timber hybrid, like our popular Elwood plan — you've got choices.
Just remember, whether it's a log home or a timber frame home, we believe the perfect plan is the plan designed for you. You won't find a preset catalogue of one-size-fits-all kits here. If you're building your own home, it should be just that — your own.
From start to finish, we'll customize your log, timber or hybrid home from the top down to guarantee a look you'll love for a lifetime.
In this video, Rich shows the differences between a log, timber frame and hybrid built home:
Next question…
2A. A traditional, rustic cabin in the woods sounds like the perfect place to vacation, retire or live every day to its fullest.
or,
2B. Your perfect retreat has a contemporary aesthetic with sleek, clean lines and wide-open spaces.
Sorry… this is another trick question. No matter if you prefer warm and cozy or bright and airy, you will find either a log or timber frame home can fit the bill.
For a log home, loads of windows and a few drywall accents can give your home a modern edge. (Plus, all of our homes already include open, easy-flowing layouts.)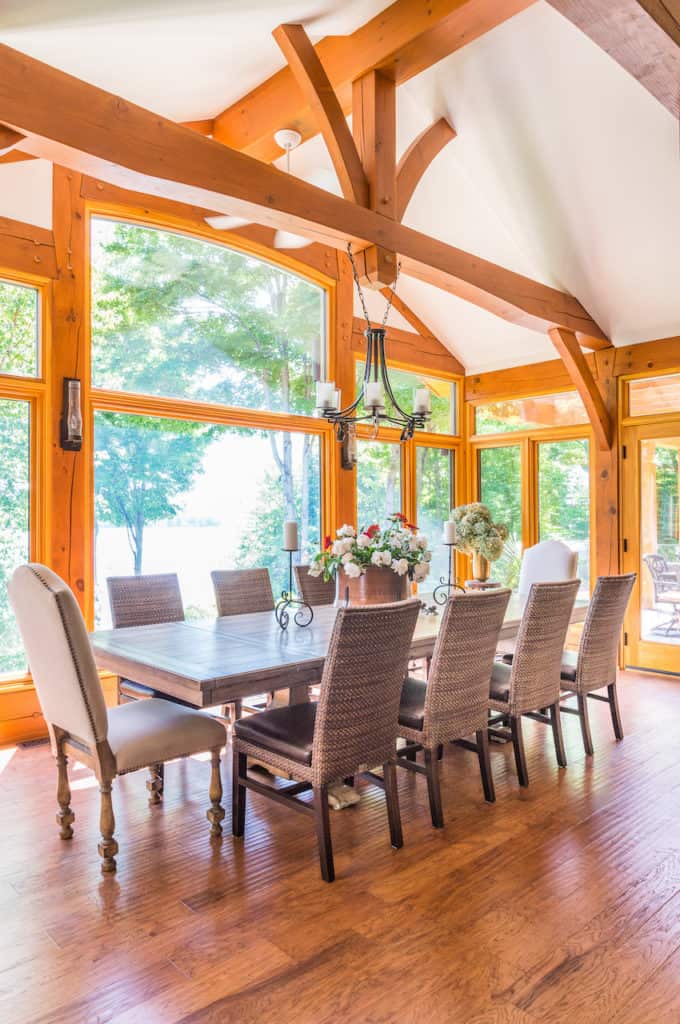 If you've got a picture of the perfect home in your mind but translating it into real life seems overwhelming (or even downright impossible), that's where our pros on the design team come in.
Send us a plan, describe your ideas to them or sketch it out. They'll take it from there. And, to be sure we've got it right, you can experience your new home before we cut it with a realistic, 3-D walkthrough.
3A.You'd like to build your own home (hello, bragging rights!). Your initials might as well be DIY.
or,
3B. You're turn-key all the way. And, speaking of simple: the less hands-on maintenance once your new home is built, the better.
As you may have already guessed, whether you answered "A," "B" or you fall somewhere in the middle, a log or timber frame home is still right for you.
If you want to go full-DIY and oversee every aspect of construction personally or if you would prefer to sail around the world while your home is built (Really! We've had clients who have done that!), we've got you covered.
We offer three options for constructing your log or timber frame home, and whichever you choose, we will walk you through the process every step of the way.
And if low-maintenance is a top priority for you, keep in mind the choices you make during the design process will have the strongest impact on your home's maintenance needs, rather than the singular choice between logs and timbers.
In most cases, selecting materials, products and design features carefully can stretch your log home maintenance (which includes power washing and staining) out to around 8-10 years. For timber homes, re-painting usually happens around the decade mark.
Of course, when deciding between a log, timber frame or hybrid home or something in between, your budget will come into play and that's where our team really shines. We know how to help you get the look you love in the strike zone of your budget.
We'll help you budget for your whole house, not just the shell so you know exactly where you stand.
With a trip to our home base in Bobcaygeon (when safety permits), we'll show you all three examples — log, timber frame and a beautiful blend of both.