Drumroll, please! Today we're sharing our most popular, most downloaded plans of the year with you.
You'd think they're the latest galleries new to the gallery section this year but we have some perennial favourites staking their claim to the winner's circle too.
So with 2020 just around the corner, we're sharing 6 plans that made a splash with our nearly 10,000 followers. Will you put one of these under your tree for the New Year?
1) The Millbrook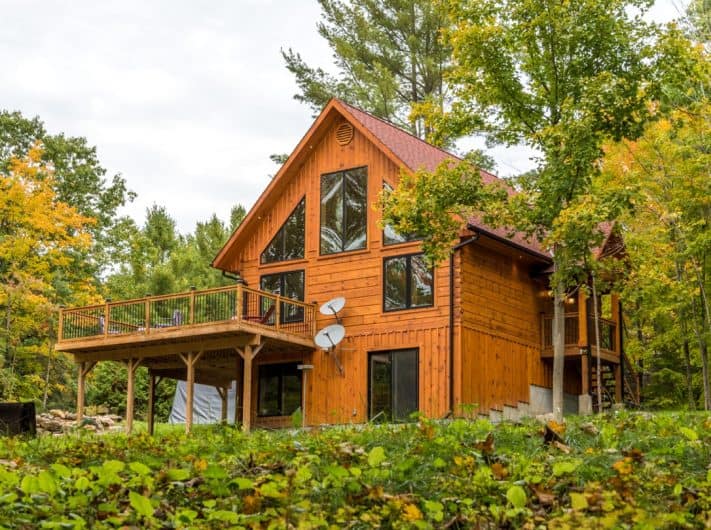 Just the facts: 1,090 sq. ft. with 2 bd/2ba.; with optional lower level, 4 bd/3ba
What we love about this home: It features everything you need to fall head over heels for cozy cabin living — including a stone fireplace and wrap-around porch — in a size-and-budget-conscious floor plan.
Who it's for: With an optional lower level that can increase the home's sleeping spaces from two bedrooms to four, the Millbrook is as ideal as a cozy cabin for two as for a bustling family retreat.
Make it yours: Transform the flexible 400-plus-square-foot open area in the basement into a tricked-out game room with wet bar, gym or the kid's ultimate dream playroom. Or turn the open-air upstairs deck or lower level covered patio into a screened-in porch to ensure year-round enjoyment.
2) Ayer's Cliff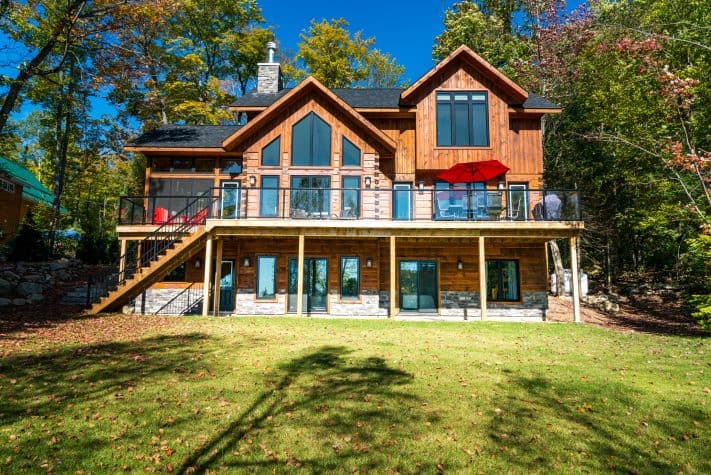 Just the facts: 1,557 sq.ft; 2 bd/2.5ba; with optional lower level, 4 bd/3.5ba
What we love about this home: This one has it all — the hallmarks of a classic log home with a modern edge that includes open spaces, plenty of glass and clean lines. Plus, a don't-miss four-seasons window-walled room with stone fireplace.
Who it's for: Large families who need plenty of room to connect — the main floor alone offers 1,000-square-feet of hang-out space — and want to meld the warmth of cabin life with contemporary style.
The backstory: Created to combine the best of rustic home design and transitional style, this hybrid marries a main log structure with conventional framing —a design move keeps costs in check without compromising form or function. Read more about this home's beginnings here.
3) The Homestead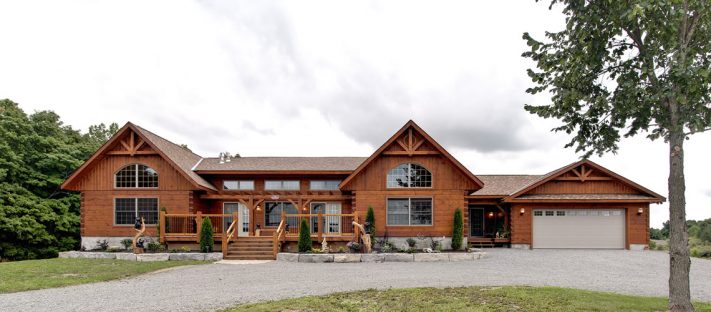 Just the facts: 2,500 sq. ft. with 3bd/3ba
What we love about this home: The welcoming pergola-topped front porch is the first sign that this home is ideal for relaxed living. Open the front door, and the bright, easy-flowing layout with soaring ceilings seals the deal.
Who it's for: The single-story design means all of the essentials are accessible on one level, including the attached garage. Add in the extra-wide, three-foot doorways, and this one is a natural pick for those ready to embrace retirement living.
Make it yours: To create additional square footage, a loft space serving as an office or seating area could be added to the main living area or even the master suite.
The backstory: Combining two existing Confederation floor plans — The Victoria and The Preachers — is how this ranch-style plan came to be. The couple who helped create this beauty proved their love of logs by incorporating drywall into only one small area of the home (a bathroom). You can meet them and read their story here.
4) Athabasca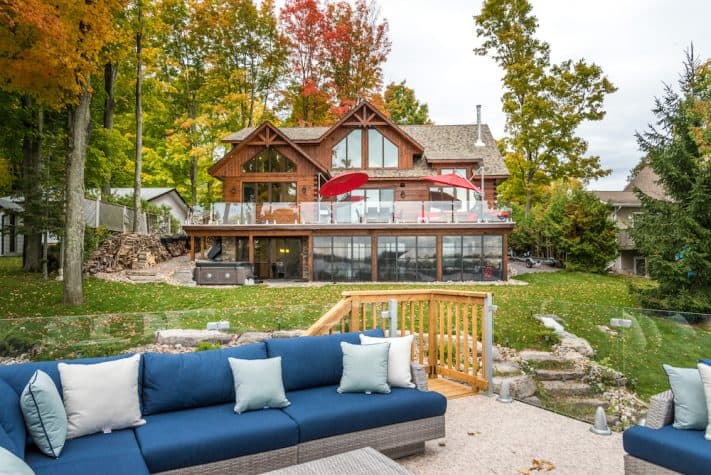 Just the facts: 2,247 sq. ft. with 4bd/3ba
What we love about this home: The ultimate cottage getaway, the Athabasca is made for fun and family gatherings. In addition to the spacious main-level design, with traditional great room, the lower level features a secondary family room, plus game room and screened-in porch.
Who it's for: Do you foresee your home bustling with friends and family on the regular? Look no further than the Athabasca. In addition to featuring plenty of space for people to come together to relax and reconnect, it also offers secluded spots where folks can sneak away to recharge, including the upstairs loft and lower-level office. A lower-level master suite ensures peace and privacy.
The backstory: After shelving a "runaway renovation" for their cramped, lakeside cabin, these homeowners decided a fresh start — and a fresh take on a log home — was in order. Their new vision included a lower level, spacious kitchen and welcoming entryway, with lots of character-rich wood accents, including timber trusses, exposed beams and sliding barn doors.
5) Hillcrest

Just the facts: 1,974 sq. ft. with 3bd/2.5ba; with walkout option, 2,164 sq. ft.
What we love about this home: A perennial favourite, the Hillcrest is the most popular floor plan on the Confederation website — and for good reason. The easy-living floor plan is made for today's modern lifestyle (think: open and casual). Plus there is a master suite on the main and a loft that doubles as a home office. The real question is "What's not to love?"
Who it's for: If your home has can't-miss views and you want easy access to them, the Hillcrest is a real winner, with its soaring two-story wall of glass in the great room, along with a full front porch, wrap-around deck and lower-level walkout patio.
Make it yours: To ensure this fan-favourite plan fits your needs in the future, consider transforming the Hillcrest into a bungalow by opting for the "walkout" basement option and moving the bedrooms into that lower level.
The backstory: Intended to replace Randy and Lee's worn-out lakeside cottage that had been well-loved for 30 years, this plan was originally built with all the bells and whistles of a new log home, including a floor-to-ceiling stone fireplace, chef's kitchen and custom staircase. You can read their story here.
6) Cricket Creek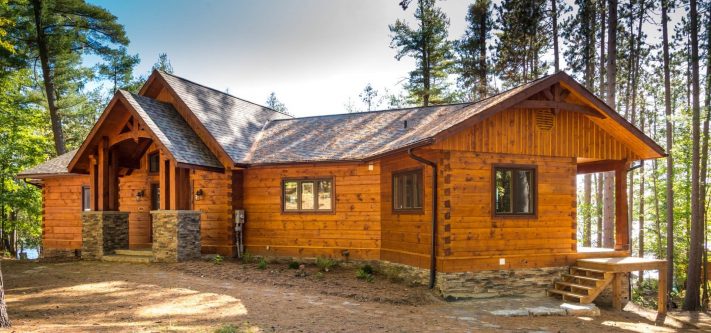 Just the facts: 1915 sq.ft. 1 bd/1ba; with optional lower level, three bd/2ba
What we love about this home: Impressive without being showy, bungalow-style Cricket Creek offers a spacious feel with eye-catching architectural details, such as the truss system spanning the main living area.
Who's it for: An ideal retirement home or cottage that will someday become your after-work home.
Make it yours: With the addition of a lower level — and the kitchenette, living area and two additional sleeping spaces and bathrooms that come along with it— this one transforms into a perfect space for hosting friends and family.
Get our 6 most popular floor plans
Sent straight to your inbox. Just tell us where to send it.
We'll use your email to send you this and other useful information about buying and building a log home.
We hate spam too so we'll never share your email. Unsubscribe anytime.